Cardio-Oncology & Immunology Areas of Expertise
The UCSF Section of Cardio-Oncology and Immunology has developed a number of "Areas of Expertise", which include specific programs where clinicians and researchers collaborate to help provide better care for our patients as well as advance the field.
Programs
Myocarditis
Myocarditis is inflammation of the heart muscle (myocardium). Myocarditis can result from infection (for example, a virus), autoimmunity (when the immune system attacks one's own body) as well as drugs including cancer immunotherapies and vaccines. UCSF has developed a center of excellence in myocarditis and other inflammatory cardiovascular diseases. We systematically study these patients and collaborate with other academic centers and industry to develop better diagnostic and treatment strategies for patients.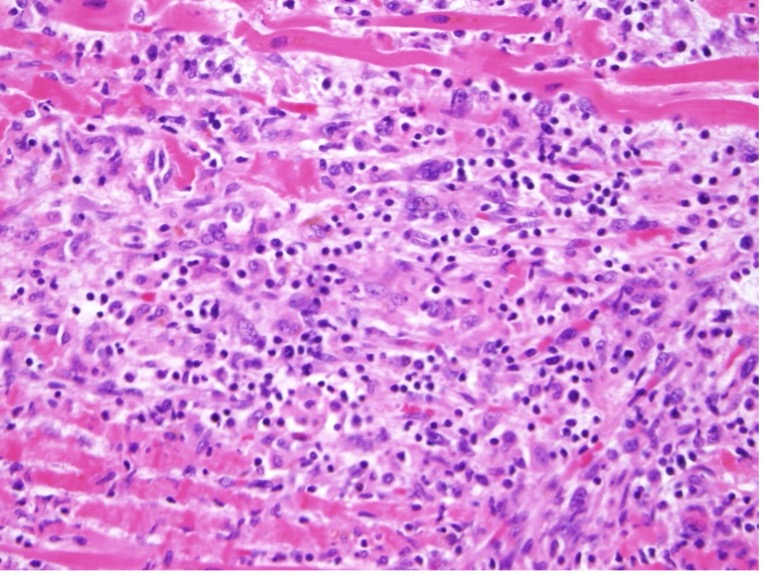 Image Reference: https://www.nejm.org/doi/full/10.1056/nejmoa1609214
Clonal hematopoiesis of indeterminate potential (CHIP)
Clonal hematopoiesis of indeterminate potential (CHIP) occurs when somatic mutations occur in blood cells. These mutations do not directly cause cancer per say but they do lead to clonal expansion of cells and occur more commonly as patients age and may result in cancer. It is now known that patients with CHIP are especially at risk for heart disease including acute heart attack and stroke. The UCSF CHIP clinic is developing ways to screen for, diagnose and treat CHIP patients.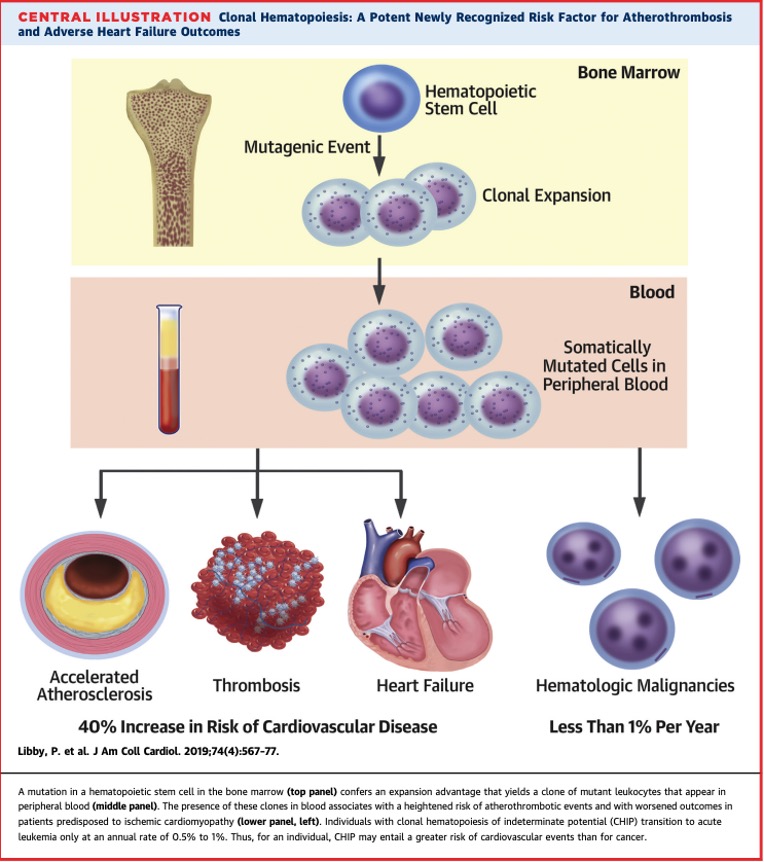 Image Reference:https://www.sciencedirect.com/science/article/pii/S0735109719354555?via%3Dihub
Cardiac amyloidosis is an increasingly important but under-recognized heart disease that results from the uncontrolled deposition of amyloid fibrils in the heart. Patients with cardiac amyloidosis can develop progressive heart failure, conduction disease, reduced quality of life, and early mortality.
At the UCSF Cardiac Amyloidosis Program, we offer comprehensive, patient centered care for all forms of cardiac amyloidosis. We have developed protocols for diagnosis, treatment, and monitoring of patients who are referred to our clinic.
Carcinoid Heart Disease­­­­­
Neuroendocrine tumors (NETs) are rare, slow growing tumors that can be located anywhere in the body, but most commonly occur in the abdomen. These tumors can secrete hormones which can result in patients having specific symptoms such as flushing, diarrhea, and abdominal cramping (carcinoid syndrome). The hormones can also reach the heart and can lead to heart valvular disease. Occasionally patients have minimal symptoms. But, in many cases, the patient may have severe valve disease that can result in heart failure, necessitating valve replacement surgery.
As a part of the UCSF Center for Neuroendocrine Tumors, we work closely with a multi-disciplinary team including oncologists, interventional radiologists and cardiac surgery offering comprehensive evaluation and treatment plans for carcinoid heart disease. 
Hereditary Hemorrhagic Telangiectasia (HHT)
Hereditary Hemorrhagic Telangiectasia is a genetic disease where patients develop abnormal and fragile blood vessels between arteries and veins (arteriovenous malformations or AVMs). HHT affects approximately 1 and 5000 individuals, and commonly manifests with nosebleeds. Patients with HHT will may also develop AVMs in in the brain, lungs, and/or liver.
Liver AVMs are seen up to 75% of individuals with HHT. Over time, if left unmonitored and untreated, the high output in the circulation may lead to heart failure. As part of the UCSF HHT Center of Excellence, we partner with interventional radiologists, hematologists, and liver specialists designing novel protocols for the diagnosis and management of heart disease in patients with HHT.


Specific Cardio-Oncology Populations
Prostate Cancer

 
Prostate cancer is the most common cancer diagnosed in men in the United States. About 1 in 7 men will be diagnosed with prostate cancer during their lifetime, and about 6 out of 10 are diagnosed in men aged 65 or older. Though prostate cancer is a common and serious disease, men diagnosed with prostate cancer generally die from other causes. Cardiovascular disease is common in prostate cancer patients and survivors, and many prostate cancer patients die of heart disease rather than prostate cancer itself. Furthermore, many treatments for prostate cancer further increase the risk of developing cardiovascular disease.
At UCSF, we have established a multi-disciplinary team, including close partnership with the cancer center, to identify and treat (and even prevent) heart disease in prostate cancer patient. Please also see the ABCDE schematic for cancer survivors to help you improve your cardiovascular wellness.
Breast Cancer
Breast cancer is the second-most common cancer diagnosed in women in the United States. In the past decade, breast cancer survival rates have increased and death resulting from the cancer has been on the steady decline. Though women who survive breast cancer may face multiple health challenges, the number one cause of death in breast cancer survivors remains heart disease. In addition, traditional and newer breast cancer therapies can increase the risk of significant heart problems.
At UCSF, we have established a multi-disciplinary team, including close partnership with the cancer center, to identify and treat (and even prevent) heart disease in breast cancer patient. Please also see the ABCDE schematic for cancer survivors to help you improve your cardiovascular wellness.
Renal
Kidney cancer is among the top ten most common cancer types in both men and women. The most common type of kidney cancer is renal cell carcinoma (RCC). Different classes of drugs are used to treat kidney cancer, including immune checkpoint inhibitors, which activate the immune system and VEGF inhibitors (drugs such as sunitinib and axitinib) which inhibit blood flow to the tumors. Both VEGF inhibitors and immune checkpoint inhibitors are associated with cardiovascular complications.
At UCSF, we have established a multi-disciplinary team, including close partnership with the cancer center, to identify and treat (and even prevent) heart disease in kidney cancer patient. Our group also has established a multi-disciplinary team of researcher and physicians to advance research in this ares such that better care can be provided for our patients.
Chronic Myeloid Leukemia (CML)
Chronic Myeloid Leukemia (CML) is a type of cancer of the bone marrow and regarded as a cancer of the blood. CML tends to be diagnosed in older adults but can affect anyone. The survival rate of patients with CML has significantly increased thanks to the introduction of and use of kinase inhibitors. These new CML therapies are associated with various cardiovascular issues.
Our group at UCSF has done some of the most important research in cardio-oncology issues in CML patients. We have a multi-disciplinary team that works to ensure cardiovascular health in CML patients and survivors.  
Survivorship
The UCSF cardio-oncology team is determined to help update cancer patients and cancer survivors about the risk of heart disease, while highlighting the important steps that cancer survivors can take to decrease their risk of subsequent heart diseases. The UCSF cardio-oncology program has developed an ABCDE approach to cardiovascular health. This algorithm is based in part in recognition of the cardiovascular issues that may arise in cancer patients and has been adopted by national committees as part of their guidelines. Nevertheless, each patient has a unique risk of heart disease to personal specific cancer types and treatments. At UCSF, we advocate for a personalized approach to patient care.
Immune Checkpoint Inhibitors (ICI)
In the last decade, immunotherapies have transformed cancer care. Immune Checkpoint Inhibitors (ICI) unleash the immune cells to fight cancer and have been instrumental for the treatment of previously deadly cancer. Today, up to 50% of cancer patients are eligible for treatment with ICI. ICI, however, can lead to the development of several immune-related adverse events (irAEs) following or during treatment.
Acute cardiovascular adverse events have also been associated with treatment of ICI and can include myocarditis, pericarditis, vasculitis, arrhythmias, and cardiac and vascular issues. The UCSF cardio-oncology team has been pioneers in understanding the cardiac issues of ICI and other immunotherapies and is arguably the leading such program in the world. We have both research and clinical areas of focus and have been leading an international effort to understand these toxicities better.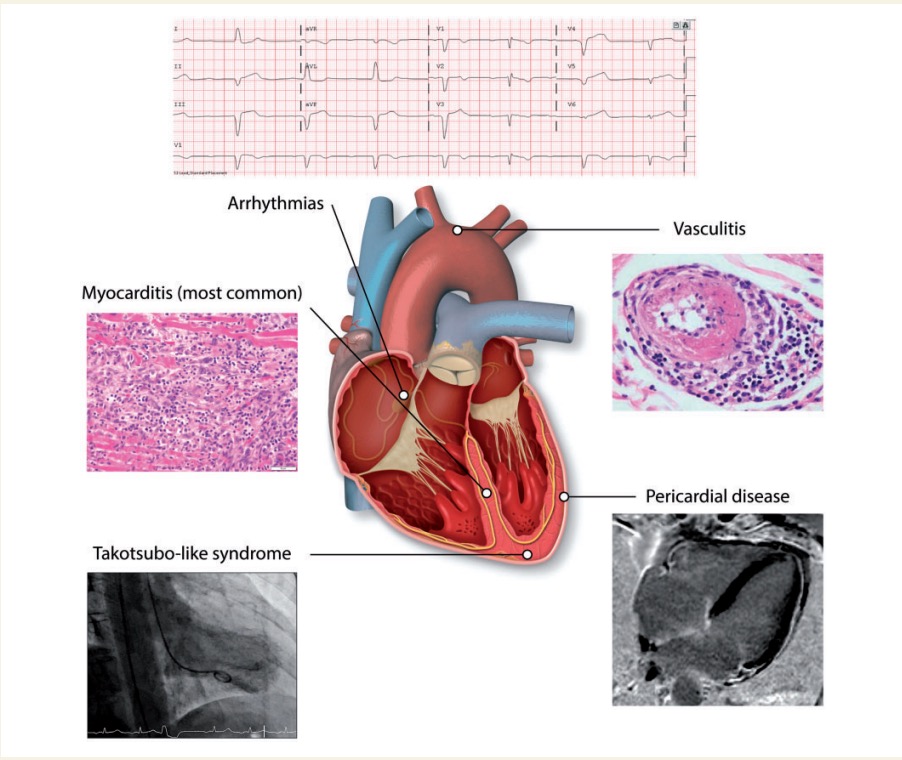 Image Reference: https://academic.oup.com/cardiovascres/article/115/5/854/5304411?login=true
Radiation Therapy
Radiation therapy uses high dose of radiation to kill cancer cells. When the damaged cancer cells die, they are broken down and removed by the body. However, radiation can also affect nearby healthy cells. Even though both healthy and cancerous cells are damaged and destroyed, the goal of radiation therapy is to destroy as few normal, healthy cells as possible.
Radiation therapy – especially radiation to the chest - can cause a number of cardiovascular problems, often developing years following therapy and when the patient has survived the initial cancer. At UCSF, we have a multi-disciplinary team addressing these radiation-associated side effects.

Image Reference: https://academic.oup.com/eurheartj/article/35/10/612/429008?login=true
Ibrutinib and Cardiotoxicity
A subset of leukemias and lymphomas have been shown to respond to specific types of therapies called Bruton's Tyrosine Kinase (BTK) inhibitors. These cancer types include chronic lymphocytic leukemia (CLL) and mantle-cell lymphoma (MCL). Examples of BTK inhibitors include ibrutinib, acalabrutinib and zanubrutinib. While Ibrutinib – which is the 1st generation drug - and other BTK inhibitors are highly effective treatments, cardiovascular issues may arise including arrhythmias, hypertension, and bleeding. Atrial fibrillation, a specific type of irregularity of the heart, is most problematic with this class of therapies.
At UCSF, we have developed protocols to help prevent and manage cardiac issues in cancer patients taking BTK inhibitors. In collaboration with other centers, we are starting studies to best monitor for these cardiotoxicities and to develop preventive and treatment strategies so that the patients can be optimally treated with the cancer drugs. We are also assessing whether these cardiac complications are drug-specific (e.g., ibrutinib has a higher risk of arrhythmia than acalabrutinib) or whether these cardiac issues are a class effect.