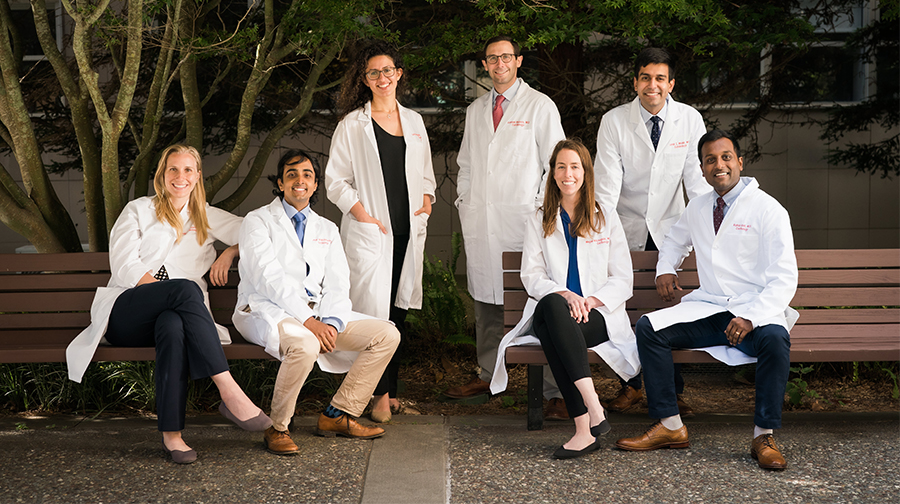 Our fellowship opportunities offer the highest-level training in cardiovascular medicine and its subspecialties, balancing superb clinical training with outstanding research opportunities. Our unique multi-campus program covers the spectrum of patient populations, providing exposure to a wide array of cardiovascular disease. Fellows work closely with world-class clinicians, physician-scientists and scientists who have a passion for teaching and training.
UCSF offers outstanding fellowship programs that train future leaders in cardiology to provide excellent patient care, conduct cutting-edge basic and clinical research, and teach the next generation of cardiologists.
We have several training programs that include General Cardiology Fellowship as well as subspecialty training in Adult Congenital Cardiology, Cardiac Electrophysiology, Interventional Cardiology, Advanced Heart Failure/Transplant and Pulmonary Hypertension, and Advanced Cardiac Imaging. We also offer several research fellowships and post-doctoral fellowships.
Cardiology fellows work closely with experts in every area of cardiology, who all share a passion for teaching. Fellows rotate through the three hospital campuses of UCSF, and have the opportunity to care for an unparalleled breadth of patients. These include:
At UCSF Medical Center (Parnassus/Mount Zion/Mission Bay) trainees are exposed to a tertiary care patient population. These patients range from those with common cardiovascular diseases to the most challenging illnesses referred from around the country and the world. Fellows participate in the full range of clinical services and programs from general cardiology, to coronary and peripheral interventions, electrophysiology, advanced heart failure, heart transplant, pulmonary hypertension, advanced cardiovascular imaging and adult congenital heart disease patients.
Zuckerberg San Francisco General (ZSFG) Hospital serves as the city and county hospital of San Francisco. Because ZSFGH cares for a large underserved population, including a sizable immigrant population, our trainees see patients with advanced and often previously undiagnosed and untreated complex cardiovascular diseases and conditions that are rarely seen elsewhere in the United States. Also, ZSFG is a level I Trauma Center, affording the fellows an opportunity to care for patients with cardiac trauma.
The San Francisco Veterans Administration Medical Center (SF VAMC) cares for veterans from the San Francisco Bay Area and the Western U.S. It is a referral center for Electrophysiology, Interventional Cardiology and Cardiac Surgery. Trainees are exposed to veterans with a wide range of cardiovascular disease.
Fellows also conduct research, and are mentored by world-class scientists and clinician-educators whose interests range from basic molecular cardiology, to translational research to cardiovascular epidemiology. In addition to conducting clinical and translational research on the aforementioned three hospital campuses, the fellows have the opportunity to conduct basic and translational research at two renowned cardiovascular institutes at UCSF, Cardiovascular Research Institute (directed by Dr. Brian Black) and UCSF's Gladstone Institute of Cardiovascular Disease (directed by Dr. Deepak Srivastava). The Smith Cardiovascular Research Building at Mission Bay houses not only the Cardiovascular Care and Prevention Center, but also four floors of research laboratories, and was designed to facilitate translation between basic and clinical research.