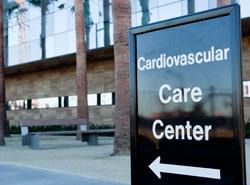 We have several clinics to serve our patient populations, ranging from general cardiology and prevention to highly subspecialized sections of cardiology. The main UCSF Medical Center clinic is located on our Mission Bay campus; however, patient care services are available at all locations.
For patients of Zuckerberg San Francisco General, San Francisco Community Health Network, or Healthy San Francisco, please contact the Zuckerberg San Francisco General Cardiology Clinic.
For Veterans, please contact the San Francisco VA Medical Center.
UCSF Medical Center
Asian Heart and Vascular Center
1600 Divisadero Street
2nd Floor, Suite C-244
San Francisco, CA
Phone: (415) 885-3666
Fax: (415) 885-3676
Berkeley Outpatient Center
UCSF Cardiovascular Care and Prevention Center (Berkeley location)
3100 San Pablo Ave., Suite 400
Berkeley, CA 94710
Phone: (510) 985-5200
Fax: (510) 985-5242
Daniel Burnham Court
UCSF Cardiovascular Care and Prevention Center (Van Ness location)
1 Daniel Burnham Court, Suite 260
San Francisco, CA 94109
Phone: (415) 502-5099
Fax: (415) 502-5097
Downtown/Mission Bay
UCSF Cardiovascular Care and Prevention Center (main location)
535 Mission Bay Blvd. South
San Francisco, CA 94158
Phone: (415) 353-2873
Fax: (415) 353-2528
Marin County
UCSF Specialty Practices
1100 South Eliseo Drive, Suite 1
Greenbrae, CA 94094
Phone: (415) 353-2873
Fax: (415) 353-2528
Mount Zion
UCSF Mount Zion Cardiology Practice
1600 Divisadero Street
2nd Floor, Suite C-244
San Francisco, CA
Phone: (415) 885-3666
Fax: (415) 885-3676
Parnassus Avenue
UCSF Cardiovascular Care and Prevention Center (Parnassus location)
400 Parnassus Avenue, Suite 501
San Francisco, CA 94143
Phone: (415) 353-2873
Fax: (415) 353-2528
San Mateo
UCSF San Mateo Primary and Specialty Care Clinic
1100 Park Place, Suite 100
San Mateo, CA 94403
Phone: (415) 502-8950
​