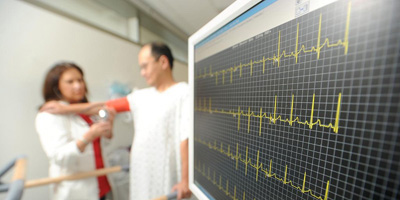 The UCSF Health Division of Cardiology provides exceptional care to patients from the entire San Francisco Bay Area, the West Coast and the world.
The division has faculty with world-renowned experts in every area of cardiology. Our physicians are not only rated among the top in the Bay Area but are recognized nationally and internationally.
UCSF Medical Center not only provides high-quality care for unusual or rare conditions, but also excels at management of common conditions. We focus on the prevention of heart disease and encourage healthy heart choices, especially through the UCSF Center for Prevention of Heart and Vascular Disease. Our patients have access to all of the state-of-the-art treatments, many of which were either invented or refined by our faculty – such as ablation to treat arrhythmias, cardiac resynchronization to treat heart failure, percutaneous left atrial ligation, and outpatient coronary intervention via the radial artery approach. We have a 24-hour team on call for rapid mobilization to treat heart attacks that ranks amongst the top in the country, a heart failure team leading the nation in keeping patients out of the hospital, a multi-disciplinary heart valve clinic and a world-renowned arrhythmia service. Our new Cardiovascular Care and Prevention Center, located in Mission Bay, was designed to enhance the patient experience, from the comfortable waiting rooms to the "one-stop shopping" convenience of seeing cardiologists in clinic and having tests onsite. Patients have access to the latest technologies, including state-of-the-art electrophysiology and cardiac catheterization laboratories at the UCSF Medical Center's Parnassus site. Our new electronic medical record system makes it easy for patients to communicate with their doctors and access test results. Visit Clinical Services to see all of our programs, Make an Appointment to find a doctor and Clinic Locations for directions to our clinic.