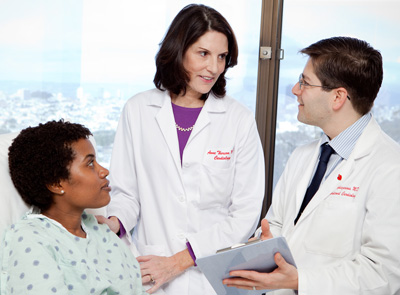 Our experts are available to provide consultation for all aspects of cardiovascular care and prevention. We strive to provide rapid, seamless referrals with an eye towards customer service. We have several locations throughout the Bay Area and an easy mechanism for referrals. Our new electronic medical record allows for rapid communication of findings and follow-up.
UCSF has world-class expertise in every area of cardiology, and is an outstanding resource for both patients and referring physicians. We routinely receive referrals from all over the Bay Area, the country and the world.
The opening of the Cardiovascular Care and Prevention Center at Mission Bay provided an opportunity to create an even more user-friendly experience. Outpatient cardiovascular services are provided in the spacious clinic on the ground floor of the Smith Cardiovascular Research Institute building, conveniently located near downtown San Francisco, the Bay Bridge and just 20 minutes from the airport. Valet parking is available, and the Center is located near Highways 101 and 280, the MUNI T light rail line and UCSF shuttles.
Patients can complete blood draws and diagnostic tests onsite, often the same day as their consultation. We have the ability to provide rapid consultations when necessary. In addition, we continue to run practices on the Parnassus campus, Mount Zion campus, Chinatown and in Marin.
We offer a full range of patient testing at our downtown (Mission Bay) facility, including echocardiography, vascular studies to evaluate for carotid disease, aortic aneurysms and peripheral artery disease, ECG, stress testing and nuclear cardiovascular studies. There are even showers for patients who need to freshen up after a stress test before leaving the clinic. In addition, since all testing is performed on site, we are able to offer rapid consultation for any positive test in all subspecialties.
In response to feedback we gathered from community medical physicians, we hired referral coordinators to help new patients navigate the UCSF system and to facilitate communication among patients, referring physicians and UCSF cardiologists. Our newly implemented electronic medical record system makes it easy for patients to communicate with UCSF physicians and to access their test results and other information. This also enables rapid communication (usually within 24 hours) to referring physicians. We also have a cardiologist available for rapid consultation for urgent patient issues.
For more emergent and inpatient issues, we have cardiologists on call 24 hours a day, seven days a week. We have established an "always open" cardiovascular transfer bed to immediately accept critically ill patients on transfer from another hospital. To reach an on-call cardiologist, see On-Call Cardiologist. To transfer a patient, see Patient Transfer.
For more information on our programs, visit Clinical Services. To refer a patient, please visit How to Refer.