General Cardiology Fellowship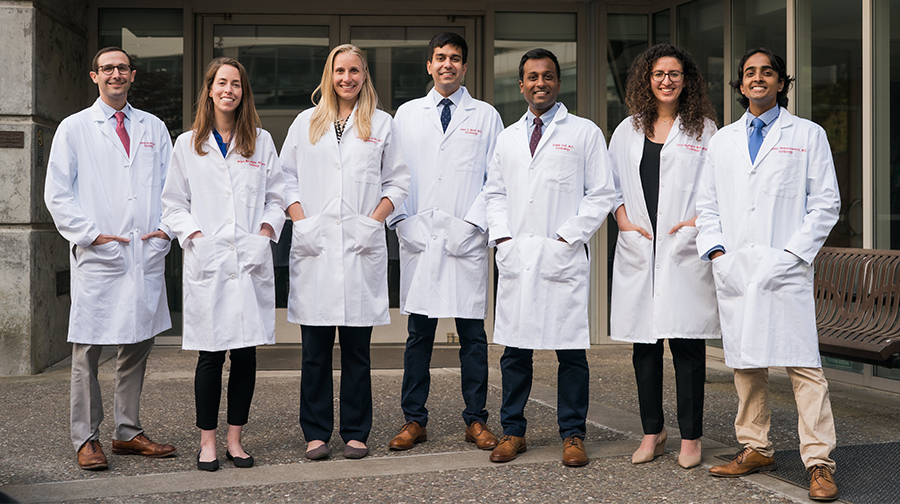 Description
General Overview
Training Program
Ongoing Research
Faculty
Salary and Benefits
How to Apply
Description
Each summer, the UCSF Division of Cardiology welcomes a cohort of new fellows who are attracted by UCSF's outstanding faculty, the Division's excellent education and research programs, and the opportunity to care for a diverse group of patients at UCSF Medical Center, Zuckerberg San Francisco General Hospital and the San Francisco Veterans Affairs Medical Center. Competition for the fellowship positions is intense, we receive over 400 applications and just seven fellows are selected. These fellows are some of the brightest and most promising physicians in the country. They are excited about pursuing careers in academic medicine and are committed to excellence in patient care, research and teaching.
The Cardiology training program is designed to train academically oriented cardiologists. In addition to rigorous training in clinical cardiology, fellows are required to perform research and participate in other academic activities such as teaching and conferences. In general, fellows complete 2 core clinical years and 1 research year. The research year may include clinical activities appropriate to the research or specialized training in selected subspecialties of cardiology. A continuity clinic is required for all 3 years. During this training, it is anticipated that fellows will apply for grants and other research support to initiate their careers in academic cardiology.
The Cardiology training program is organized to provide training and supervised experience in the evaluation and management of a wide variety of acute and chronic cardiovascular disorders. The main categories consist of chronic coronary disease, heart failure including heart transplant, cardiac arrhythmias, acute coronary syndromes including myocardial infarction, lipid disorders, hypertension and hypertensive heart disease, valvular heart disease, cardiomyopathy, pericardial disease, pulmonary hypertension, inflammatory and infectious heart diseases including endocarditis, and adult congenital heart disease. Fellows rotate through UCSF Medical Center, Zuckerberg San Francisco General, and the San Francisco VA Medical Center, ensuring their exposure to sufficient numbers of all forms of heart disease. The broad exposure to different types of patients and different approaches to patient management ensures that the fellow will be able to acquire the competency of a specialist in all aspects of cardiology.
Formal Instruction
The program provides instruction in the following areas:
Basic science, including cardiovascular anatomy, cardiovascular physiology, cardiovascular metabolism, molecular biology of the cardiovascular system, and cardiovascular pathology.

Cardiovascular pharmacology, including drug metabolism, adverse effects, therapeutic guidelines, the effects of aging, relative costs of treatment, and the effects of non-cardiovascular drugs on cardiovascular function.

Prevention of cardiovascular disease, including the principles of epidemiology and biostatistics, hypertension, lipid disorders, diabetes, and other coronary risk factors.

The evaluation and management of patients with coronary artery disease, including all of its manifestations and complications, arrhythmias, hypertensive heart disease, cardiomyopathy, valvular heart disease, pericardial heart disease, pulmonary heart disease, including pulmonary embolism, peripheral vascular disease, cerebral vascular disease, heart disease in pregnancy, adult congenital heart disease, and cardiac trauma.

Instruction in the management of acute and chronic heart failure, acute coronary syndromes, including acute myocardial infarction, acute and chronic arrhythmias, preoperative assessment and postoperative management, cardiac transplant evaluation and management, and the management of geriatric patients with heart disease.

Instruction in other diagnostic techniques including magnetic resonance imaging, computed tomography, and positron emission tomography.
General Overview 
Schedule
The program consists of 24 months of clinical training all done within the first 2 years. The third year is typically protected for research (with opportunities for formal training in statistical methods and epidemiology) and if desired, additional general cardiology clinical training. Fellows will be able to get level II training in both echo and nuclear cardiology by the end of 2 years and be very well trained in diagnostic catheterization and consultative cardiology. Most fellows go on to pursue advanced clinical and/or research training after core fellowship.
The minimum of 24 months of clinical training includes inpatient and outpatient experiences. A minimum of 4 months is spent in the Cardiac Catheterization Laboratory, 6 months in noninvasive cardiology, including 3 months of echocardiography, 2 months of nuclear cardiology, and one month of other imaging noninvasive imaging cardiac tests (exercise stress testing, ECG interpretation, interpretation of ambulatory ECG recordings). There is a minimum of 9 months of non-laboratory clinical practice activity, including consultations, cardiac care units, and the postoperative care of cardiac surgery patients. There are two months of electrophysiology.
Acquisition of Technical and Other Skills
The program is designed to provide sufficient experience for fellows to acquire skills in the performance and interpretation of the history and physical examination, basic and advanced cardiac life support, elective cardioversion, bedside right heart catheterization, transvenous and transcutaneous cardiac pacing, right and left heart catheterization, including coronary arteriography (minimum 100), exercise stress testing (minimum 50), the performance and interpretation of echocardiography (minimum 150) including transesophageal studies, pericardiocentesis, programming and follow-up surveillance of permanent pacemakers and internal cardiac defibrillators, and cardiac rehabilitation.
The program provides opportunities for fellows to acquire experience in the performance (and where applicable) interpretation of intracardiac electrophysiologic studies, intra-aortic balloon counterpulsation, coronary balloon angioplasty, stent placement, and other selected interventional procedures.
The program also provides sufficient experience for fellows to acquire skills in the interpretation of chest x-rays, ECG's (minimum 3,500), ambulatory ECG recordings (minimum 75), and radionuclide studies of myocardial function and perfusion. Fellows are also provided guidance in learning and interpreting the cardiovascular literature.
Training Program 
Training Program Sites
The adult Cardiology Fellowship training program at the University of California, San Francisco is fully integrated among its three core hospitals: UCSF Moffitt/Long Hospital, San Francisco Veterans Affairs Hospital, and Zuckerberg San Francisco General Hospital. 
Our program distinguishes itself by providing unparalleled clinical training across 3 sites with an amazing diversity of patients. Fellows are treated as junior colleagues and have the opportunity to perform advanced procedures early on in training. We also offer a diverse array of opportunities for different career paths. Our graduating fellows often find careers as leaders in academic cardiology, clinical practice, basic and transitional science, and industry.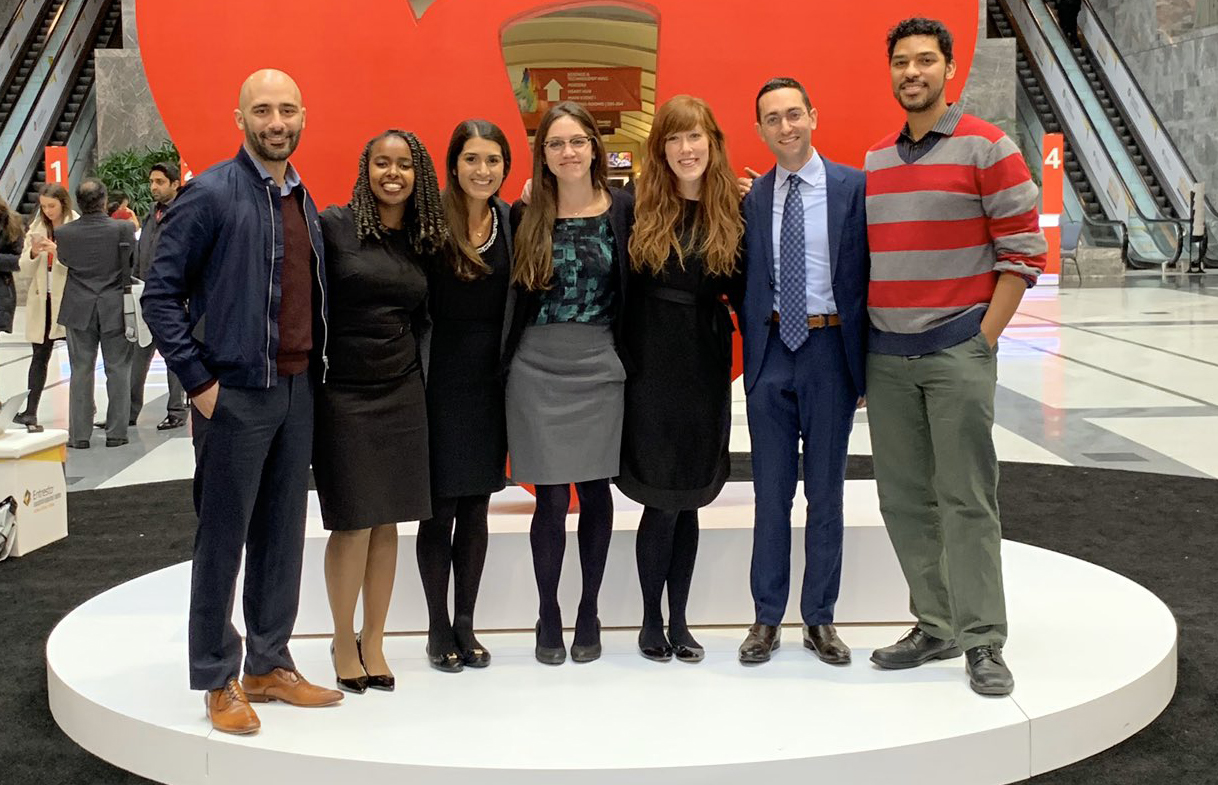 Conferences
Each of the three UCSF affiliated hospitals has excellent facilities, a strong educational environment, and a regular schedule of cardiology conferences. Cardiology Grand Rounds/Basic Science conferences are held weekly, except during the summer, at UCSF Parnassus campus, for all faculty and fellows at the three hospitals. Each fellow attends a minimum of one major national cardiology meeting per year (American Heart Association or American College of Cardiology) during the first two years. Fellows also have opportunities to attend local cardiology meetings and conferences. Other conferences include weekly cardiac catheterization conference at each of the three hospitals; a monthly journal club, the core curriculum conference, and a fellows clinical conference.
Ongoing Research
Research time is often funded by a number of grants (i.e., NIH training grants, the NIH-funded Program of Excellence in Molecular Biology of the Cardiovascular Research Institute, individual NIH Fellowships, Heart Association Fellowships, Pharmaceutical Fellowships, etc.). This funding is obtained by selecting a preceptor and project and submitting the appropriate proposals. Clinical training is internally funded.
In addition to research training with the Cardiology Faculty listed below, UCSF's Cardiovascular Research Institute (CVRI) offers extensive training opportunities in basic science and its application to cardiovascular biology and disease. Training plans for individual fellows range from traditional postdoctoral fellowships to programs that include both formal graduate coursework and bench research for M.D.s who seek to broaden or deepen their background.
UCSF Heath's Cardiology Division and the CVRI jointly offer a training program in Molecular and Cellular Biology of Cardiovascular Disease. Fellows may apply to the CVRI program after completing their two years of clinical training. Many training opportunities and alternative funding sources are available.
For additional information about CVRI faculty and training programs, see their website. If you are chosen to interview with the fellowship program and would like to meet with a specific potential mentor listed with CVRI on your interview day, please contact Salina Gu at [email protected] or (415) 502-1115. For additional information about CVRI training programs, please contact Aja Flores at [email protected] or (415) 476-1222.
Faculty
Atif Qasim, MD
Director, Fellowship Training Program

505 Parnassus Avenue, M-1177
San Francisco, California 94143-0124
Phone: (415) 353-9156
Fax: (415) 353-8687

Ethan Weiss, MD
Assistant Program Director for Research

505 Parnassus Avenue,
San Francisco, California 94143-0124
Phone: (415) 514-0819
Fax: (415) 476-0424

Cara Pellegrini, MD
Assistant Program Director for the Veterans Affairs Hospital

4150 Clement Street
San Francisco, CA 94121
Phone: (415) 221-4810 x3178
Fax: (415) 379-5609

Lucas S Zier, MD, MS
Co-Assistant Program Director for Zuckerberg San Francisco General

1001 Potrero Avenue
San Francisco, CA 94110
Phone: (415) 206-3503
Fax: (415) 206-5447

Priscilla Hsue, MD
Co-Assistant Program Director for Zuckerberg San Francisco General

1001 Potrero Avenue
San Francisco, CA 94110
Phone: (415) 206-8257
Fax: (415) 206-5447
For other faculty members within the division, please see Faculty Profiles. For the research activity of specific faculty members, please see Research.
Salary and Benefits
Salary: The General Cardiology Fellowship starts at PGY level 4.
Benefits: UCSF provides residents and clinical fellows a rich package of health and welfare benefits at a good value. Plans include health, dental, vision, disability, and life insurance. To learn more about fellowship benefits including our retirement savings plan click here. 
Vacation: Every year, fellows get 4 full weeks of vacation time in 1-week blocks. Rules about scheduling vacation varies by program. 
How to Apply
Application Procedure & Timetable
Steps
Timetable
1. Submit your application through ERAS, Electronic Residency Application Service. Apply online. The ERAS phone is (215) 966-3940.

 

No paper applications accepted.

Available July 1, 2020

 

Deadline for completed applications – August 12, 2020
2. Interviews
Interviews will be held virtually on September 18, 25 and October 2, 9, and 16
3. NRMP Match Day
December 2, 2020
4. Fellowship begins
July 1, 2021
We participate in the National Resident Matching Program for this fellowship. Please contact the NRMP for information on how to sign up for their services.
J-1 and H-1B Visa Sponsorship
For international applicants, UCSF can sponsor J-1 and H-1B visas.  
How to Acquire H-1B Visa Status at UCSF: https://isso.ucsf.edu/immigration-visas/h-1b-scholars
J-1 Scholar Categories at UCSF: https://isso.ucsf.edu/j-1-scholar-categories-ucsf
Professional and Ethical Behavior
The Division of Cardiology is committed to a culture of professionalism which places the needs of the patient first, maintains a commitment to scholarship, continuous quality improvement, and fosters a spirit of collaboration among colleagues. Fellows learn these attitudes from mentors and role-model clinicians. The training program is committed to maintaining a high ethical standard, a spirit of collegiality, integrity, respect, compassion, professional responsibility and accountability, courtesy, and sensitivity to patient needs and comfort. Fellows are evaluated in these areas, and they are considered to be an integral part of the training program.