Cardiac Amyloidosis Program
The UCSF Amyloid Heart Disease Program provides comprehensive, patient-centered care for all forms of cardiac amyloidosis. We are committed to offering access to state-of-the-art approaches for both diagnosis and treatment. To accomplish this, we routinely participate in clinical trials and expanded access programs for the most promising therapies. Our patients are followed closely by nurses and pharmacists in the UCSF Heart Failure Clinic, to help manage symptoms of heart failure and maintain the best quality of life possible.
Effective treatment of amyloidosis requires a multidisciplinary team. As part of the UCSF Amyloid Center, we work closely with other amyloid specialists from Hematology-Oncology, Neurology, Liver Transplant, Nephrology, Radiology, Pathology, and more to offer our patients the integrated treatment they need. The center serves as a resource for the support of patients, family members and caregivers. Our center is committed to promoting awareness, education, and training of physicians in the field of amyloidosis. In addition, our center promotes research endeavors through institutional, national, and international collaboration.
Patient Profile: Peter Stremmel - The Art of Gratitude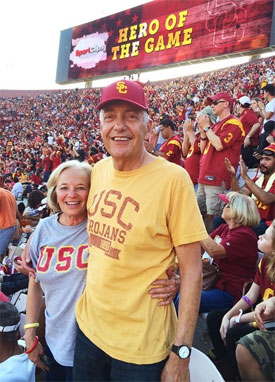 In 2008, Peter Stremmel, then 58, had a treadmill cardiac stress test showing abnormalities his doctor couldn't quite explain. However, Mr. Stremmel – who runs a contemporary art gallery in Reno, NV with his wife, Turkey – felt fine, so his doctor continued to monitor him.
A few years later, Mr. Stremmel began to feel short of breath. After more tests, both in Reno and Sacramento, he was diagnosed as having hypertrophic cardiomyopathy. He was treated for this condition, but his symptoms worsened steadily.
"It was alarming enough that I said, 'I want to get this properly checked out,' said Mr. Stremmel. A close friend suggested that he see Dr. William Grossman, the Charles and Helen Schwab Endowed Chair in Preventive Cardiology. Mr. Stremmel came to UCSF and received several examinations and more tests from Dr. Grossman, who suspected that he did not have hypertrophic cardiomyopathy.
Dr. Grossman sent him to Dr. Liviu Klein, a heart failure specialist at UCSF, for a heart catheterization and biopsy. The biopsy showed that Mr. Stremmel had cardiac amyloidosis, in which a protein called amyloid is deposited within the heart muscle, causing progressive heart failure. Of Dr. Klein, Mr. Stremmel said, "He is a real sweetheart, and explained that the type of amyloidosis I had was sometimes very slow-moving," recalled Mr. Stremmel.
Over time, however, Mr. Stremmel noticed increased shortness of breath when climbing stairs. Dr. Grossman asked him to come in for an appointment. "His bedside manner was so good," said Mr. Stremmel. "He said, 'Pete, the condition is progressing faster than we had hoped. I think you definitely need a heart transplant.' I had been mentally preparing myself for this, and said, 'Why didn't you tell me this over the phone?' Dr. Grossman said, 'This isn't the kind of news I want to give over the phone.'"
When his condition continued to worsen, Mr. Stremmel entered the UCSF Medical Center ICU in March 2014, and spent the next two-and-a-half months there awaiting a new heart. Dr. Klein increased his medications and prescribed a permanent IV infusion to help support heart function. By Mr. Stremmel's side were his wife and daughter, Piper, who left her job in China to support him; his brother, Steve, also visited frequently.
"The ICU nurses are incredibly amazing, and [cardiac transplant surgeon] Dr. [Georg] Wieselthaler came to see me four or five times a week," said Mr. Stremmel. "This guy is beyond wonderful – one of the most remarkable people I've ever met. He kept telling me, 'You're going to do fine.'" As the weeks wore on, Dr. Wieselthaler told Mr. Stremmel, "Don't get frustrated or discouraged. Your heart is coming – just be patient."
On Mother's Day, Dr. Wieselthaler told him, "We have a heart!" The surgery started at 2 a.m. and took about six hours. Mr. Stremmel spent another month recovering in the hospital, and an additional month in San Francisco coming in almost daily for tests. Dr. Teresa De Marco, leader of the Advanced Heart Failure and Heart Transplantation Program, carefully oversaw his post-transplant care and continues to monitor him closely. "She is off the charts – always very positive and encouraging," said Mr. Stremmel.
He is back to his active lifestyle, lifting weights with a trainer three times a week, riding his bike, and walking a mile-long path around the lake near his office every day. He returned to work the day after getting back to Reno. This summer he will resume his role as auctioneer at the prestigious Coeur d'Alene Art Auction, an event he co-founded more than 25 years ago and which is the nation's biggest and most successful auction of art of the American West.
His family's support and his own positive attitude helped Mr. Stremmel do so well. "I knew I would not only survive this, but excel," he said. "I felt good knowing that I had the very best doctors in the world, and I couldn't be more thankful."