Advanced Heart Failure & Pulmonary Hypertension
The University of California, San Francisco (UCSF) Advanced Heart Failure and Pulmonary Hypertension program is an internationally recognized program that offers the full spectrum of therapies including lifestyle and dietary modifications, disease management, evidence-based pharmacotherapy, electrophysiological devices, mechanical circulatory support, and heart and lung transplantation.
Heart Failure
Our multidisciplinary team of experts – including physicians, nurses, pharmacists, dietitians, physical therapists, social workers, and palliative care service group – works closely with referring physicians to relieve symptoms, slow disease progression, prolong survival and improve quality of life in patients with heart failure. The team evaluates and can assist in the management of patients with risk factors for heart failure, as well as patients with mild, moderate or advanced stage disease.
In addition to the approximately 4,000 heart failure patients across UCSF practices, our program evaluates several hundred new patients every year. State-of-the-art genetic testing, imaging modalities (3D echocardiography, cardiac magnetic resonance imaging, cardiac positron emission tomography, and coronary computed tomography), invasive/interventional procedures (right and left heart catheterization, myocardial biopsy, coronary angioplasty, valvuloplasty, and alcohol septal ablation) and cardiac surgeries (mitral valve repair, ventricular reconstruction, high-risk coronary artery bypass, ventricular assist device implantation, and heart transplantation) are all available at UCSF.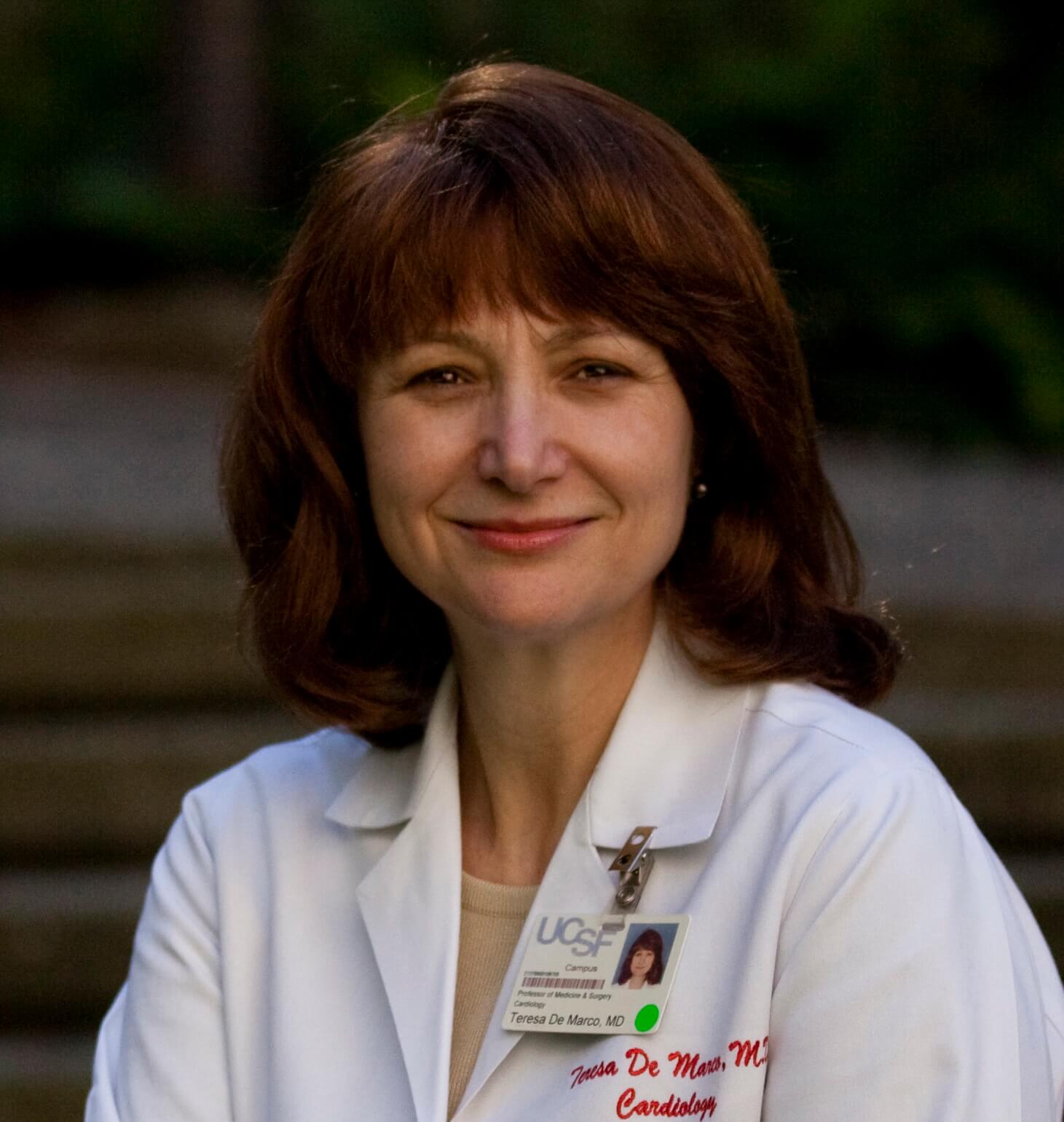 Treatment options can include both conventional and experimental therapies. Intensive case management and remote implantable monitoring devices such as CardioMems, in appropriate patients, incorporating dedicated nurses and nurse practitioners, innovative teaching materials, and a comprehensive transition of care model helps patients and families adhere to medication regimens and make sustainable lifestyle changes. Our enhanced discharge program is characterized by tightly spaced follow-up visits and careful coordination with external physicians and caregivers. As a result, we have been able to maintain our 30 day  internal readmission rate under 16%
For patients 65 years of age and older, we can coordinate care with the specialized clinical practices from the Division of Geriatrics who are experienced in evaluating and addressing older adults' needs. This ensures that older heart failure patients, who are at highest risk for readmission, receive a phone call within 72 hours of discharge and a follow-up visit within seven days to 14 days, depending on risk profile for readmission. Physicians and nurse practitioners work closely with each patient's visiting nurse, primary care provider and caregivers to optimize the patient's well-being and reduce the need for emergency room visits and hospitalizations.
For those patients with advanced heart failure (stage D), characterized by progressive symptoms and poor quality of life despite optimal pharmacological and electrical device therapies, we offer a full spectrum of therapies, including mechanical circulatory devices and heart, heart-kidney and heart-lung transplantation. With over 25 years of experience and more than 350 patients transplanted to date with over 20-25 transplants per year  (including 15 heart-lung and 30 heart-kidney transplants). The  UCSF Heart Transplant Program is one of the most experienced and successful in the region, with observed comparable to expected outcomes (Scientific Registry of Transplant Recipients).  The heart transplant program is the recipient of the Press Ganey's Voice of the Patient - Pinnacle Award for achieving outstanding patient satisfaction in 3 consecutive  years. 
Multidisciplinary care and technical advances make our Mechanical Circulatory Support Program a viable option for an increasing numbers of patients as a short-term bridge to recovery, a longer-term bridge to transplant, or as destination therapy. UCSF is unique because we offer expertise in both mechanical circulatory support and extracorporeal life support, and have experience in using nearly all FDA-approved devices. Each year, 30-40 durable devices are implanted at UCSF. Our physicians are particularly skilled at recommending the right approach and device for each patient. We also carefully train patients and their families, and offer 24/7 clinical and technical support once they return home. Our follow-up program extends to training local fire departments, emergency medical services and emergency rooms. The UCSF MCS Program was one of the first in the nation to utilize remote monitoring strategies incorporated into the electronic medical record to reduce readmission rates and ventricular assist device complications.
Adult Pulmonary Hypertension Comprehensive Care Center
The UCSF Pulmonary Hypertension Program was established over 30 years ago, and has been designated as a Pulmonary Hypertension Comprehensive Care Center  by the Pulmonary Hypertension Association for the evaluation and treatment of the disorder. With more than 700 patients with pulmonary hypertension from all etiologies and over 450 patients with pulmonary arterial hypertension, our program offers the full spectrum of care ranging from oral, inhalational and catheter-based therapies to experimental therapies  (including graded balloon atrial septstomy with stent), extracorporeal support (ECMO) as a bridge to pharmacotherapies  or surgery and lung transplantation. The UCSF Lung Transplantation Program performs over 40-50 lung transplants yearly with the best outcomes in the nation. A team of physicians, nurse coordinators, nurse practitioners, pharmacists and social workers – dedicated to education as well as approved, state-of-the-art pharmacologic and surgical therapies– creates patient-centered, individualized management strategies  that optimize care and help patients better manage their condition.