Faculty Spotlight: Neal Shah, MD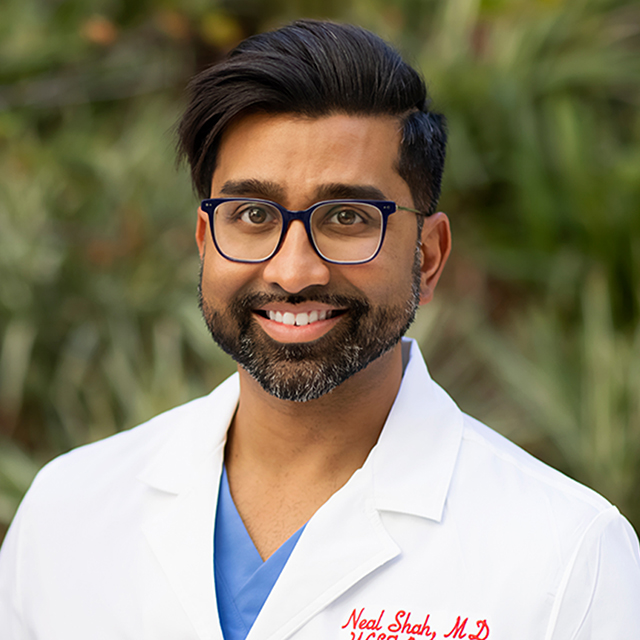 January 16, 2023
Advancing Echocardiography Care and Education
For Neal Shah, MD, his life took an unexpected turn in college when a close family member had a heart attack and received a cardiac stent. "That was my first interaction with cardiologists, and it was very influential to see how they had to make decisions in the moment, using whatever information they had, plus their experience," he recalled. "That piqued my interest. I wanted to apply my experience I was gaining in sociology, where I was learning about different cultures, social classes, race and ethnicity, and bring that to medicine."
Born in Chicago, Dr. Shah's family briefly moved to India before settling in southern California. He earned his bachelor's degree in sociology from UC Riverside and his medical degree from the David Geffen School of Medicine at UCLA. At Olive View-UCLA Medical Center, an academic county hospital serving northern Los Angeles County, he then completed his internal medicine residency and chief residency and worked for several years as a hospitalist. Driven by his commitment to working with underserved populations, he learned Spanish to help provide better care for his patients.
During his cardiology fellowship at Ronald Reagan-UCLA Medical Center, he developed a passion for echocardiography. "Being able to put a probe on someone's chest, acquire an image, and interpret it in real time to help answer questions about potentially life-threatening heart conditions was very exciting," he said. Dr. Shah then completed an advanced echocardiography and cardiac imaging fellowship at Stanford University Medical Center.
A Love for Teaching
He was recruited to the UCSF Division of Cardiology as a structural echocardiography cardiologist and joined the faculty in July 2022. Structural echocardiography uses ultrasound to diagnose and help treat anatomical problems of the heart, such as cardiac valve disease and abnormal holes in the heart.
"UCSF offered a clear plan to help me grow, as well as the mentorship to help me do that," said Dr. Shah. "Having internationally renowned physicians in the field of echo at UCSF was huge." Those mentors include Ted Abraham, MD, vice president of the American Society of Echocardiography, Kirsten Tolstrup, MD, associate chief of cardiology for ambulatory operations, and Atif Qasim, MD, MS, director of the Echo Core Lab as well as the Cardiology Fellowship Program.
In addition to valuing opportunities for his own professional development, Dr. Shah finds deep satisfaction in teaching the next generation of physicians. During residency and fellowship, he developed curricula to help residents hone their ability to use tools such as echocardiography and EKG to manage acute situations. He also led monthly code simulator trainings for house staff.
At UCSF, he relishes teaching trainees in the echocardiography lab. "I love doing procedures with the fellows," said Dr. Shah. "I try to help them develop a schema or framework for when they go into practice. I tell them that every attending has his or her own way of doing things, and there are different ways of doing the same thing. That is why it's great to work with multiple attendings, so they can learn what habits work for them, and which ones they do not want to carry forward. Each person's framework is different, but it's important to determine which building blocks you want to include in your schema. That will allow you to be consistent and not miss something when you are doing a procedure."
For example, he teaches trainees how to balance the details with the big picture. "If we're doing an echo to rule out a blood clot in a small portion of the heart and only look at that part, we're going to miss everything else," said Dr. Shah. "But if part of your framework includes quickly going through everything else, you are more likely to pick up other things you might otherwise miss. Sometimes attendings just look at one thing and then pull the probe out, because they have six or seven other procedures to do. We don't have an hour to do one procedure, but if we are efficient we can make things really count."
Like a personal trainer at the gym, Dr. Shah continually challenges trainees to grow. "I always like to put a little pressure on fellows, so they focus on how to optimize their approach," he said. "I don't expect people to be world-renowned structural cardiologists by the end of fellowship, but I do expect them to be comfortable acquiring and interpreting images in stressful situations where their main goal is to investigate one potential problem, but they also rule out other pathologies."
Improving Quality of Care
Another focus of Dr. Shah's work is quality improvement. He works closely with Monet Strachan, ACS, RDCS, FASE, director of echocardiography and stress programs in the Adult Echocardiography Lab and chair of the American Society of Echocardiography Cardiovascular Sonography Council Steering Committee. Acquiring and interpreting echocardiography images is a team effort: sonographers are usually the ones to acquire images of patients' hearts in the echo lab, and echocardiographers then read and interpret these images to guide diagnosis and clinical decisions.
The heart is a complex organ; adding to that complexity, it is in constant motion as it contracts and expands. Subtle variations in the angles from which a heart is imaged can affect the accuracy and usefulness of the echocardiogram. Dr. Shah and Ms. Strachan are leading efforts to standardize how heart function is measured and reported, regardless of who acquires or interprets the image, and across multiple UCSF sites.
"It shouldn't matter whether an echocardiogram is done at Mission Bay, Mount Zion or Parnassus – it should all be the same quality imaging, with the whole team using a consistent standard," said Dr. Shah. "When I'm reading echoes, I may change 50 percent of the initial interpretation. That's not to say that what I'm reporting is necessarily the best standard, but there is enough variability within readers that there's room to create a standard." It's a bit like developing a citywide standard for street signs, rather than having each neighborhood design its own format.
He is excited about using artificial intelligence (AI) to help with these efforts. For example, in addition to acquiring images, sonographers spend a considerable amount of time using software tools to draw lines or measure area to quantify heart chamber volume or the leakiness of a particular valve. To make this even more complicated, these measurements must be taken at a specific time within a cardiac cycle; if performed too early or late, they will be less accurate for understanding heart function and pathology. "AI times the echocardiograph with an EKG read and can measure the heart at the exact right time, at the right place," said Dr. Shah. "That removes a lot of the intra-observer reporting differences."
If implemented successfully, using machine learning to measure heart volume and dimensions more accurately and efficiently could free up sonographers to spend more of their time on higher-level tasks. "If we can better optimize sonographers' time, they will be better able to focus on getting high quality images and doing a pre-read of those images, providing an initial impression of heart function, valve function, and any pathology," said Dr. Shah.
He also looks forward to leveraging AI to better provide care during procedures. As a structural echocardiographer, he partners with interventional cardiologists by performing transesophageal echocardiograms (TEEs), which involves inserting a probe down the esophagus to provide clearer, more detailed imaging guidance than can be obtained through transthoracic echocardiograms (TTEs). Because the esophagus is located so close to the heart, TEEs provide interventional cardiologists with a front-row seat to the heart as they perform procedures. Currently, interventional cardiologists integrate images from TEEs and fluoroscopy, which uses X-rays to obtain real-time images of the heart. Each type of imaging modality has its own sets of strengths and limitations.
Until now, interventional cardiologists could only view those two types of imaging side by side, but UCSF will soon pilot implementation of a software called EchoNavigator, which superimposes these modalities onto one another – integrating all of it within a single frame. "An obstacle for many places is installing the hardware, which is expensive and requires shutting down the cath lab for several weeks, but UCSF already has the hardware set up in one of our cath labs," said Dr. Shah. "I'm excited to get this going."
Treating Every Patient with Respect
Dr. Shah's clinical work includes reading echocardiograms and stress tests in the Adult Echocardiography Lab, performing TEEs, and a weekly clinic, where he sees both general cardiology patients as well as those who are undergoing evaluation for potential heart valve therapies. In addition to Dr. Shah and his echocardiography colleagues, the UCSF Heart Valve Disease Clinic includes interventional cardiologists and cardiothoracic surgeons who work together closely to assess each patient and develop tailored care plans.
He appreciates UCSF's public service mission, and especially enjoys getting to speak Spanish with some of his patients. "I strive to treat all patients with the utmost respect, and for them to feel they're being heard," said Dr. Shah. "I want to provide the highest level of care from a cardiac standpoint and do whatever I can to help their situation, even if it's just lending an ear. I try to explain things at the level of each patient's understanding by breaking down complex valve problems or cardiac arrhythmias in terms they can relate to. At the end of the day, I want to make sure the patient has an idea of what the treatment will be, and feels comfortable with the plan. That's what gives me the most satisfaction."
He is involved in several clinical trials for valve disease treatment. These include the RELIEVE-HF study, which is assessing the efficacy of an intra-atrial shunt to offload some of the excess blood flow from the left atrium to the right atrium in heart failure patients whose compromised hearts are unable to keep up with the extra workload. The REPAIR MR study is comparing outcomes between surgical repair and an implantable device called the MitraClip for treating mitral regurgitation, a condition in which the mitral valve leaks blood backwards in the heart. He is also working with cardiothoracic surgeons on another mitral valve study called the SUMMIT trial. In addition, Dr. Shah is also involved with the TRISCEND II Pivotal trial to study a new therapy for tricuspid valve disease, which until recently has had few effective treatments and is sometimes called the "forgotten valve."
So far at UCSF, Dr. Shah has appreciated how supportive the nursing staff and administrative team in the Division of Cardiology are, and his collegial relationships with the sonographers. "The sonographers literally sit right across the hall, and come in to talk and ask questions," he said. "Getting to talk directly with them, offer direct feedback, and hear their impression of what's going on [with a patient's heart] has been very refreshing."
"Neal comes to us via UCLA and Stanford, where he completed his structural echo fellowship," said Dr. Tolstrup. "He came highly recommended for his superior skills with advanced echo imaging, as well as his work ethic. He brings experience in tricuspid valve clinical trials that will help bring UCSF cardiology into the tricuspid space. In addition, Neal has interest in quality control [QC] and teaching, and will be a great asset to the QC team in the Echo Lab."
-       Elizabeth Chur