Faculty Spotlight: Atif Qasim, MD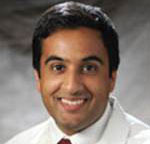 As an undergraduate at Yale, Dr. Atif Qasim (pronounced "AH-tiff KAH-simm") was debating between a career in medicine or teaching. "After talking with a lot of folks, I realized I could actually do both in academic medicine," said Dr. Qasim, who joined the Division of Cardiology faculty in 2012.
His passion for teaching inspired him to write the Hitchhiker's Guide to Internal Medicine, published by Oxford University Press in 2010, a practical overview for medical students and interns as they begin providing patient care. He also co-founded a medical education company called Cardio QnA, whose goal is to provide aspiring cardiologists a cost-effective way to prepare for board exams.
Dr. Qasim also built his own website, which combines videos of echocardiograms – ultrasound imaging of the heart – with helpful information for performing and interpreting these diagnostic tests. "Imaging is a very visual modality," he said. "Seeing a picture is worth a thousand words. When I'm talking with a resident or cardiology fellow, I can just pull this website up on any computer and show them an echocardiogram of the classical form of a condition…. People have e-mailed us about this website from across the country and even from places like Germany and Turkey saying, 'It's great!'"
Building on his lifelong interest in art and drawing, Dr. Qasim even creates his own medical illustrations. In addition to freeing him from chasing down copyright permissions, this allows him to show exactly where imaging probes should be placed, and lets him improve illustrations in response to user feedback.
Using Imaging for Prevention
Dr. Qasim earned his medical degree from Johns Hopkins University, then completed his residency, chief residency and cardiology fellowship at the Hospital of the University of Pennsylvania, where he also earned a master's in clinical epidemiology and biostatistics. At UCSF, in addition to seeing patients at the Mission Bay clinic, performing and reading echocardiograms, and caring for hospitalized patients, he pursues research in using cardiac imaging to prevent heart disease.
For example, imaging tools such as echocardiography, cardiac CT scans or MRI can provide information about how weak the heart is, which parts of the heart have been affected, and what treatments are most likely to help them. "The goal of imaging is to be as minimally invasive as possible, while getting information we need without harming patients," said Dr. Qasim.
Dr. Qasim also uses imaging to evaluate patients in clinical trials to determine the efficacy of new devices and procedures. "Part of our goal is to identify the patients that are going to benefit most from a particular procedure," he said. He is also interested in using imaging to determine which patients are most likely to develop heart failure from specific cancer drugs, which could help shape their cancer treatment and prevent irreparable damage. Similarly, imaging might be used to detect early signs of rejection in heart transplant patients, reducing the need to take repeated biopsies that could actually harm the transplanted heart.
There are many other questions that still need more research. "Some people come in with a weak heart, and after doing all the tests, you still don't know exactly why that patient developed heart disease, or who else in their family might be at risk," said Dr. Qasim. He is excited to work with the new UCSF Health eHeart Study, which includes a large database and biospecimens from a growing number of patient volunteers. By collecting and analyzing huge amounts of biological and genetic information, as well as imaging studies and details about lifestyle habits, researchers expect to discover more about what causes heart disease, and which treatments are most effective for particular types of patients. "Imaging techniques can help to risk-stratify folks, and decide how aggressive you need to be with treatment," he said.
Dr. Qasim is married to Dr. Saeher Muzaffar, a pulmonary and critical care doctor at Sequoia Hospital in Redwood City. Together they have two young children.