Faculty Spotlight: Kirsten Tolstrup, MD
Putting Patients First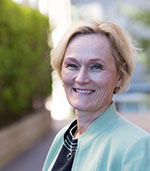 Echocardiologist Kirsten Tolstrup was born in Denmark and earned her medical degree from the University of Copenhagen. During medical school, she came to the United States to visit her brother, a wind power machinist who was working in California. "I spent six weeks in Palm Springs around Christmastime, and I was sold – I loved the warm weather!" recalled Dr. Tolstrup. After completing internships at hospitals in Denmark, she completed her internal medicine residency at the University of Southern California and her cardiology fellowship at the University of New Mexico.
"I really liked cardiology because with just a patient history, physical, stethoscope and your hands, you can often obtain a diagnosis," said Dr. Tolstrup. "And with echocardiography, you can use a non-invasive diagnostic tool that has no risk to the patients."
One of her fellowship mentors was Dr. Michael Crawford, who is now the Lucie Stern Professor of Cardiology at UCSF. He recommended her for a job at Cedars-Sinai Medical Center in Los Angeles, one of the highest volume echo labs in the country. She worked there for the next 11 years, eventually directing the Cardiac Non-Invasive Stress Laboratory and becoming associate professor of medicine at UCLA School of Medicine.
"I was mentored by some amazing people at Cedars-Sinai," said Dr. Tolstrup. "They taught me that patients come first. They demonstrated the value of providing great customer service – even if it requires jumping through hoops." Her mentors also demonstrated the importance of treating everyone with respect – a lesson she tries to pass on to her own trainees. "I learned how to apply myself and work hard, while at the same time interacting courteously and collaboratively with others – whether they are colleagues, patients or referring physicians," she said.
Valve Disease and Magnetocardiography
Besides her extensive clinical work, she has conducted research on valvular heart disease. Dr. Tolstrup led a clinical trial combining echocardiography and genetics to study congenital bicuspid aortic valve disease, in which the valve between the heart and aorta – the biggest blood vessel in the body – has only two flaps instead of three. This defect can cause backflow of blood or make it difficult for blood to exit the heart, and affects 1 to 2 percent of the population.
While it was already known that patients with bicuspid aortic valves also had aortas that are larger and stiffer than normal, Dr. Tolstrup and her collaborators found that family members of these patients were much more likely to have abnormal aortas, even if they had normal aortic valves. Her team used echocardiography to measure the aorta's size, as well as how much it stretched when the heart contracted and relaxed. Enlarged, stiffer aortas are more prone to tears and ruptures, causing an aortic aneurysm that can be fatal.
"Cardiologists can often detect a bicuspid valve just by listening to the heart with a stethoscope, but finding an abnormal aorta requires an echocardiogram," said Dr. Tolstrup. "There's no way you can find it in a general physical exam." After she and others published their findings, national guidelines were modified in 2010 to recommend aortic screening for close relatives of patients with bicuspid disease.
Dr. Tolstrup has also conducted research on an advanced imaging tool called magnetocardiography. Her husband, Dr. Massoud Akhtari, is a physicist at UCLA who has studied magnetoencephalography – a noninvasive tool to measure the magnetic field of brain waves which can be used to pinpoint the source of epileptic seizures. The heart's electrical system also generates a subtle magnetic field. However, detecting this field usually requires a shielded room that screens out all other magnetic sources – an impractical restriction for most hospital settings.
Dr. Tolstrup worked with a company, CardioMag Imaging, which developed a device that sits above a patient's chest and measures cardiac magnetic waves without a shielded room. "It's a very rapid test that doesn't require the patient to exercise or get undressed, and carries no risk," said Dr. Tolstrup. "It's more sensitive than what you can see on an electrocardiogram."
She conducted a pilot study to investigate whether the device could help determine whether emergency room patients with chest pain of undetermined origin actually were experiencing a heart attack, or whether it was safe to send them home. While countries like Japan, Germany and Finland use this technology in research settings, Dr. Tolstrup would like to find out whether it can be used in a clinical setting to diagnose ER patients more quickly and accurately.
Specialized Expertise
In 2012, Dr. Tolstrup returned to the University of New Mexico to direct their echocardiography laboratory. Her longtime mentor, Dr. Crawford, recently helped recruit her to UCSF. "Dr. Tolstrup is a senior clinician with considerable experience in heart valve disease, and specific expertise in the echocardiographic guidance of interventional procedures that replace or repair heart valves without surgery," said Dr. Crawford. "We look forward to her contributions to our heart valve disease team."
Dr. Tolstrup divides her time between the new downtown clinic at 1 Daniel Burnham Court, where she sees general cardiology patients, and the Parnassus campus, where she cares for patients with valvular disease, performs diagnostic imaging and provides help with cardiac imaging during procedures.
She recently started a heart valve clinic at Parnassus, in collaboration with her interventional cardiology and cardiac surgery colleagues. Dr. Tolstrup and her team hope to attract referrals from far and wide, including community hospitals and clinics which may not have specialized expertise caring for patients with complex valve disease. The clinic focuses on conditions affecting any of the four heart valves, and provides expert diagnosis and multidisciplinary care plans tailored to each patient, which may include careful monitoring over time, a referral to the UCSF Congenital Heart Disease Clinic, or the option to have percutaneous valve replacement or open-heart surgery for valve repair or replacement.
 "It's my goal to make this clinic extremely user-friendly for patients and referring physicians," said Dr. Tolstrup. "For example, to make things more convenient for patients, we're trying to design this clinic so they can opt to have evaluation studies done in their own communities, rather than coming in for multiple appointments at UCSF. Alternatively, we'll try to schedule patients so they can come in and get everything done in a 'one-stop shopping' visit."
Dr. Tolstrup enjoys the variety of her work at UCSF, as well as collaborating with such outstanding colleagues. "It's wonderful to be part of such an expert team, and the level of cardiology that is provided by everybody is so great," she said.
Dr. Tolstrup and her husband have two sons, Teis, 11, and Niels, 17. In her spare time, Dr. Tolstrup is an avid practitioner of taekwondo, holding a fourth-degree black belt and training five times a week.