Cardiac Electrophysiology Fellowship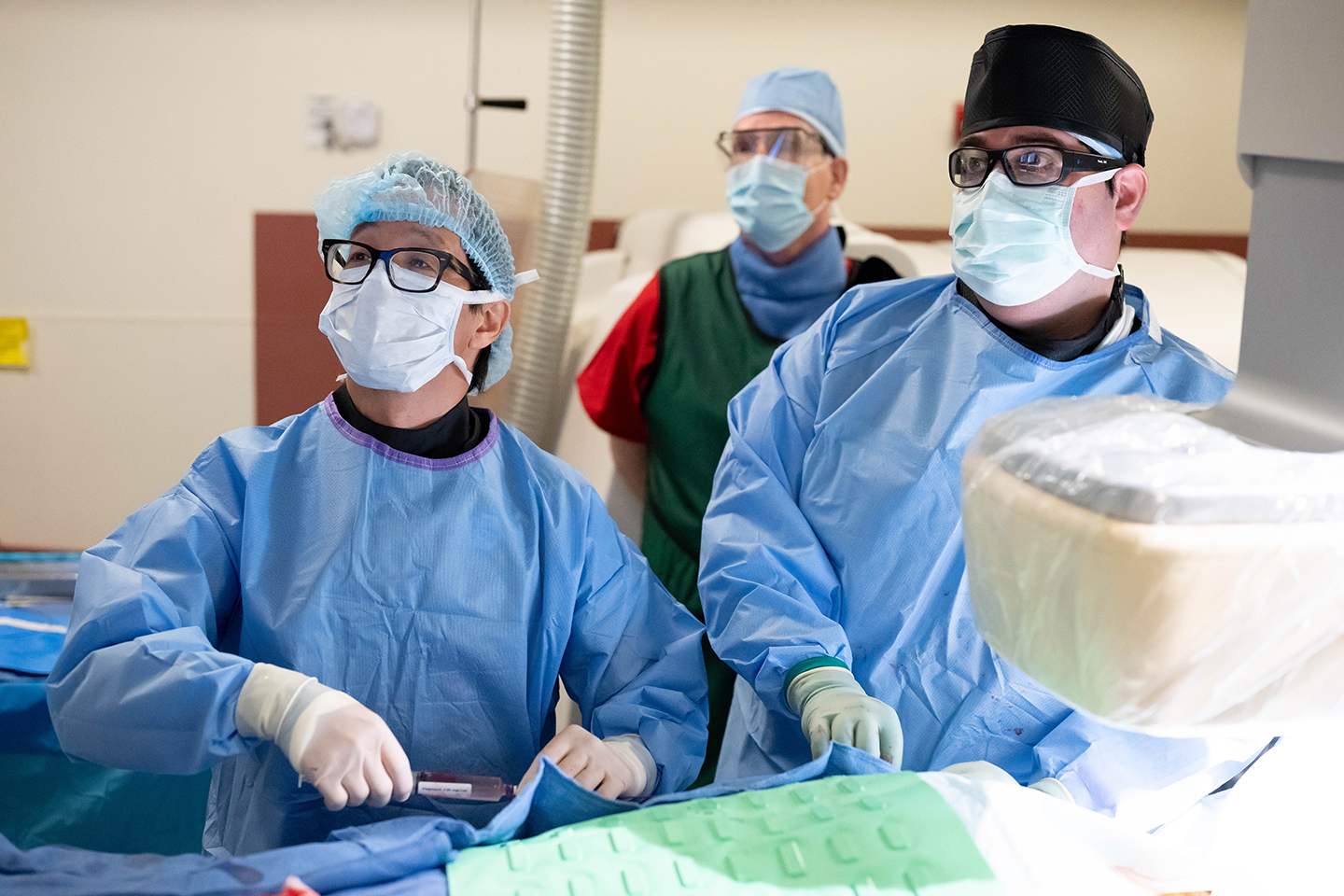 Description
Training Program
Faculty
Previous Fellows
Salary and Benefits
How to Apply
Description
The UCSF Cardiac Electrophysiology Fellowship Program is a 2-year ACGME accredited training program located at UCSF Helen Diller Medical Center at Parnassus Heights. The fellowship prepares outstanding cardiologists to be leaders in the field of cardiac electrophysiology. Trainees will develop a broad set of sub-specialty clinical skills and graduate with expertise in all facets of arrhythmia evaluation and management – inpatient and outpatient consultation; surgical implantation of pacemakers, defibrillators, and biventricular devices; performance and interpretation of invasive electrophysiology studies; and catheter ablation of both simple and complex arrhythmias, including supraventricular tachycardia, atrial fibrillation, and endocardial and epicardial ventricular tachycardia. Fellows are also provided a unique opportunity to participate in original research, with dedicated research time protected from other training responsibilities, and are encouraged to develop meaningful projects in basic science, translational and clinical research, and epidemiology, and to carry them through to presentation and publication. Three fellows are accepted each year. Applicants must have completed an accredited Cardiovascular Disease fellowship and be eligible for licensure in California.
Training Program 
Throughout the program, fellows have the opportunity to be mentored by world-class physician-scientists and clinicians. Fellows can also choose to work with exceptional researchers in the Division of Cardiology as well as the UCSF Cardiovascular Research Institute, the Gladstone Institute, and many other organizations at UCSF.
Faculty
Joshua Moss, MD
Program Director and Professor of Medicine

Thomas Dewland, MD 


Associate Professor of Medicine

Edward Gerstenfeld, MD
Professor of Medicine

Henry Hsia, MD


Professor of Medicine

Byron Lee, MD


Professor of Medicine
R

andy Lee, MD


Professor of Medicine
Greg Marcus, MD


Professor of Medicine

Cara Pellegrini, MD
Associate Professor of Medicine

Melvin Scheinman, MD


Professor of Medicine

Zian Tseng, MD
Professor of Medicine

Vasanth Vedantham, MD
Associate Professor of Medicine
For other faculty members within the division, please see Faculty Profiles. For the research activity of specific faculty members, please see Research.
Previous Fellows
Eunjeong Kim, Cardiac Electrophysiologist, Advanced Cardiovascular Specialist Group, Mountain View, CA
David Rosenthal, Cardiac Electrophysiologist, The Everett Clinic, Seattle, WA 
Annahita Sarcon, Cardiac Electrophysiologist, Private Practice, CA
Christopher Groh, Assistant Professor, University of Utah, Salt Lake City, UT
Adam Oesterle, Assistant Professor, UC Davis Medical Center, Sacramento, CA
Adam Lee, Clinical Instructor, UCSF, San Francisco, CA
Ricardo Cardona Guarache, Cardiac Electrophysiologist, The Everett Clinic, Bothell, WA
Jose Sanchez, Cardiac Electrophysiologist, Denver Health and University of Colorado, Denver, CO
Alefiyah Rajabali, Cardiologist, Providence Heart Clinic at Oregon Clinic Gateway, Portland, OR
Isaac Whitman, Assistant Professor, Lewis Katz School of Medicine, Philadelphia, PA 
Eric Riles, Cardiac Electrophysiologist, UCHealth Colorado, Loveland, CO
Annie Narla, Assistant Professor, University of North Carolina, Chapel Hill, NC
Babak Nazer, Cardiac Electrophysiologist, Oregon Health Sciences University, Portland, OR
Robert Hayward, Cardiac Electrophysiology, Kaiser Permanente, Santa Clara, CA
Srikant Duggirala, Cardiac Electrophysiologist, Foothill Cardiology Medical Group, Inc. Covina, CA 
Jonathan Dukes, Cardiac Electrophysiologist, Cardiology Associates Medical Group, Ventura, CA 
Jason Roberts, Cardiac Electrophysiologist and Assistant Professor of Medicine, Western University in London, Ontario, Canada
Salary and Benefits
Salary: The Cardiac Electrophysiology Fellowship is a PGY level 7.
Benefits: UCSF provides residents and clinical fellows a rich package of health and welfare benefits at a good value. Plans include health, dental, vision, disability, and life insurance. To learn more about fellowship benefits including our retirement savings plan click here. 
Vacation: Every year, fellows get 4 full weeks of vacation time in 1-week blocks. Rules about scheduling vacation vary by program. 
How to Apply
Application Procedure & Timetable
Steps
Timetable
1. Submit your application through ERAS, Electronic Residency Application Service.

Apply online. The ERAS phone is (215) 966-3940. 

No paper applications accepted.
Available July 19, 2023


Deadline for completed applications – August 14, 2022

2. Interviews
Interviews will be held in September and October 2023
3. Rank list due
November 16, 2023
4. NRMP Match Day
November 30, 2023
5. Fellowship begins
July 1, 2024
We participate in the National Resident Matching Program for this fellowship. Please contact the NRMP for information on how to sign up for their services.
J-1 and H-1B Visa Sponsorship
For international applicants, UCSF can sponsor J-1 and H-1B visas.  
How to Acquire H-1B Visa Status at UCSF: https://isso.ucsf.edu/immigration-visas/h-1b-scholars
J-1 Scholar Categories at UCSF: https://isso.ucsf.edu/j-1-scholar-categories-ucsf
For more information about application criteria please contact:
Michael Stover
Associate Fellowship Coordinator
[email protected]
Professional and Ethical Behavior
The Division of Cardiology is committed to a culture of professionalism that places the needs of the patient first, maintains a commitment to scholarship, continuous quality improvement, and fosters a spirit of collaboration among colleagues. Fellows learn these attitudes from mentors and role-model clinicians. The training program is committed to maintaining a high ethical standard, a spirit of collegiality, integrity, respect, compassion, professional responsibility and accountability, courtesy, and sensitivity to patient needs and comfort. Fellows are evaluated in these areas, and they are considered to be an integral part of the training program.