Faculty Spotlight: Peter Teng, MD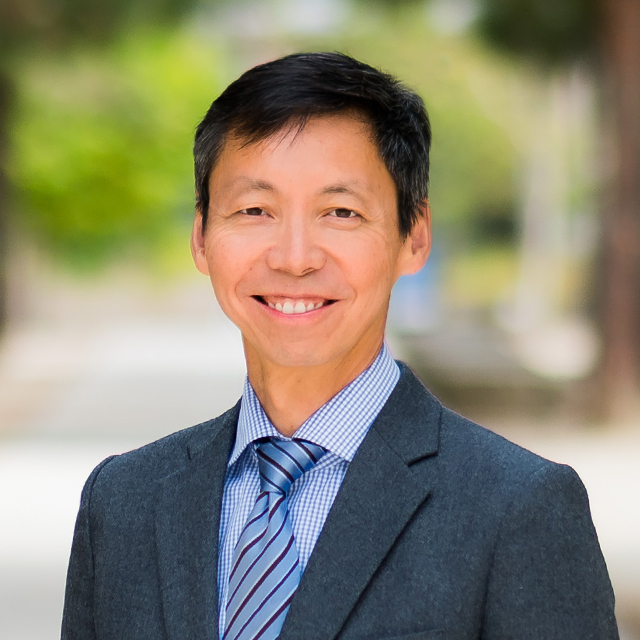 Cardiology Ambassador
As an immigrant, cardiologist Peter Teng, MD, learned early on how to navigate different worlds. That experience helps him serve as a bridge between different subcultures in medicine, whether he's helping community patients tap into the UCSF system or planning their smooth transition from the hospital back home.
Born in Taiwan, Dr. Teng moved with his family to Queens, N.Y. when he was 11. It was full immersion. "I didn't speak a word of English, but I was fortunate because Queens was one of the most diverse places in America with immigrants from all over, including the Caribbean, Africa, Eastern Europe, India and Asia," he said. "That made it easier to assimilate." He graduated from Stuyvesant High School, one of the top public high schools in the country, then earned a bachelor's degree in biology from Cornell University. He completed his medical degree at the University of Medicine and Dentistry of New Jersey, and his internal medicine residency at Columbia-Presbyterian Medical Center.
"I've always felt my internship was my own equivalent of serving in the military," said Dr. Teng. In that era before duty-hour restrictions, he and his co-residents sometimes worked for 36 or 48 hours straight, caring for a high volume of patients and doing everything from tending to gunshot wounds to inserting chest tubes. He also picked up medical Spanish during a weeklong intensive course the first week of residency. That helped him communicate with the many Spanish-speaking patients, many of them Dominicans, who lived in the surrounding Washington Heights neighborhood.
After residency, Dr. Teng spent an additional year at Columbia-Presbyterian completing a research fellowship in atherosclerosis. "I've always been interested in how plaque grows in arteries, and going deeper in understanding different cell signaling pathways," he said. "I like seeing how things work." He completed his clinical cardiology fellowship at Stanford University, followed by a postdoctoral fellowship at Stanford and Millennium Pharmaceuticals.
Dr. Teng then joined Breall and Associates, which later merged with the Cardiovascular Medical Group. During his 17 years in private practice he developed deep relationships with many San Francisco hospitals, serving as medical director of cardiology and vice chair of medicine for St. Francis Memorial Hospital, director of cardiac computed tomography (CT) imaging for St. Mary's Medical Center, and as a consult attending and voluntary assistant clinical professor at UCSF.
He enjoys the breadth of general cardiology, from seeing patients in clinic and the hospital, conducting cardiac catheterizations, implanting and managing pacemakers, interpreting echocardiograms and cardiac CT imaging, and reading nuclear perfusion studies. Dr. Teng also appreciates the variety of patients he is privileged to care for. "People are so unique, and I try to find out what makes each of them tick," he said. "They often are looking for understanding and reassurance, and I try to alleviate their fear right off the bat. I let them share, give them enough information – but not so much that I overwhelm them – and try to be clear about next steps. I help them make choices and involve them as part of the team. I want them to realize that their contribution is at least as important as mine, and that we'll achieve our goals together."
Bridge to the Community
In 2020, Dr. Teng was recruited to the UCSF Division of Cardiology. "Being part of UCSF opens up a whole new universe," he said. "I like staying at the forefront of medicine, and wanted to be part of redefining health care and making it better."
He was hired in part to be an ambassador to the community, making UCSF's exceptional care more easily accessible to both patients and referring physicians. "Because I've been in the community for more than 16 years, I know not only the people but also the infrastructure at Dignity Health, Chinese Hospital, and CPMC [California Pacific Medical Center]," he said. "I can help bring UC and San Francisco closer together."
Dr. Teng notes that UCSF already staffs outreach clinics in outlying communities such as the Central Valley, bringing expert care to patients close to where they live rather than requiring them to drive three or four hours to San Francisco. He hopes to adapt that same model for patients within the Bay Area who might find it challenging to access UCSF.
Like the 21st century equivalent of the doctor making house calls with his black bag, Dr. Teng travels to a number of different clinics and hospitals to see patients; he also offers video appointments for those who prefer it. He holds regular clinics at the UCSF Cardiovascular Care and Prevention Center at Parnassus and the UCSF San Mateo Primary and Specialty Care Clinic, serves as an inpatient attending at UCSF Medical Center, and takes call at Saint Francis Memorial Hospital and St. Mary's Medical Center. He helps connect patients at other sites with the highly specialized resources at UCSF, whether it's a referral to an expert electrophysiologist or the world-class interventional and surgical team in structural heart disease, or expediting a transfer of an extremely sick patient who needs state-of-the-art care.
"For example, at St. Mary's I initiated a pathway to help patients in urgent need get transferred to UCSF, which traditionally had not been easy," said Dr. Teng. "I enjoy connecting patients and referring physicians to talented UCSF Cardiac ICU cardiologists like Dr. Connor O'Brien and Dr. Richard Cheng, as well as our new chief of the Division of Adult Cardiothoracic Surgery, Dr. Tom Nguyen. They are very engaged, and actively available for local physicians."
Soon he will begin holding satellite clinics at The Sequoias, a senior living community on Geary Boulevard. While in private practice, Dr. Teng provided cardiology support to the internal medicine team there for many years, and is excited to build on those relationships in his new role. He and three other colleagues are also working with Chinese Hospital to offer a UCSF Cardiology clinic onsite, as well as an inpatient telemedicine cardiology consult service which will provide expert guidance to Chinese Hospital physicians. This team of UCSF cardiologists with Mandarin and Cantonese fluency will be able to communicate directly with patients without needing an interpreter, rapidly identify very ill patients who could benefit from high-level care in the UCSF Cardiac ICU or ICU, and coordinate transfers to UCSF Medical Center.
"Dr. Teng brought his outstanding knowledge and superb clinical skills to a highly successful clinical practice," said Gordon Fung, MD, PhD, MPH, director of the UCSF Asian Heart & Vascular Center. "He continues to be an expert in advanced imaging, co-directing the CT program at St. Mary's Hospital and St. Francis Memorial Hospital and educating his colleagues in the community. He is a compassionate, culturally sensitive physician who focuses his care on patients and their families." 
Educate and Empower
In addition to caring for patients in many settings, Dr. Teng appreciates working at an academic medical center. Both his parents were educators – his father was a college dean in Taiwan, and his mother was a math teacher – and he has always enjoyed teaching his patients and empowering them to take charge of their health. "Now I'll also get to work with medical students, residents and fellows in a more formalized way," he said. "The idea of what makes a good doctor is changing, and it will be interesting to teach trainees to become physicians for the coming decades. How do we retain the heart and soul of medicine while incorporating innovative tools, including future applications of artificial intelligence in health care delivery?"
Some of the advice he gives to trainees is to take a few minutes to get to know their patients as whole people. "We can get so attached to the data on the screen, but asking a few questions about a person's living situation and what they like to do gives us an idea of their functional status and degree of support or isolation," said Dr. Teng. "I often tell trainees, 'Don't just give me a set of numbers – try to paint me a picture of the patient.'"
With his extensive experience in the community, he also encourages trainees to consider the whole continuum of care. "Trainees sometimes feel they have to get everything done during those few days that a patient is hospitalized," said Dr. Teng. "I help them step back and consider how they can pass the baton to outpatient doctors in a safer and more effective way. The trainee may think they did a perfect job, but then, boom! Everything can unravel in a few days if the outside doctor can't easily see the chart information from UCSF, or the patient has problems picking up or paying for medications. I help trainees think about how care can best continue outside of the hospital, so outpatient doctors can finish what we started."
Outside of medicine, Dr. Teng finds balance through personal faith and time with family.  He enjoys swimming, reading the New Yorker, and learning piano and guitar.
-Elizabeth Chur