Faculty Spotlight: Gordon Fung, MD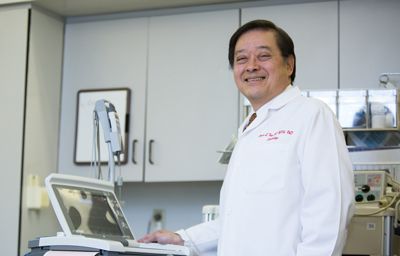 "In Buddhism and Taoism, people don't see illness as a problem of a body organ gone awry," said cardiologist Dr. Gordon Fung. "Instead, it's a total imbalance of energies, and people focus on eating the right foods or other activities to take care of that imbalance."
In San Francisco, where one in three residents is Asian, Dr. Fung serves as a bridge between patients with a traditional world view and the latest advances in cardiovascular medicine.
He was recruited to UCSF in 2000, where he founded the Asian Heart and Vascular Center to address barriers to care that he witnessed during his 15 years in private practice. Dr. Fung is deeply rooted in the community – a third-generation San Franciscan, he was born at Chinese Hospital in Chinatown, attended Lowell High School, then earned his bachelor's degree in economics from UC Berkeley, where he later earned a master's degree in public health with a focus on hospital economics and administration.
He comes from a family of doctors – his father graduated from the UCSF School of Medicine, and his siblings include a pharmacist, a radiologist and a gastroenterologist. Dr. Fung earned his medical degree from UCSF, then completed his internal medicine residency and chief residency at Highland General Hospital in Oakland and his cardiology fellowship at the Veterans Administration Medical Center in Martinez.
From 1985 until 2000, he practiced as an invasive cardiologist at California Pacific Medical Center and St. Mary's Hospital. He also worked as an internist and general cardiologist at Chinese Hospital and Saint Francis Memorial Hospital, as well as seeing patients at his own private practice in Chinatown.
Those experiences sparked his curiosity about cultural barriers to health care among Asian patients, inspiring Dr. Fung to earn a PhD in East Asian religions from the California Institute of Integral Studies. "I wondered if there was a philosophical reason why people didn't want to have treatment or become involved in research trials, or favored traditional Chinese medicine," he said. Dr. Fung developed a better contextual understanding of why some patients use acupuncture or herbs, and how they may feel responsible for their condition. "In a study of potential research subjects, some people believed that illness occurred because of karmic return – that they were being punished by their ancestors for poor behavior," said Dr. Fung.
Cultural beliefs also affect the way many Asians interface with the Western medical system. "The Asian population is so courteous and respects physicians that they are reluctant to tell the doctor that a prescribed medication didn't work or is causing side effects," said Dr. Fung. "Instead, they just see somebody else, or they stop taking the medication and don't say anything about it."
To counter this trend, Dr. Fung personally calls patients who miss an appointment. "Most patients say they have never had a call from a physician before, and they ask, 'Why are you calling? Am I that sick?'" he said.
One of the most important parts of providing effective care to his Asian patients is asking them why they think they have a particular problem. "That can be very revealing," said Dr. Fung. "For example, in the Confucian way of thinking, there is a protocol of how people should behave in families. When they don't behave as they should, it can cause suffering. Many people can be educated so they understand that their beliefs are important, but there is also a completely medical approach that we can use to intervene on their condition."
Dr. Fung also talks with them about their diet. For example, although Asians tend to not use table salt, many of the sauces used in cooking are loaded with sodium, which can exacerbate hypertension and heart failure. He cautions patients on blood thinners from receiving acupuncture, suggesting that they consider acupressure instead. He also asks them about all their medications, including over-the-counter pills and traditional herbs they might be taking. "We once had a young woman with her baby come in with horrendous cardiac arrhythmias," said Dr. Fung. "When we sent off blood tests for toxins and drugs, we found toxic levels of digoxin. We determined that it must have come from the herbs she was taking. So we always ask if they are on herbs."
Improving Asian Heart Health
The Asian Heart and Vascular Center is based at Mount Zion as well as Dr. Fung's community practice in Chinatown, and treats many patients from China, the Philippines, Vietnam, Thailand, Japan, and Korea, as well Hawaiian Islanders and Pacific Islanders. Dr. Fung uses a translator for about 30 percent of his patients, and is fluent in Cantonese. Other team members include electrophysiologists Dr. Randall Lee, Dr. Byron Lee and Dr. Zian Tseng, as well as heart and lung surgeon Dr. Elaine Tseng, who is based at the San Francisco Veterans Administration Medical Center and can help refer patients who need surgical care.
One of the most common problems Dr. Fung sees in his patients is uncontrolled hypertension. As director of the UCSF Resistant Hypertension Clinic, his goal to get these patients to target to help prevent heart attack, stroke and other events.
The definition of resistant hypertension is high blood pressure which is still uncontrolled despite taking three hypertension medications, one of which should be a diuretic (or "water pill"). "Many patients, including some that were coming over from China, were walking around with markedly elevated blood pressures of 170 or 180," said Dr. Fung. "They thought that because they were on small doses of medication, they were fine. It's been important to educate both patients and physicians about the importance of titrating medications up to lower their blood pressure to target."
Another challenge has been the high percentage of Asian patients who have adverse reactions to some commonly prescribed hypertension medications. For example, angiotensin converting enzyme (ACE) inhibitors cause what is known as an ACE-induced cough in about 5 percent of the general population. "In East Asian patients, it's been reported as high as 50 percent," said Dr. Fung. "Patients just wouldn't take the medication because of the cough. Once we prescribe a different medication that they could tolerate, we can often get their hypertension under control."
Similarly, many of his patients also develop gouty arthritis associated with the diuretics used to control blood pressure. "Acute gout is very painful, and if patients feel that it's related to their medications, they are likely to stop taking them," said Dr. Fung. "We've been working with our physician colleagues to choose a diuretic for their Asian patients which is less likely to create side effects like gout."
Some other conditions that appear to occur with greater frequency in Asian populations include:
Diffuse coronary artery disease: Most patients with coronary artery disease have an acute blockage which can often be opened by a balloon angioplasty or stent. However, Asian patients often have diffuse coronary artery disease, which means that the acute blockage is surrounded by lesser but still significant narrowing of the surrounding blood vessels. "We don't have enough information to know what measures to take to prevent recurrence of coronary artery disease in these patients, or whether Asians are more at risk of that," said Dr. Fung. More research is required to determine whether Asians have genetic mutations or other factors that might affect how effective statins are in preventing recurrence of disease.
Increased risk of bleeding: As a group, Asians tend to have increased sensitivity to blood thinners such as warfarin, aspirin and clopidogrel (also known as Plavix). "Some Asian patients only require a milligram or two of warfarin to achieve full anticoagulation, whereas the average American usually needs five to 10 milligrams," said Dr. Fung. Asian patients who are taking aspirin are also more likely to experience diffuse bleeding during surgery. Dr. Alan Wu, director of the Clinical Chemistry and Toxicology Laboratories at Zuckerberg San Francisco General Hospital, is currently working on developing tests to help identify Asian patients who are at increased risk of complications with blood thinners.
Metabolic disease: Asians are at higher risk for pre-diabetes, diabetes and metabolic syndrome, which can also increase risk of cardiovascular disease. "For many Asians, there is a paradox of having patients who are fairly thin – certainly not at the BMI (body mass index) standards of obese – and yet still having all the risk factors of insulin resistance," said Dr. Fung. Asians also frequently have increased amounts of fat locked in the abdomen, rather than throughout the body, as more commonly seen in Caucasian populations; this may be related to increased incidence of metabolic disease.
Strokes: Some studies have suggested that compared with the general population, East Asians experience more strokes than coronary artery disease as the presentation of cardiovascular disease. They also more frequently experience blockages and ruptures of blood vessels in the intracranial arteries, which are more complicated to treat than carotid artery disease in the neck.
Brugada syndrome: This is an inherited form of heart disease which produces potentially life-threatening abnormal heart rhythms. "Brugada syndrome appears to be more common in the Asian population, so it's important to detect people with that electrocardiogram abnormality, refer them to our electrophysiology service and have them tested," said Dr. Fung. "Because we have the ability to do genetic studies, we can also determine whether other family members might be affected."
Apical hypertrophic cardiomyopathy: Asians appear to have a higher likelihood of developing this condition, in which the apex – the lowest part of the heart – becomes abnormally thickened. "The enlargement can result in a smaller left ventricular cavity, which can then cause symptoms of heart failure," said Dr. Fung.
Valvular disease: Rheumatic fever and rheumatic heart disease can damage the heart valves, requiring replacement later in life. Rheumatic fever usually starts out as strep throat, but prompt administration of antibiotics can usually prevent progression into rheumatic fever and subsequent heart disease. "In the United States, rheumatic heart disease has essentially been eliminated as a problem, but there is still a high incidence of rheumatic heart disease throughout the entire Pacific Rim area," said Dr. Fung.
Valve replacement: In recent years, transcatheter aortic valve replacement (TAVR) has offered an alternative to open-heart surgery to replace defective heart valves. Using an approach similar to stents, cardiologists thread tiny cameras, instruments and a replacement valve through blood vessels in the groin or wrist up to the heart. However, because of the smaller architecture of their aorta and blood vessels and difficulty accessing the heart through the aorta, Asian patients more frequently require the cardiologist to perform a left ventricular puncture from the apex, where the replacement valve is inserted through the heart wall.
The Asian Heart and Vascular Center is also a key partner of UCSF Medical Center's Asian Health Institute, which seeks to promote research, education and patient care across all areas of health, including cardiovascular disease, hepatitis B and cancer.
Partnering with the Community
From his prior work as a community physician, Dr. Fung knows that some doctors are reluctant to refer patients to UCSF because they fear that this will end their relationship with their patients. "I always send a letter referring patients back to their primary care physician," said Dr. Fung. "I remind them to get their vaccines, manage their diabetes, and also make sure the patients see a dentist at least once a year." This is important, because dental cavities or gum disease is a source of chronic inflammation, which may increase inflammation in the blood vessels and contribute to atherosclerosis.
If he had sufficient funds, Dr. Fung would be interested in conducting a large-scale, longitudinal study investigating the genetics, environmental factors and cardiovascular outcomes of Asians who remain in their home countries compared with those who emigrate to the US. "People develop a higher incidence of stroke and coronary disease once they come to the United States, but would they have the same incidence if they stayed in Asia?" asked Dr. Fung. "So far, this kind of study has only been done in smaller populations, and they haven't been able to come up with any conclusions."
Among other duties at UCSF, Dr. Fung also directs the Electrocardiography (EKG) Laboratory, which records the electrical activity of the heart through electrodes placed on the skin. Of the approximately 80,000 EKGs conducted at UCSF Medical Center each year, Dr. Fung personally reads and interprets about 55,000 of these. He also reads echocardiograms, and provides electronic consultation to primary care physicians on cardiology-related issues through the UCSF eConsults. In addition, he volunteers with the American Medical Association, California Medical Association, San Francisco Medical Society, American College of Physicians, American College of Cardiology, and the American Heart Association working on issues including health policy and population health.
Outside of medicine, Dr. Fung is an avid musician, and studied the Chinese violin and classical organ as a youth. He is the founding director of a musical theater group which brings performances to elementary schools, seniors and recovering substance abusers. Each year, he composes four songs on the theme of friendship for that year's show, and the cast and crew has grown to include about 80 volunteers.
Dr. Fung is married to Peggy Fung, a former high school teacher and Kaiser Permanente administrator. Together they have three grown children: Jana Fung, a marketing director; Everett Fung, a financial analyst; and Dr. Kelly Fung, who is continuing the family tradition of medicine and is an internist at Kaiser.