Faculty Spotlight: Tom C. Nguyen, MD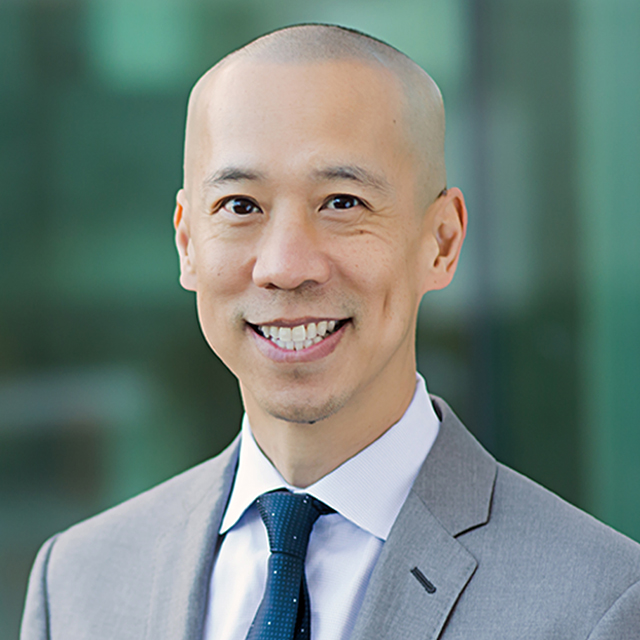 New Frontiers of Heart Surgery
"No one comes to my office begging to get their chest cracked open," said Tom C. Nguyen, MD, chief of the Division of Adult Cardiothoracic Surgery in the Department of Surgery and Helen and Charles Schwab Distinguished Professor of Surgery. "They just want to feel better."
He spent years learning how to perform traditional open-heart surgery, which requires a large incision down the middle of the chest, as well as minimally invasive approaches, which can be done using a two- or three-inch incision between the ribs to access the heart. However, Dr. Nguyen wanted his repertoire to include the most effective, least invasive options for each of his patients – even if that required learning approaches usually performed by other specialists.
He took the unusual step of spending an additional year learning how to perform procedures usually done by interventional cardiologists, not surgeons, such as transcatheter aortic valve replacement (TAVR). Similar to a cardiac stent, TAVR involves making a one-centimeter incision in the groin, then inserting a catheter up through the femoral artery into the heart. The physician uses this pathway to guide a collapsible valve into the heart, where the valve is expanded like an umbrella and positioned on top of a patient's own malfunctioning valve. Patients can usually go home within a couple days, experience less pain, and have a lower risk of complications compared with open-heart surgery.
Similarly, Dr. Nguyen also learned how to repair the mitral valve using a device called a MitraClip, which looks a bit like a binder clip and is also guided through a catheter into the heart, where it is implanted to help fix a leaky mitral valve and restore normal blood flow.
"We need to be defined by the diseases we treat, not the tools we use," said Dr. Nguyen. "If you have a hammer, everything looks like a nail, and that colors the way we treat patients. I opened the breadth of my training so I wouldn't be biased and would have equipoise. I'm able to recommend or perform whichever approach is best for that particular patient." He considers himself a hybrid surgeon, comfortable in the cardiac catheterization lab for transcatheter procedures, or in the operating room doing minimally invasive surgeries or complex open procedures with large incisions when necessary.
Dr. Nguyen graduated from Rice University in Houston with bachelor's degrees in economics and Asian studies, then earned his medical degree from the Johns Hopkins School of Medicine in Baltimore. He completed his surgery residency, chief residency, and research fellowship at Stanford University, cardiothoracic surgery fellowship at Columbia Presbyterian Hospital in New York, and transcatheter fellowship at Emory University in Atlanta.  
Transforming Patient Care and Medical Education
After 20 years of training, Dr. Nguyen was recruited in 2013 to the faculty of McGovern Medical School at the University of Texas Health Science Center at Houston (UTHealth). In 2014, he was appointed director of Minimally Invasive Valve Surgery and co-director of the Structural Heart Program, and in 2018 was appointed chief of Cardiac Surgery.
During his time at UTHealth, Dr. Nguyen performed more than 300 major heart operations each year, including cardiac bypass, valve and aortic surgeries. He also built UTHealth's structural valve program into one of the busiest in the country, and transformed the way valve surgery was performed: during his seven years there, minimally invasive approaches increased from less than 10 percent to nearly 90 percent of cases. To date, the program has performed more than 2,500 TAVR implants, including on many patients too frail to undergo open-heart surgery.
Along with taking excellent care of patients, Dr. Nguyen finds deep joy in mentoring. "Teaching is my passion," he said. "It's about communicating with the student in a language they understand, and coaching them to be their best. The relationship should be something that's exhausting on both sides. Like any form of exercise, you need to feel a little sore afterwards – but it must be done in a healthy, constructive and non-malignant way."
Dr. Nguyen encourages trainees to consider cardiac surgery as a career path and strives to coach cardiothoracic surgery fellows into becoming independent, autonomous and safe surgeons. "I try to teach them how to think, manage complicated patients, understand disease processes, and develop the technical skills to perform these procedures," he said. "The relationship with trainees is very special. If I help someone learn to take care of a patient, that trainee will eventually teach others, so my impact becomes exponential. There is no greater calling in my career."
In addition to his own efforts to cultivate the next generation of doctors, Dr. Nguyen wants to transform medical education from its current siloed approach to one that puts that patient at the center of care. For example, he is working with groups such as the American Board of Thoracic Surgery and the Accreditation Council for Graduate Medical Education to develop a new paradigm for treating structural heart disease. "We need to change the way we train specialists, so we're not training a 'surgeon' or a 'cardiologist,' but rather someone who's going to treat valvular heart disease," he said. "It's such a simple idea: What tools do they need? Let's go from there. The technologies have advanced exponentially, but the way we train physicians has not."
Dr. Nguyen travels extensively to lecture and teach, and proctors TAVR nationally for both surgeons and cardiologists. In addition to co-authoring more than 170 peer-reviewed articles and 15 book chapters and electronic books, he has edited several widely used handbooks. He also led development of animated videos to explain treatment options for aortic stenosis in patient-friendly language through the Heartwell Project, which is available on YouTube.
He has received the Arnold P. Gold Foundation's Humanism and Excellence in Teaching Award and the Benjy F. Brooks Outstanding Clinical Faculty Award. Among his many other honors, Dr. Nguyen was named as one of "40 under 40" in 2014 by the Houston Business Journal.
Vision for the Future
Dr. Nguyen joined the UCSF faculty as the new chief of the Division of Adult Cardiothoracic Surgery in 2021. "I came here because there is a huge opportunity for continued growth at the UCSF Heart and Vascular Center," he said. "My vision is to make this the premier heart and vascular center in the world, and to become a national referral center for complicated cases." In his first year leading the UCSF Division of Adult Cardiothoracic Surgery, his team nearly doubled the number of surgeries they performed. Even though they care for some of the sickest, most complex patients, UCSF also achieved quality metrics that are better than the national average, as measured by the nationally recognized Society of Thoracic Surgeons (STS) quality scores.
"We are a quaternary care center, so if a referring physician is calling to request a transfer to UCSF because their hospital doesn't have the resources or advanced expertise to manage that patient, they can come to us," said Dr. Nguyen. "We need to be a place that defines ourselves as being able to care for the sickest of sick patients. And even though these complicated patients are higher-risk, they do well here at UCSF."
Dr. Nguyen has been inspired by author Simon Sinek, who popularized the concept of the "why" in a 2009 TED Talk. "The 'why' is the purpose that drives us, and our 'why' is focusing on patients and making them feel better," said Dr. Nguyen. "That guides us to do everything possible to make sure we have the absolutely best quality, and that patients get the best care.
"I tell my team all the time that we succeed by two things: quality and service," he continued. "I call it the Four Seasons 'wow' factor. At the Four Seasons, you want to sleep in a nice bed, but equally important is how you get to that bed – the check-in process, having people help you with your luggage in the elevators, and everything else. My goal is that when patients drive away from UCSF, they look in the rearview window and say, 'Wow, that was a fantastic experience! I was able to see my doctor quickly, I had a great operation, and I'm feeling better.'"
Part of transforming that vision into reality is making UCSF as accessible and patient-centric as possible. "I want to treat patients like family, and to make it easy for them to see us," said Dr. Nguyen. Another goal is improving educational content for both patients and referring providers. "Patients often tell me they went to the Mayo Clinic or Cleveland Clinic website and learned about their condition, but they should be able to go to UCSF's website and learn about it, as well as how we can treat that condition and why we're special," he said.
He also hopes to build an unparalleled team of subspecialists who are thought leaders in their areas of expertise. "I believe that heart surgery has gotten so complicated that you can't really be the jack of all trades," said Dr. Nguyen. "You need to specialize. My plan is to roll out specialists in disease-specific domains, such as coronary artery disease, valvular heart disease, heart failure and VADs [ventricular assist devices], aortic disease, and arrhythmias such as atrial fibrillation. These specialists are people who live and breathe it both from a research and clinical standpoint, and in addition to seeing patients every day, they're national experts.
"Tied to that, I want to make sure we offer the least invasive way to fix complicated problems, assuming that it's as good as, if not better than, the status quo," said Dr. Nguyen. "There is pretty good data that we can. Our field has really exploded in the past five or six years, and it's one of the things that excites me most about the future. In the past, if you operated on someone who was 60, it was high-risk. Now the 80s are the new 60s, and it's not a big deal to operate on someone who is 80. Patients shouldn't be afraid, because we've advanced our technologies accordingly. We can do a lot of valve and bypass surgery with small incisions, and through a transcatheter approach, we're able to replace a person's heart valve through an incision smaller than the width of my finger. It's a really exciting time to be involved with the treatment of heart and vascular disease."
Joining a Winning Team
Dr. Nguyen was drawn to UCSF by the opportunity to develop his leadership skills in a highly collaborative environment. "I'm a believer in partnerships and communication," he said. "At UCSF, we use a multidisciplinary heart team approach to do what's best for patients. We all get together – cardiologists, surgeons, radiologists, echocardiographers, and others – and go through the details of complicated patients. We leave the egos at the door. Everyone offers a different piece of the puzzle for this particular patient. Sometimes we have healthy disagreements, which is perfect because you know you're having active discussion. With so much at stake, it's important to be really thoughtful in collecting our data and consulting with as many people as possible. That allows us to act decisively."
He is enthusiastic about joining the UCSF faculty. "I'm surrounded by amazing talent and people who have their hearts in the right place," said Dr. Nguyen. "That's always contagious. There's definitely something very special in the water here that people are driven to do big things. My personal experience with the Division of Cardiology has been absolutely incredible. All the leadership has been very supportive and welcoming. I think the best is yet to come."
"We are delighted to have Tom join us to lead our Cardiothoracic Surgery program into the future," said Jeffrey Olgin, MD, chief of the UCSF Division of Cardiology and Ernest Gallo-Kanu Chatterjee Distinguished Professor in Clinical Cardiology. "In addition to his excellence as a cardiac surgeon, he brings new clinical expertise to UCSF in valve surgery. He also brings tremendous energy and a collaborative approach. We are excited to be working with Tom as we grow the heart programs together."
"It has been a great pleasure working with Dr. Nguyen over the last year," said Yerem Yeghiazarians, MD, Leone-Perkins Family Endowed Chair in Cardiology and co-director of the Adult Cardiac Catheterization Laboratory. "He is an outstanding surgeon, a great communicator, team player, and an extremely caring doctor. Since Tom's arrival at UCSF, we have started a number of joint conferences between cardiac surgery and interventional cardiology, and we routinely discuss complex cases as a team. These efforts have led to a closer collaboration between the groups to provide excellent patient care."
Dr. Nguyen is active in research, and is a principal investigator or co-investigator for a number of clinical trials to perform complex operations through the smallest incisions possible, through both transcatheter and minimally invasive surgical approaches. He also led a study examining the effects of COVID-19 on adult cardiac surgery in the U.S., finding that while the volume of such surgeries decreased by more than 50 percent during the first six months of 2020 compared to the same period in 2019, those who did have surgery had a significant increase of complications and death.
"We're seeing a lot of patients coming in who [initially] decided not to go to the hospital, and ended up presenting with late disease," said Dr. Nguyen, noting the harmful effects of postponing or cancelling needed procedures. "The hospital is still the best place to be if you have chest pain or other concerning symptoms." The study is the first and largest of its kind and utilized the STS Adult Cardiac Surgery Database, which has 98 percent participation across the country.
A Life of Service
Dr. Nguyen developed his work ethic early. Born in Vietnam, he was one year old when his family moved to Houston after the Vietnam War. He learned English from television, and chose his American name, Tom, from his many hours watching cartoons like "Tom and Jerry." "Back in the 1970s, there weren't a lot of Asians in Texas," he said. "We were very poor, and my dad had to work two or three jobs. It was tough. But experiences like that are what really build you and helped me become the person I am today. It's allowed me to not shy away from adversity."
Dr. Nguyen drew on the perseverance forged by his immigrant experience to pursue his dream of helping others as a heart surgeon. "Being in medicine is a very special privilege," said Dr. Nguyen. "As a doctor, you use science to make people's lives better. You also develop this relationship with patients. They tell you things they might not tell their significant other. It's a magical marriage of science and those trusting relationships. And as a surgeon, patients trust you with their life, to fix holes in their heart or take valves out and replace them. It's amazing."
Dr. Nguyen is committed to helping those most in need, both at home and globally. During college, he worked with the World Health Organization in Geneva and the Vietnamese Ministry of Health to help develop a national framework for universal health insurance, and in more recent years has helped build a minimally invasive cardiac surgery program in Vietnam. "There's a bigger burden of valvular heart disease there compared to the U.S., because there is a lot of rheumatic heart disease," he said. He has also volunteered as a surgeon in Eritrea and China. "Traveling and volunteering help remind me that we're just a small speck in a big world," he said. "It also helps me realize how much can be done with so little, and how appreciative people are."
Dr. Nguyen is married to Gina Landinez, MD, an interventional radiologist at UCSF. Together they are the proud parents of a young daughter, Emilia.
-       Elizabeth Chur