Faculty Spotlight: Phoebe Ashley, MD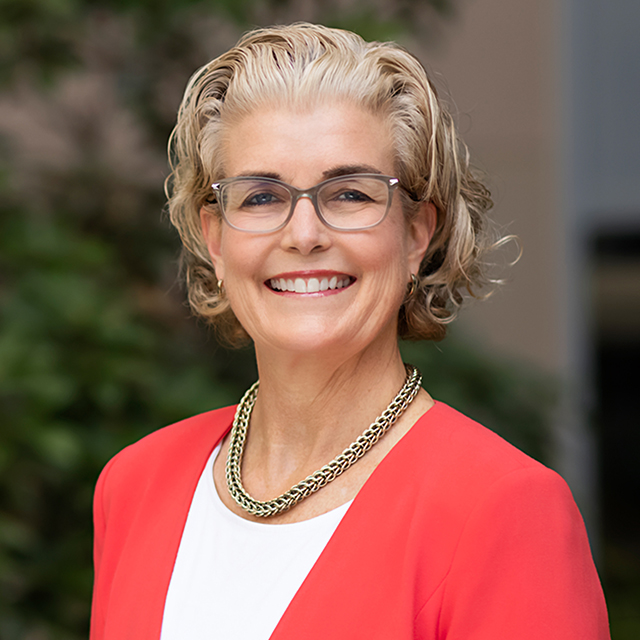 Teaching Heartfelt Care
"I always tell my patients, 'Emotions are in motion, and they're meant to flow,'" said Phoebe Ashley, MD, MS, who joined the UCSF faculty in 2022. "Sometimes the therapeutic maneuver is to hold the patient's hand and let their emotions flow."
Dr. Ashley brings decades of experience practicing the art and science of medicine, and is passionate about helping the next generation of physicians hone their skills. She was born in San Francisco, where her father, William Whitley Ashley, MD, was an internist on the UCSF faculty and also had a private practice based in an office overlooking Union Square. "My dad was the physician of San Francisco, and was on call from 5 p.m. to 5 a.m. for patients all over the city," she said. "He used to go to the courthouses, and took care of everyone from the Ghirardellis to the madams of San Francisco."
When she was two her family moved north to Eureka, where her father worked in private practice, and her mother, Anne, worked as the office nurse. "I made hot lemonade for patients, and went on house calls with my dad all the time," said Dr. Ashley. "I learned more about human nature and the physical exam from my mom and dad than I did from any coursework."
She once saw her father gently approach a Laotian woman who was crouched in the corner of the exam room. "Some people would have just said, 'Please get on the exam table,' but he was so tender with her, and finally coaxed her to the examination table," recalled Dr. Ashley. "Then he showed me when she closed her eyes, she had very rapid fluttering of her eyelids, which is a characteristic of hysteria. He was able to appreciate that from the doorway and recognize she needed far less aggressive treatment."
She carries that perceptiveness into her own approach. "I can appreciate people's emotions almost as soon as I open the exam room door," said Dr. Ashley. "Once you establish a relationship with patients, you both wish to continue it. I have patients who fly across the country to see me. The relationship with patients and their extended families is the best part of what we do. I'm very comfortable with the whole spectrum, whether it's helping people through a crisis, having a baby when they have heart disease, or even at the end of life."
A Passion for Teaching
She decided to pursue cardiology in eighth grade, after her father gave a talk to her science class about the heart and lungs. Dr. Ashley earned her bachelor's degree in biological science from UC Davis, her master's degree in biological science and human anatomy from California State University Sacramento, and her medical degree from the Medical College of Wisconsin in Milwaukee, where she also completed her internal medicine residency and chief residency.
"I loved every minute of training," said Dr. Ashley. "As a medical student, we had a lot of autonomy with oversight. By the time I graduated I had already done most of the procedures you are allowed to do as a resident. I got to learn how to be a doctor while I still had someone to catch me. Today I tell my trainees, 'I will let you walk to that precipice, but I will not let you or the patients fall off.' As a student, we also had the luxury of time. One of my patients was all alone, dying of liver disease, and I was the person who sat with him. You learn a lot from people's lives, and it gives you more empathy when you take the time to do that."
She completed her cardiovascular fellowship at the University of New Mexico Health Sciences Center in Albuquerque, N.M., and later served on the faculty there as well as the Albuquerque Veterans Administration Medical Center. Dr. Ashley then went into private practice for over a decade. She worked as a non-invasive cardiologist with Oregon Cardiology, practicing at McKenzie-Willamette Medical Center and Oregon Cardiology Sacred Heart Medical Center in Springfield, Ore., and later at Providence Cardiology Associates in Olympia, Wash.
During her fellowship she developed an interest in women's cardiovascular medicine, and has been a trailblazer in that area throughout her career. "I was the only woman in my cardiology practice, and saw a community need," said Dr. Ashley. "I started doing speaking engagements and events to educate women about heart disease. They brought their husbands, so I started doing talks for both men and women. Those ranged from a small group in someone's home to crowds of 500 or more. I'm very passionate about helping people become proactive in their own health."
At Sacred Heart Medical Center she became the founding medical director of their Cardiovascular Wellness and Rehabilitation Center. "We moved to a new hospital that had just been built," said Dr. Ashley. "We had a beautiful, state-of-the-art kitchen and hosted evening events with table linens, providing education and demonstrations about healthy eating and creating healthy meals so people could see that being heart-healthy isn't as much of a chore as they thought it was. We had a psychologist who led an eight-week wellness program, which patients told us was life-changing. Seeing people returning to health was very uplifting. Some patients stayed with us for 20 years because they gained so much value and developed so many friendships."
She also started their "Walk with the Doc" program. Patients asked her questions as they walked together through the surrounding area, or on an indoor exercise track on rainy days. "Being with patients and showing you were as engaged in their health as they were was really fun," said Dr. Ashley. "They always had great questions, and if I didn't know the answer I'd look it up and get back to them."
In Olympia, she continued breaking new ground, again becoming the first woman ever hired in her practice and serving as medical director of the Cardiac and Pulmonary Rehabilitation Program at Providence St. Peter Hospital.
In 2014, she was recruited to the faculty at Virginia Commonwealth University in Richmond, Va., where she served as the internal medicine clerkship director for third-year medical students, saw patients in clinic, and established a bedside rounds program. "That was my first academic position, and I loved it!" said Dr. Ashley. "I missed the electric energy in academic medicine. It is so exciting to work with students and learners at all levels of training. I also love inpatient medicine, going on rounds with house staff, and teaching."
She also served as medical director for the Stony Point Pauley Heart Center, co-originator and co-director of the Women's Heart Health Symposium, co-founder and medical director of the Pauley Heart Center Complex Lipid Clinic, director of professional education for the VCU Institute for Women's Health, and co-director of the Health of Women Conference.
The Art of Medicine
Dr. Ashley was recruited to the UCSF Division of Cardiology in 2022. She cares for patients in clinic, on the inpatient hospital service, and on an outpatient rotation at Mission Bay, providing urgent and preoperative consultations as well as conducting stress tests. Throughout her clinical duties, she loves teaching medical students and trainees at all levels.
She is a firm believer in the importance of conducting a thorough physical exam. "I teach people to go from head to toe when they're doing their review of systems and physical exam, so they don't forget anything," said Dr. Ashley. "When we're young and just learning, we're very awkward, but I try to help them become more fluid." She is also meticulously thorough. "When I do my exam, I'm paying attention," she said. "As a cardiologist, I've diagnosed colon cancer and pancreatic cancer, just because I'm listening to the patient."
She is working with Atif Qasim, MD, MS, program director of the UCSF Cardiology Fellowship Program, to develop a new curriculum to teach medical students nuances of the art of bedside medicine and cardiovascular physical examination. "Often I say, 'When you hear a [heart] murmur, you have to look for the company that the murmur keeps,'" said Dr. Ashley. "It's not just the sound you hear, but the other features of the physical exam that go with it that help tell the story about how significant the regurgitation or stenosis is. You have to look at all the pieces. I make trainees think through the pathophysiology, and correlate the physical exam findings with what's happening in the heart to confirm or refute their diagnosis. If you're a good clinician, 75 percent of your diagnoses comes from the patient history alone. Another 10 to 15 percent comes from physical examination. The rest comes from a lot of expensive tests."
Dr. Ashley enthusiastically helps her trainees cultivate their clinical skills. "I want to excite the next generation about that aspect of cardiovascular medicine, because the laying on of hands is therapeutic in and of itself," she said. "I tell trainees, 'Practice makes permanent.' If you learn it the wrong way in the beginning, you'll do it that way for the rest of your career. You want to hone your skills while you're training, while you have someone there to mentor you and help you improve. I'm a very, very patient soul. I tell trainees to take a deep breath, not be nervous, and take their time. When they actually hear the diastolic murmur or whatever it is, they get so excited!"
She also embodies the humanistic side of medicine. "There is a lot of science and research in medicine, but there's also a tremendous amount of art," said Dr. Ashley. "It's important to learn how to be comfortable with people who are sick, and allow them to share their emotions. They may just need someone to listen and be present with them. That's hard in today's busy, hectic world, but it's amazing how much people value it when you take that extra time."
Women and Heart Health
Dr. Ashley has a continuing interest in women's heart health. "Sometimes women's symptoms and their pathophysiology is a little different than men's," she said. "Even if a woman does not have obvious heart blockages during the heart catheterization, if she had an abnormal stress test, she still has heart disease. We can't think of that as a false positive, and we need to continue to investigate."
She recalls one patient who came to her because of cardiovascular risk factors. "She had been a bit more tired than usual, but attributed it to stress," recalled Dr. Ashley. "As it turned out, she had already had a silent heart attack and needed an intervention. As women, we persevere. We keep pushing through. Sometimes you need to ask, 'Is this normal? I don't feel quite right,' and not be told it's all in your head. That's my favorite part of what I do – listening to the patient's story and sleuthing through it."
Dr. Ashley also appreciates caring for women who have had adverse pregnancy outcomes such as preeclampsia, a complication of pregnancy which can include high blood pressure, high levels of protein in the urine, and other symptoms. "Pregnancy is considered a woman's first cardiovascular stress test, and many young women are unaware that they've failed that test," she said. "We know that with those adverse pregnancy outcomes, they have increased risk of developing early heart disease. I like to meet those women earlier rather than later, and try to change that trajectory and postpone development of cardiovascular disease."
Patient education is critical. "These are busy working moms who often don't get to the doctor regularly after having their children," said Dr. Ashley. "I want to help them understand that preeclampsia increases their cardiovascular risk. Women can do amazing things, but sometimes they don't take the time for themselves. I am enthusiastic about working with these women to change the trajectory of their heart health, cheer them on, and advocate for them to place themselves at the top of their priority list."
She emphasizes that small actions add up over time. "I tell my patients, 'The tortoise is slow and steady, but he's always moving and ultimately wins the race,'" said Dr. Ashley. "We often feel so busy we don't have time to get that healthy meal or go for that walk. I tell them, 'I just want you to take your first step out the door.' Some people don't want to go to the gym because they're uncomfortable with their size. So we find simple things they can do, like walking around the block, or lifting cans of beans to increase their strength and muscle tone. Women also make the majority of health care decisions for their families, so if you engage a woman in health care, that will engage the whole family and change the next generation."
Sharing the Journey
Dr. Ashley is honored to join the UCSF faculty. "Everyone is so intelligent, humble and motivated for the care of the patient," she said. "There is a real collegiality, and we all have the same desire to improve the quality of the cardiovascular care we deliver, as well as our patients' lives. I've worked in a lot of different places, and here, even the Nobel laureates are down-to-earth and happy to share their knowledge."
She appreciates the many women faculty and trainees in the UCSF Division of Cardiology. "I got invited to a Women in Cardiology event hosted by one of our interventional cardiologists in her home, and people were sharing stories and being supportive of one another," said Dr. Ashley. "I tell my trainees that I'm not just there to teach them cardiology, I'm there to help them with their life's journey, whether that means talking about having a baby or taking care of elderly parents. Having other women to share that with is really nice."
Outside of medicine, Dr. Ashley is an avid water skier, rows twice a week, spends hours on the rowing machine, and cheers on her son, Aidan, at his collegiate regattas. She also enjoys walking her Labrador, Bear.
"I'm delighted to be here at UCSF," said Dr. Ashley. "I'm very excited about moving women's cardiovascular health forward, as well as educating the next generation and helping them find their passion in medicine."
-Elizabeth Chur