Faculty Spotlight: Byron Lee, MD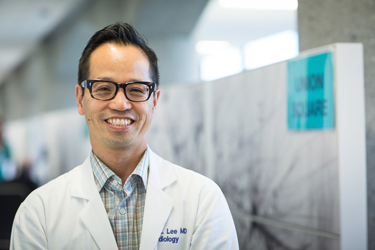 One of Dr. Byron Lee's greatest joys is taking care of patients he has known since childhood – friends of his mother, the shopkeeper at the corner store, his youth group leaders.
"I know where they're coming from, and can address some of their concerns and anxieties," said Dr. Lee, who grew up in San Francisco's Chinatown and North Beach neighborhoods and now holds the Samuel T. and Elizabeth Webb Reeves Endowed Chair in Arrhythmia Research. As an electrophysiologist, he treats abnormal heart rhythms called cardiac arrhythmias, which can often be managed or even cured when a patient receives a device like a pacemaker, or undergoes an ablation procedure to treat the underlying cause of the arrhythmia.
"A lot of patients I see need a procedure or device, but are reluctant to do this because they knew people who had an operation or procedure – maybe back in China – and didn't make it," said Dr. Lee. "I spend extra time reassuring them that the procedures we do are safe, and could really help improve their quality of life."
For patients who decide to have a needed procedure, the results can be life-changing. "We sometimes get patients who have had heart palpitations throughout their life, and they've always been told that their problem is anxiety," said Dr. Lee. "Patients think they have a personal weakness. Part of the problem was that every time they went to see the doctor, they were not in the arrhythmia. The doctors might say, 'You're just too nervous – calm down.' They sometimes even referred them to a psychiatrist, who might put them on anti-anxiety medicines. When we diagnose patients with an arrhythmia and can cure it, they describe how their life has been totally transformed."
Dr. Lee grew up learning Cantonese and a dialect called Toisan from his parents and grandparents. Although he sometimes uses an interpreter in clinic, his language skills come in handy during procedures, when no interpreter is present. "I can say, 'Are you feeling okay? There is nothing to worry about – everything is going fine,'" said Dr. Lee. "I feel lucky that I know enough Chinese to be reassuring."
Preventing Sudden Death
Dr. Lee earned his bachelor's degree from UC Berkeley, then graduated from Harvard Medical School before completing his internal medicine residency and fellowships in cardiology and cardiac electrophysiology from Stanford University Medical Center. When a faculty position at UCSF opened up in 2002, he jumped at the chance. "It was a dream come true to do academic electrophysiology and to take care of the community I grew up in," he said. "I was ecstatic!"
Dr. Lee serves as director of the Electrophysiology Laboratory and co-medical director of the UCSF Heart and Vascular Clinic. He is also a clinical researcher, serving as co-principal investigator – along with Dr. Jeffrey Olgin, chief of the Division of Cardiology and Gallo-Chatterjee Distinguished Professor of Medicine, and internist and epidemiologist Dr. Mark Pletcher – of the Vest prevention of Early Sudden death Trial (VEST), an international, multi-center study. It is investigating whether a wearable cardiac defibrillator can help prevent sudden cardiac death among patients who have had a heart attack in the past three months and are at elevated risk of developing a life-threatening arrhythmia.
After a heart attack, scar tissue forms in the heart which can contribute to irregular electrical currents and cause arrhythmias. The vest is worn under the clothes and continuously monitors the heart; if it detects a life-threatening arrhythmia, the vest delivers an electric shock that can reset the heart rhythm.
"No one currently knows what the best strategy is for preventing sudden cardiac death in these patients," said Dr. Lee. Other studies have tried placing implantable cardiac defibrillators (ICDs) in patients shortly after a heart attack, but there has been no mortality benefit – perhaps because there might be something inherently dangerous in implanting the device in patients so soon after a heart attack. "Our hypothesis is that there might be some benefit to this at-risk population by using this wearable vest that doesn't require surgery," he said. The study will enroll 2,300 patients, and he expects results to be available at the end of 2017.
Dr. Lee has also conducted research related to TASERs, the electrical stun guns used by many law enforcement agencies. "Most sudden deaths are related to arrhythmia, so we were trying to figure out whether TASERs could trigger an arrhythmia," said Dr. Lee. "There were news reports of people who had been TASERed during their arrest, and soon after are found dead." He and his colleagues surveyed California police and sheriff departments, using the Public Records Act and Freedom of Information Act, and found that departments that began using TASERs experienced a substantial increase in in-custody sudden deaths during the first year of their use, with no decrease in firearm deaths or officer injuries.
Dr. Lee and his colleagues also noticed that many TASER-related studies were funded by TASER International, the device's manufacturer, or affiliated authors. By reviewing 50 studies in the literature, they found that studies that were funded by TASER or an affiliated author were 18 times more likely to conclude that TASERs were safe, compared with independently funded studies. "A lot of people tout the pro-Taser research and say, 'This is why we should have TASERs in our city, because it's safe," said Dr. Lee. "But they need to be reminded that most of this research is funded by the company that makes the TASER, so you need to be cautious. From my research and other people's, too, it's clear that the TASER is not a perfectly safe tool. If the TASER electrodes are close enough to the heart, they can cause it to beat rapidly and dangerously."
Mentoring the Next Generation
In addition to his research and clinical work, Dr. Lee enjoys his role as an educator. He teaches a course to medical students on electrocardiogram interpretation, encouraging them to pay attention to detail and small deviations from normal. He also relishes the opportunity to teach residents and fellows on the job. "More than anything else, what keeps me in academics is the joy of teaching young doctors and helping them become better clinicians," he said. "One of my proudest moments is seeing former students doing something great, and feeling that I was perhaps a small sliver of helping them achieve that."
He has mentored many aspiring doctors and trainees, including a number from underrepresented backgrounds who may be the first to attend college, let alone medical school. He uses much of the support he receives from the Samuel T. and Elizabeth Webb Reeves Endowed Chair in Arrhythmia Research to help medical students, residents, fellows and even pre-medical students gain research experience.
"The research experience that people gain can help them get to the next step, whether it's medical school, residency or their first job," said Dr. Lee. "I know what it's like – I remember begging for a research job so I could get into medical school, and it's my duty to pay it back. And you never know if you may be inspiring the next Nobel Prize winner."
Dr. Lee has served on the medical school admissions committees at Harvard Medical School and UCSF, and developed a keen understanding of what makes a strong candidate. With two others, he co-authored the Insider's Pre-Med Guidebook: Advice from Admissions Faculty at America's Top Medical Schools. He has also individually coached more than 50 medical school applicants, helping them identify and present their greatest talents in their application essays and interviews.
"Many of these kids come from underprivileged families, and may not have family members or friends who are doctors or professionals that can help them with their essays," said Dr. Lee. "They have a lot of strengths, but need help learning how to articulate them in ways that resonate with the admissions committees."
In addition to helping future doctors navigate the admissions process, Dr. Lee's dream project would be developing a way to help non-English speakers better navigate the health care system. "I worry about my patients who don't speak English, and wish we had more culturally sensitive clinical delivery systems," he said. "Interpreters are usually only available to help during the doctor's appointment. If we also had patient care navigators who spoke other languages and could help patients schedule additional appointments or get to the lab for tests we've ordered, it would help optimize care."
Outside of UCSF, Dr. Lee volunteered for many years at CityTeam San Francisco – which offers meals and shelter for the homeless. "Growing up in San Francisco, I saw a lot of homeless people and was always concerned about them," he said. "As a volunteer doctor at CityTeam, I treated cuts, abrasions, viral syndromes and skin infections – run-of-the-mill things, but people were so thankful, and it meant a lot to them."
His other major activity outside of work is his family. He is married to Tracy Park, a program director who develops training programs for preschool teachers. Together they have four sons, ages one through nine, and Dr. Lee stays busy coaching basketball, baseball and soccer.