Faculty Spotlight: Anu Agarwal, MD
For Dr. Anu Agarwal, adult congenital heart disease (ACHD) is personal. When she was 11, her younger brother passed out because of a faulty heart valve which restricted efficient blood flow. "My brother was found to have a very tight valve, and they had to do a catheter procedure to open up that valve," said Dr. Agarwal, now an ACHD specialist. "That just fascinated me, and made me want to become a doctor."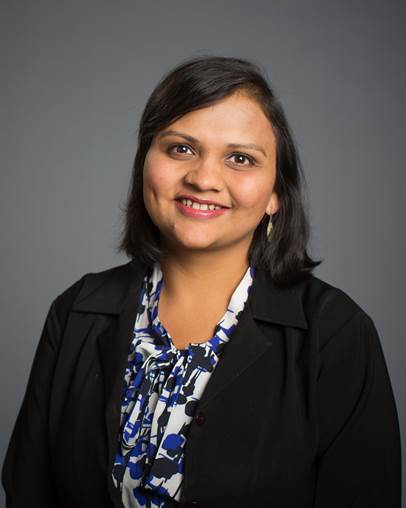 Now an electrical engineer in his mid-30s, her brother runs his own electronic accessories business in India. He gets an annual echocardiogram – an ultrasound of the heart – and will likely need valve surgery at some point. Dr. Agarwal is grateful that he is doing well, but wishes he had a more active lifestyle.
"He's so busy at work that he's not able to exercise regularly, and that's my biggest worry for him," she said. "That's how most of our congenital patients are. They're born with a congenital heart condition, get some sort of surgery, then feel fine for the rest of childhood. They become adults and live their lives assuming they are 'cured,' but then they run into problems. They have a defect that was not completely repaired, or develop other problems, such as a valve that no longer works, or abnormal heart rhythms from the scar tissue in their heart from prior surgeries. There is a huge gap in the medical care for these patients."
Until recently, most patients with complex congenital heart disease died as children or young adults, but surgical advances have allowed many patients to reach adulthood and even old age. There are an estimated 1.6 million Americans with congenital heart disease, and about two-thirds of them are adults.
Part of Dr. Agarwal's work is improving their transition of care from pediatric cardiologists to adult cardiologists. "We're trying to educate patients and their parents starting from when they are children or adolescents, making them aware that just because they had surgery, it doesn't mean they are cured – they are just palliated," she said. "There's a huge difference between those two. It's great that they're doing well, but we want them to continue to do well. An important part of that is staying in continuous care all their lives, so we can recognize problems before they become a big issue."
Brave New World
Dr. Agarwal earned her medical degree from Indira Gandhi Government Medical College in Nagpur, in the state of Maharashtra, India. She then completed her internal medicine residency at Southern Illinois University in Springfield, Ill., and her cardiology fellowship at Aurora Health Care in affiliation with the University of Wisconsin School of Medicine and Public Health in Milwaukee, Wis. During fellowship, she was mentored by Dr. A. Jamil Tajik, a renowned echocardiographer.
ACHD is such a new field that the American Board of Medical Specialties only recently recognized it as a distinct subspecialty with its own certification examination and program guidelines. Dr. Agarwal was UCSF's first ACHD fellow to complete the ACGME-recommended two-year fellowship. Her mentors included ACHD pioneers Dr. Elyse Foster, a leader in echocardiography and the care of ACHD patients, Dr. Ian Harris, who leads novel research in cardiac developmental biology, and Dr. Vaikom Mahadevan, a prominent structural and congenital interventionalist.
"UCSF was a perfect fit for training," said Dr. Agarwal. "Mentors like Dr. Foster, Dr. Harris and Dr. Mahadevan gave me the autonomy to pick what I wanted to do, and supported me in finding the resources to structure my fellowship." They helped her obtain advanced training in clinical research and gain experience in epidemiology and biostatistics.
Dr. Agarwal also had the flexibility during her fellowship to attend weekly pediatric cardiology conferences. "In the pathology conference, they showed us hearts of babies or adults with CHD (congenital heart disease), followed by a great lecture by Dr. Norman Silverman, a pediatric cardiologist who is very well known for his extraordinary skills in pathology and echocardiography," she said. "Then in the catheterization conference, Dr. Phil Moore talked about hemodynamics and the pressures in the heart, and it was just an amazing learning experience."
ACHD Detective Work
She also received support in launching her research. "Currently, we manage patients without really strong evidence or guidelines," said Dr. Agarwal. Developing evidence is particularly challenging with ACHD. The gold standard for scientific studies is the randomized controlled trial, in which one group receives an intervention and a similar control group receives a placebo. "With congenital heart disease, each patient is very different," she said. "Not only do they have various types of congenital heart defects, but even patients with the same defect may be very different." For example, some patients need surgery in their first month of life, whereas others with the same diagnosis may not require surgical intervention until they are older. This makes randomizing ACHD patients in clinical trials quite challenging.
Another complicating factor is that the U.S. lacks a centralized registry of CHD patients. The Centers for Disease Control and Prevention (CDC) is working towards one, but the process is in its infancy. For now, Dr. Agarwal uses her sleuthing skills to glean information about ACHD patients from other sources. For example, one of her mentors, pulmonologist and critical care specialist Dr. R. Adams Dudley, is also the director of the UCSF Center for Healthcare Value. He helped Dr. Agarwal access and understand how to use a commercial insurance claims database. By sorting through that treasure trove of data, they identified about 200,000 adults with CHD, the world's largest ACHD population in the literature.
"My goal is to define the clinical needs of these patients and to understand who they are," said Dr. Agarwal. "How are they different from non-congenital heart disease patients? Do I use the same lipid or prevention guidelines that have been devised for people without congenital heart disease?" She especially wants to know the prevalence of acquired conditions – diseases that ACHD patients develop in addition to the heart defects they were born with – and how those impact their health care utilization, costs and clinical outcomes.
For example, their preliminary data shows that ACHD patients are five times as likely to develop cancer as their peers without ACHD. Dr. Agarwal is just beginning to delve into why that might be. "We have a lot of hypotheses, but I don't know what the real answer is," she said. Some possible contributing factors include ACHD patients' high exposure to radiation from frequent imaging studies, potential links between genetic mutations that cause congenital heart disease and cancer, early detection due to higher screening rates, or conversely a lower cancer screening rate because of their doctors' intense focus on managing their CHD.
Because each database has its strengths and weaknesses, Dr. Agarwal is piecing together a picture of ACHD patients using other databases. For example, cardiac electrophysiologist Dr. Zian Tseng suggested that Dr. Agarwal use the Healthcare Cost and Utilization Project database, which tracks information on hospital stays and discharges, among other data points. Dr. Agarwal also is working with UCSF's Health eHeart Study to find detailed information about lifestyle-related questions, such as the prevalence of smoking and physical activity among patients with and without ACHD.
"UCSF is the best place to do this kind of detective work," said Dr. Agarwal. "We have great mentors who are very resourceful and helpful, and who have identified various research methodologies that can help you tackle the problem."
She is also using databases to identify gaps in care for ACHD patients, and found that one of the biggest barriers to accessing consistent care is insurance problems. "Patients with congenital heart disease have the very definition of a 'pre-existing condition,' and we're trying to find out whether the Affordable Care Act actually helped these patients get insurance and whether that improved their outcomes," said Dr. Agarwal.
With support from the American Heart Association and the Children's Heart Foundation, she is also identifying ways to optimize ACHD patients' use of health care resources to improve outcomes – whether it is preventing unnecessary emergency room visits by treating complications of their disease before they develop into a crisis, or getting them into consistent care by an ACHD specialist to ensure the best management of their condition.
It Takes a Huge Village
In addition to her research, Dr. Agarwal cares for patients both in the clinic and in the hospital. She sees ACHD patients ages 18 and older in clinics at UCSF and a UCSF outreach clinic in Modesto. "It's tough for some patients to make the long trip to San Francisco, and we find that patients tend to show up more and get their care if there is something closer to them," she said. "We try to see our ACHD patients at least once a year, or every six months if they have more severe complex disease." Her UCSF ACHD colleagues also see patients in an outreach clinic in Salinas, and hope to expand to Santa Rosa and the East Bay.
"The most important thing I've learned is having compassion for patients, and trying to put myself in their shoes," said Dr. Agarwal. "Patients with ACHD aren't just dealing with the medical issues – often, every aspect of their life is affected." Some patients may become disabled from their condition, or need to take significant time off for major heart surgery to address complications of their disease. Studies have also shown that many ACHD patients experience neurocognitive and financial problems.
Many women with ACHD face additional challenges of high-risk pregnancies due to their heart condition. UCSF's Pregnancy and Cardiac Treatment Program (PACT) provides expert pre-conception and prenatal care. One ACHD patient had had two abortions because a cardiologist at another institution told her that continuing her pregnancies would be too risky for her own health. The PACT clinic managed her prenatal care, and she was able to safely give birth to a healthy baby. "The patient was so tearful when she brought her baby for a postpartum appointment, and said, 'I can't believe it – I have my own baby,'" said Dr. Agarwal.
"We try to provide a comprehensive approach that addresses not only their medical problem, but social, financial and employment-related issues, as well as contraception and pregnancy," said Dr. Agarwal. "ACHD care requires a huge multidisciplinary team, including general cardiologists, ACHD cardiologists, adult and pediatric electrophysiologists, congenital, pediatric and adult surgeons, heart failure specialists, interventional cardiologists, advanced imaging specialists, exercise physiology experts, social workers, genetic counselors, psychologists, and many others. We also have a separate clinic for ACHD patients who develop liver issues, which includes hepatologists, cardiologists and radiologists."
In addition to caring for patients in clinic, Dr. Agarwal performs transesophageal echocardiograms during catheter procedures and cardiac surgeries, enabling interventional cardiologists and surgeons to see the heart during these intricate procedures. She also spends much of her time reading echocardiograms of ACHD patients in the echocardiography lab.
"It makes a huge difference when someone with ACHD training reads these studies, because we have a good understanding of the surgeries and palliations that these patients have gone through when we evaluate structures of the heart," said Dr. Agarwal. "I also enjoy teaching fellows, residents and sonographers in the echo lab. It's really fun to walk them through each image and explain what the unusual connections and flows mean, and how you figure it out."
Outside of medicine, Dr. Agarwal and her husband, Dr. Brajesh Agrawal – a neurologist at Seton Medical Center in Daly City – stay busy keeping up with their three young children, Aashi, Aarav and Samar.
"UCSF is a great place to achieve my dream of making a difference in the lives of ACHD patients," said Dr. Agarwal. "We are very happy that surgical and technical advances have successfully helped these people live into adulthood, but now we want to give them a long life and one with good quality of life. It's amazing when I see some of my patients who are well accomplished despite their congenital heart condition, and we hope to encourage others to do the same. People may be born with a congenital heart defect, but we hope to help make life better for them."