Fellow Spotlight: Sunil P. Singh, MD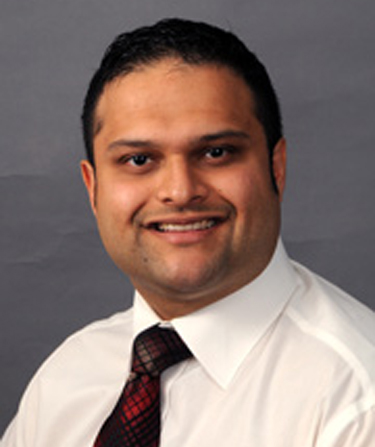 Dr. Sunil P. Singh was born in Manhattan and grew up in Poughkeepsie, N.Y. His uncle, an interventional cardiologist, brought him to a cardiac catheterization lab when he was 18 years old. That experience, plus his love of science and technology, led him to follow in his uncle's footsteps. "As an interventional cardiologist, you can make a huge difference in people's lives, and often the effects are immediate," said Dr. Singh. "Also, the advances are staggering – every year, there are new stents, valves, medications and imaging technologies."
Dr. Singh earned a bachelor's degree in economics from New York University, where he also completed his medical degree. He spent an extra year during medical school researching ways to protect cells against ischemia-reperfusion injury; it occurs when the blood supply is cut off, then restored. The sudden reintroduction of blood flow causes oxygen radicals to form, which can signal cells to die – an additional assault on cells which have been starved of oxygen. He investigated whether administering hydrogen sulfide could mitigate the production of oxygen radicals and decrease cell damage.
Dr. Singh completed his internal medicine internship at Beth Israel Medical Center in New York, and his internal medicine residency and general cardiology fellowship at the Donald and Barbara Zucker School of Medicine at Hofstra/Northwell in Hempstead, N.Y. He began his interventional cardiology fellowship at UCSF in 2016. Among his mentors is Dr. Vaikom S. Mahadevan, who has pioneered transcatheter valve interventions – using catheters that are snaked up through blood vessels to the heart to implant replacement valves, rather than doing open-heart surgery. "There have been a lot of unique cases here that I would not have seen elsewhere," said Dr. Singh.
Another mentor is Dr. Yerem Yeghiazarians, director of the UCSF Translational Cardiac Stem Cell Program. Dr. Singh is working in Dr. Yeghiazarians' lab, studying which cytokines – cell signaling molecules – are increased or decreased when stem cells are exposed to stressful conditions. Dr. Singh hopes to apply his earlier research on ischemia-reperfusion injury to find ways to prevent cellular injury after a heart attack.
After completing his interventional cardiology fellowship, Dr. Singh will join First Coast Heart and Vascular Center, a private cardiology practice in Florida. In his spare time, he enjoys tennis, golf, Yankees baseball, traveling and watching movies.