Staff Spotlight: Mina Navabzadeh, PharmD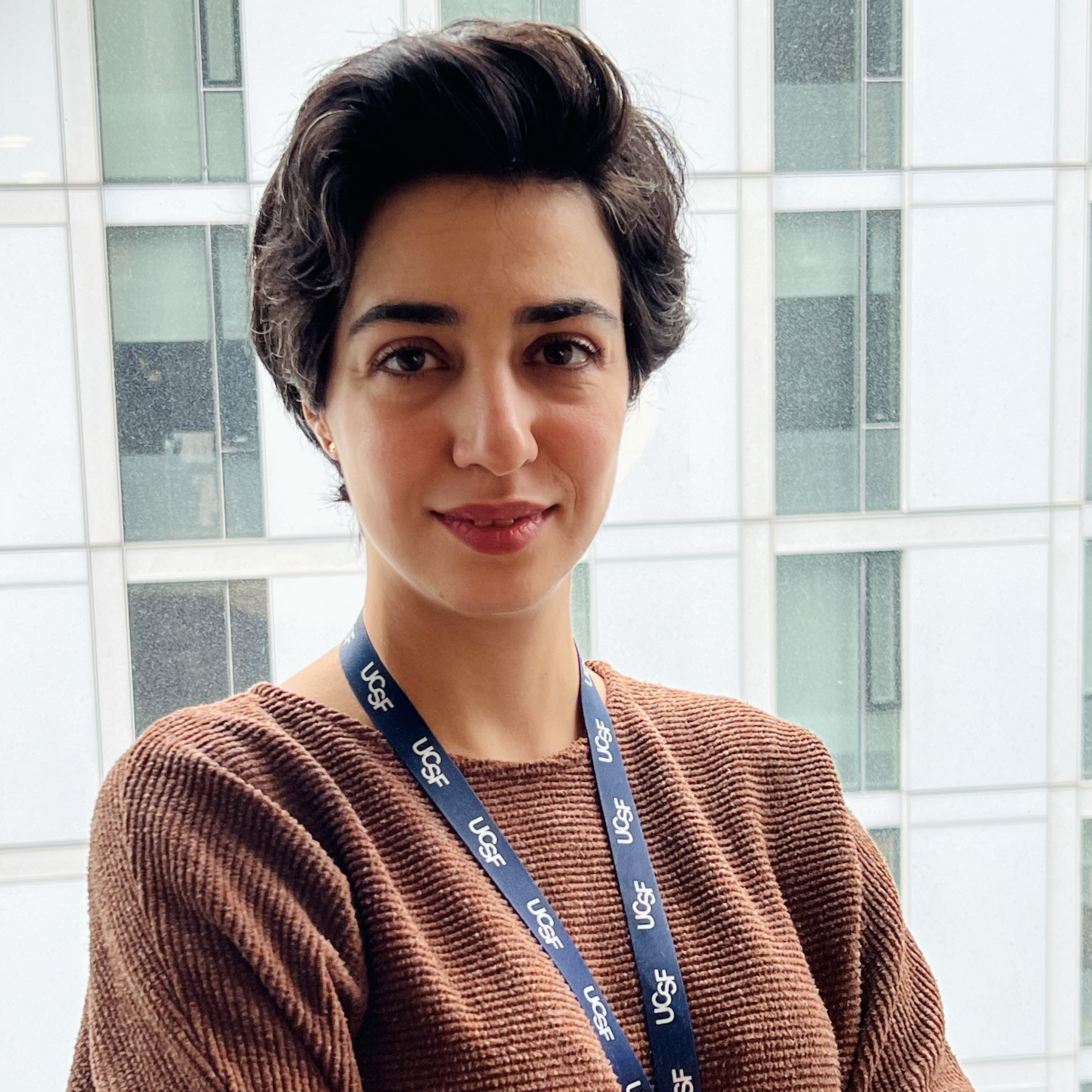 Beginner's Mind in the Lab
"It can be really scary, but it's never too late to start learning something new," said Mina Navabzadeh, PharmD, assistant specialist in the lab of Matthew Springer, PhD, professor in the UCSF Division of Cardiology.
Dr. Navabzadeh speaks from experience: she grew up in Iran, where many of her extended family members were pharmacists. She earned her doctor of pharmacy degree from Shiraz University of Medical Sciences, then worked in retail and hospital settings. However, as a woman in Iran, she found her educational and work opportunities limited.
Inspired by a sense of adventure, she moved to Florida, obtained her pharmacy license, and worked in the community. While she appreciated helping patients, she wanted to continue growing intellectually and to strengthen her resume before applying to pharmacy residency programs in the U.S., which are particularly competitive for international graduates like her.
Through her personal network, she met Leila Mohammadi, MD, PhD, an assistant professional researcher who works in the Springer Lab; Dr. Mohammadi now leads human studies of various forms of cannabis use.
"Like me, Dr. Mohammadi is an international graduate who has faced similar challenges," said Dr. Navabzadeh. "We talked about our future plans, and she suggested that I go to one of the American Heart Association scientific sessions as her guest to meet her PI, Dr. Springer, and other lab members, and learn about their work. They presented some interesting results from novel studies on JUUL products, and I was really interested."
She was willing to start as a volunteer to gain hands-on research experience, so Dr. Springer and Dr. Mohammadi invited Dr. Navabzadeh to join the lab. She moved across the country and volunteered for almost a year without pay, moonlighting as a retail pharmacist.
"I'm really, really grateful to Dr. Springer for giving me this opportunity," said Dr. Navabzadeh. "It takes so much trust for a PI to give an opportunity to someone where they don't know anything about their previous mentors, schools or workplaces – especially if the person doesn't have any lab research experience. Dr. Springer is a wonderful mentor, and very supportive of international graduates who want to step into the world of academia in a different country. That's the reason many people reach out to him."
In fact, the Springer Lab has recruited members from all over the world, including Belgium, China, Egypt, Germany, India, Japan, Kazakhstan, the Netherlands, Turkey and Russia. "One of the things I enjoy the most about my lab is that it attracts many international scholars from a wide range of backgrounds," said Dr. Springer. "Each comes with unique experience and perspectives, and their energy and enthusiasm always surprise me. Mina's a great example. Even though the whole point was for her to get lab research background here, she's already extremely knowledgeable and competent. In lab meetings she's been a great source of suggestions and interpretations of results. In addition to being a crucial part of our clinical research team, she also does a lot of important bench work."
Learning and Teaching
Although she was already a practicing pharmacist, research was a brave new world for Dr. Navabzadeh. "When I first started working in the lab, I was like, 'I'm completely here with a beginner's mind,' she recalled. "I was scared to ask questions, since I didn't even know the basics. But when we want to learn something, we have to have the courage to ask."
Dr. Navabzadeh appreciates that the Springer Lab conducts a wide range of research, including cell, animal and human studies. "I was very lucky to learn a little bit of everything," she said. She learned how to run molecular assays, measure biomarker levels, work with cell cultures, and perform procedures in animal models. "I used to read about these things in papers and textbooks, but had never done them before myself," she said. "It's given me a better understanding of biochemistry, different pathways in the body, and how things work on a deeper level."
Although she was a volunteer before being hired as a full-time lab member, Dr. Navabzadeh put in long hours, especially during particularly busy times. So far she has helped contribute to research about the effect of vaping devices on vascular health, how inhaled tobacco and marijuana products can increase risk of cardiac arrhythmias in animal models, and a possible pathway for preventing e-cigarette-related impairment of blood vessels.
She now has the opportunity to pay it forward, mentoring newer trainees and developing yet another skill set – as an educator. "I never thought I could be a teacher, but based on the feedback I get from undergrads and visiting students, I was wrong," said Dr. Navabzadeh. "I use my own experience to remind myself, 'Be patient. Make trainees feel comfortable about asking questions, and give them the chance to make mistakes, because that's the only way you learn. People shouldn't be ashamed of not knowing something, because you can always decide to start learning something from zero.' I think that makes me a good teacher."
She also draws on her recent experience to encourage trainees, particularly those from other countries. "When people first come here, they are often intimidated," said Dr. Navabzadeh. "UCSF is huge, and that can be scary. I tell people, 'Don't be scared. Just learn, be open, and don't compare yourself to anyone else.'"
Discovering Cardiovascular Effects of Cannabis
Dr. Navabzadeh is excited to be working with Dr. Mohammadi, who leads the CANDIDE Study; it examines cardiovascular effects of various cannabis products on human participants. "There are not many studies investigating edible THC products, in addition to joints, THC oils and e-liquids," she said. "We want to compare different groups of users." While the study builds upon previous research in animal models, the edible component is new.
As a pharmacist, Dr. Navabzadeh helps bring a different perspective to the study design. "For example, if we want to compare a cannabis smoker with an edible user, we cannot simply compare them together solely based on the number of times that one person uses a joint and the other uses candy or any type of edible product," she said, noting that ingested and inhaled substances behave differently in the body. "Edible products have a different concentration of THC, a very different pharmacokinetic profile, and different metabolites. There's a lot to investigate and learn in this area…. Of course, I'm not an expert yet. I'm working with MD/PhDs who have decades of experience. But I'm excited that I can add something here and there."
"Dr. Navabzadeh is a bright researcher and a great asset to our clinical research team," said Dr. Mohammadi. "With her background as a PharmD, she brings an invaluable perspective that enriches our study. Given that our main clinical research is focused on the effects of cannabis use on vascular health, her pharmaceutical expertise brings an essential dimension to our work." 
A New Door to Growth
Dr. Navabzadeh hopes to eventually complete a pharmacy residency in the U.S., and to pursue a career as a physician-scientist who cares for patients and continues to conduct research.
She has a passion for teaching patients about their medications, fueled by her personal experiences. When she was in high school, her mother was diagnosed with multiple sclerosis and received weekly interferon injections to slow the progression of disease. "Her physician was the best doctor and basically saved her life, but no one ever told her about the side effects of the medication," said Dr. Navabzadeh. "They just filled the prescription. But each time my mom had chills and flu-like symptoms for 24 hours, couldn't sleep, and was crying because of the extreme pain. No one ever educated or prepared her for that."
That shaped her own approach to patient care. "When I became a pharmacist, I always made sure to prepare patients and their families for medication side effects," said Dr. Navabzadeh. "Sometimes I would talk to them for a full hour. I'm sorry that my mom had to go through what she went through, but I gained skills and insight that you don't get just by going to school and getting a degree."
That spirit of care animates all her interactions with patients. When she first moved to the U.S. from Iran, Dr. Navabzadeh worked with a long-term care pharmacy as an intern and then a pharmacist, primarily serving vulnerable patients in assisted living facilities, including a psychiatric facility.
"Most patients had no family members to care for them, and they depended on us," said Dr. Navabzadeh. "We were in constant communication with nurses, nurse practitioners, doctors, and other members of the health care team. We had a very personal relationship with most of our patients. It was a very difficult job, emotionally, but very gratifying at the same time."
Her dream is to complete her clinical training in the U.S., and eventually dedicate part of her time to help her peers in Iran develop a more collegial environment in which pharmacists are an integral part of a patient's care team. "When I was in Iran, clinical pharmacists were not very welcomed in hospital settings – we were like uninvited guests," said Dr. Navabzadeh. "It's getting better, according to my pharmacist friends who are still in Iran. But I'd like to contribute to establishment of the concept of clinical pharmacy practice…. I want to be a pharmacist who makes a difference."
In addition to her love of patient care and research, Dr. Navabzadeh enjoys immersing herself in the art of Japanese painting, and is a devoted practitioner of yoga. She is married to Pooya Farahbakhsh, a former structural engineer who now works in technology.
"We have a great team, and everyone is very friendly and supportive," said Dr. Navabzadeh. "But lab work requires a lot of patience, especially when you work over the weekend and in the end don't get the results you hoped for, or need to repeat everything all over again. So it's great to have things like painting and yoga to help me calm down and refresh my mind before coming back to the lab."
She appreciates all she is learning at UCSF, and the chance to learn new skills. "Five years ago, if someone had told me I would be in California at UCSF working in a lab, I would have said, 'No way!'" said Dr. Navabzadeh. "I will be grateful to Dr. Springer and Dr. Mohammadi for the rest of my life for giving me this opportunity. It has been life-changing, and opened a completely new door for me to grow, learn, and potentially make meaningful contributions where I'm doing something that matters."
- Elizabeth Chur