Translational Cardiac Stem Cell Research Program (TCSCP)
The UCSF Translational Cardiac Stem Cell Program (TCSCP) was founded in 2003 with the mission to study stem cells and their role in treating different diseases. Our ultimate goal is to translate discoveries made in the basic biomedical sciences, technology, and stem-cell biology into revolutionary treatments that benefit patients suffering from life-threatening diseases including heart disease, stroke, cancer, muscular dystrophy, and neurodegenerative diseases such as Parkinson's disease, Alzheimer's disease and Huntington's disease.
Whether you are a patient looking for information regarding our research or a doctor hoping to learn more about stem cell therapy, we welcome you to the Translational Cardiac Stem Cell Program website.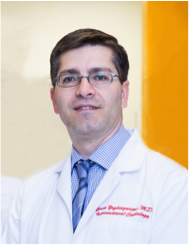 Yerem Yeghiazarians, MD
Director
Translational Cardiac Stem Cell Program
To support our program, tax-deductible checks can be written to "UCSF Foundation" with "Yerem Yeghiazarians/B2041" on the memo line, and sent to:
UCSF Foundation
Attn: Eileen Murphy
PO Box 45339
San Francisco, CA 94145-0339