Cardiologist Ethan Weiss, MD, has developed an exciting new tool that integrates technology, behavioral science, and delicious food to help people achieve a challenging goal: losing weight. 
A few years ago, Dr. Weiss advised a company that helps diabetic patients lose weight by following a low-carbo-hydrate, high-fat "ketogenic" diet, which prompts the body to shift from burning carbs to burning fat. "I did a deep dive on the science, biology and medicine, and it looked really interesting," he said. 
He received a breath sensor prototype that could detect acetone, one of a family of ketones, a chemical byproduct produced by the liver when it converts fat into energy. "I blew into it and almost immediately got gamified, trying to get the [ketosis] level to go up," said Dr. Weiss. He ate high-fat foods like avocados, nuts and salmon, and avoided bread, bananas and other carbs. "Very quickly I lost 20 pounds, without even trying," he said.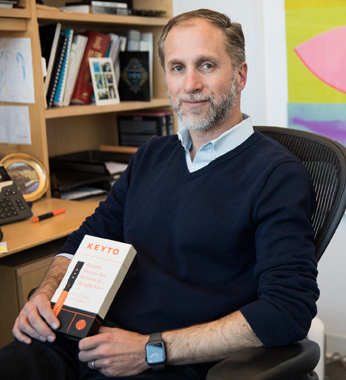 Dr. Weiss joined forces with Ray Wu, MD, MBA, and Liane Nakamura, a computer scientist, two entrepreneurs who had sold a company to Weight Watchers. Together they launched Keyto, now known as Key Eats (keyeats.com), which combines a breath sensor, mobile app and online store. 
Developing a viable sensor was no easy feat. The team bought every type of alcohol breathalyzer available on Amazon. Older models were not very specific for ethanol, the active ingredient in alcohol, but might detect any volatile organic compound in the breath – including a type of ketone called acetone. "There were stories about people on low-carb diets in the 1970s who got arrested for drunk driving when they hadn't had a drink," he said. In fact, Dr. Weiss found that one of the older breathalyzers could detect acetone. 
Dr. Weiss and his partners distributed dozens of those sensors to people they knew, pairing it with a rudimentary app that encouraged them to follow a keto diet. After one month many had lost weight, but more importantly were still engaged with the process – rare for diets, where participation usually drops steeply. The sensor was also far more convenient than measuring ketosis level in blood or urine. 
With venture capital and an Indiegogo campaign, they refined their prototype and brought their breath sensor to market in 2019, selling more than 35,000 so far. It connects via Bluetooth to a mobile app that tells the user their ketosis level, and provides access to recipes, meal plans, and opportunities to chat with peers and experts. Key Eats recently launched an online store that sells keto-friendly energy bars, snacks, and staples like low-carb noodles. 
Dr. Weiss advocates a "heart-first" version of the keto diet, promoting fats that come from plants and fish rather than eating bacon three times a day. "As a cardiologist, it's important not to dismiss the potential cardiovascular risk and effects on cholesterol of eating high amounts of saturated fat," he said.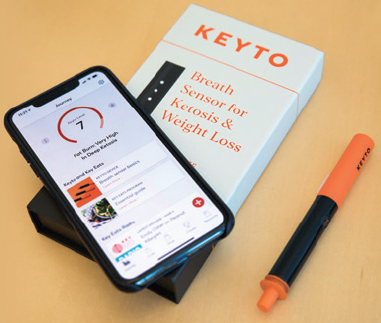 Key Eats is participating in a head-to-head clinical trial with Weight Watchers to measure weight loss, as well as other trials to study Key Eats' effectiveness in treating patients with nonalcoholic fatty liver disease and heart failure with preserved ejection fraction. "Both are metabolic diseases that are strongly associated with obesity and type 2 diabetes, and neither has any approved medical therapy," said Dr. Weiss. "The one thing that's been shown to work in both conditions is losing 10 percent of your body weight – but that's difficult." 
Key Eats could make this more achievable. "Part of the reason people struggle with losing weight is because we don't like to fail," said Dr. Weiss. "Key Eats gives you something that's trackable and fast – you can measure your ketosis score several times a day, and this is a game where you're trying to get your score to go up. We're striving to reteach people how to eat in a way that's healthy." 
- Elizabeth Chur, Date Published: Spring 2020