Highlights: Tony Bennett Valentine's Day Benefit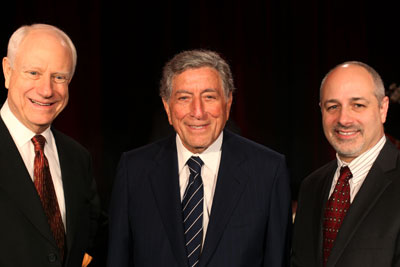 Tony Bennett sang his signature song, "I Left My Heart in San Francisco," during a sold-out Valentine's Day benefit for the UCSF Division of Cardiology in the Fairmont Hotel's Venetian Room.
On February 14, 2012, Mr. Bennett returned to the "City by the Bay" to celebrate the song's 50th anniversary, which he first performed in the same room in December 1961. Three hundred guests, including Governor Jerry Brown, Mayor Ed Lee, UCSF Chancellor Sue Desmond-Hellman, and many members of the Cardiology Council, enjoyed dinner and a 15-song concert by Mr. Bennett, culminating with "I Left My Heart in San Francisco."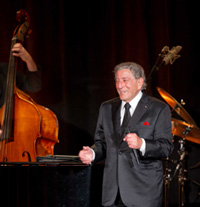 The benefit was the brainchild of William Oberndorf, chair of the UCSF Foundation Board of Directors and longtime Cardiology Council member. Mr. Oberndorf, a prominent businessman and part-owner of the Fairmont Hotel, gathered key sponsors for the event, and suggested to Dr. William Grossman that the evening serve as a benefit for the UCSF Division of Cardiology. Mr. Oberndorf and his wife, Susan, served as the event's dinner chairs, and Charlotte and George Shultz and Diane B. Wilsey served as honorary event chairs. The gala sold out immediately, and netted more than $500,000 to support cardiovascular research at UCSF.
Earlier in the day, Mr. Bennett received a key to the city from Mayor Lee and was honored by a number of choruses singing the song beneath the Rotunda at City Hall. Radio stations across the city broadcast "I Left My Heart in San Francisco" at noon.
A Double Anniversary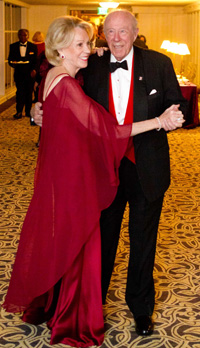 In addition to celebrating the golden anniversary of the classic ballad, the evening benefit also honored the 15th anniversary of the Cardiology Council. The group was founded in 1997, when Dr. Grossman, who had just arrived at UCSF as the new Chief of the Division of Cardiology, and former Department of Medicine Chair Dr. Lee Goldman met with prospective supporters at the home of Danielle and Brooks Walker. "We presented our vision of building a world-class cardiovascular center here in San Francisco," said Dr. Grossman. "That evening, the Walkers and 30 of their guests attending the event signed up to be the first members of the Cardiology Council, promising to help us transform our vision into reality."
The Cardiology Council has since grown to include more than 300 members. The organization's generosity has supported a number of key faculty recruitments, as well as the establishment of the Cardiology Stem Cell Research Program, construction of the Cardiovascular Research Institute Building at Mission Bay, and the establishment of the Cardiovascular Care and Prevention Center.
"We are tremendously grateful for everything that the Cardiology Council has made possible over the last 15 years, and were delighted that we could celebrate our accomplishments together at this special event," said Dr. Jeffrey Olgin, current Chief of the Division of Cardiology. "We look forward to our ongoing partnership with the Cardiology Council, as we continue to build an outstanding program in heart health that is a leader in research, clinical care and education."