Fellow Spotlight: Santi Yarlagadda, MD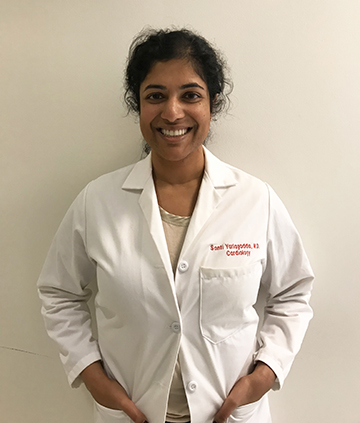 Dr. Santi Yarlagadda was born in India, and grew up in upstate New York and Houston. She earned her bachelor's degree in biology from the University of Texas at Austin and her medical degree from Albany Medical College in Albany, N.Y. She completed her internal medicine residency from Rush University Medical Center in Chicago, and her cardiovascular disease fellowship at the University of Texas Health Science Center at Houston.
Her research projects have included investigations of cardiovascular complications resulting from excessive consumption of energy beverages, and mortality predictors in cardiac amyloidosis, a disease in which an abnormal protein accumulates in the heart. During her fellowship, Dr. Yarlagadda cared for many patients with end stage heart failure, as well as those who developed heart failure as a side effect of cancer chemotherapy.
She chose UCSF for her advanced heart failure and cardiac transplant fellowship because of UCSF's unparalleled academic reputation and the opportunity to care for complex patients. "It's been enlightening to work with faculty from other departments who are also at the top of their game, figuring out a treatment plan for patients who might need a heart-lung transplant or a heart-kidney transplant," said Dr. Yarlagadda.
She plans to work as a clinician in community or private practice, and appreciates the human aspects of helping heart failure patients. "It's great to develop a relationship, understand what their goals are, and present some new options," said Dr. Yarlagadda.
In her free time, she enjoys hiking, going wine tasting and exploring Northern California.