Faculty Spotlight: Sung Choi, MD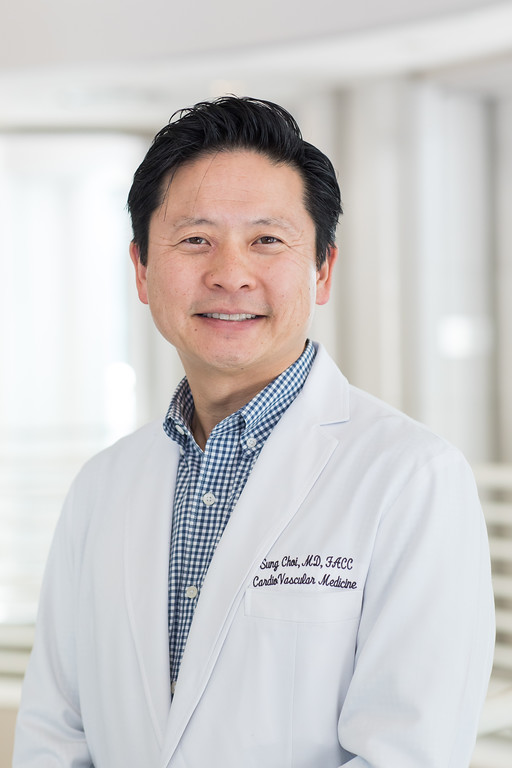 "The doctor-patient relationship is key to health," said Sung Choi, MD, who recently joined the UCSF Division of Cardiology faculty. "It's important to really understand your patient as a person, not just another case. Knowing what he or she is going through socially and emotionally can help you determine the best approach for each individual." 
Dr. Choi, a general and interventional cardiologist, spent more than a decade with Golden Gate Cardiology Medical Group, one of the premier cardiology private practices in San Francisco. He and his three partners were recruited to UCSF in 2016 to expand the Division's clinical services.
Dr. Choi and his colleagues are now based at 1 Daniel Burnham Court, and take turns providing full-time coverage for hospitalized patients at CPMC. Dr. Choi also cares for inpatients on the Parnassus campus, serves as an attending physician in the cardiac catheterization lab several times a month, and teaches trainees at both UCSF and CPMC.
Whether he is in clinic or in the hospital, Dr. Choi makes an effort to really listen to his patients. "It's important to hear what your patients say," he said. "Even if there are symptoms we can't explain, or ultimately the issue may not be cardiac, you have to try to figure out what they are going through. Making that connection with the patient, even in the short time you have with them, makes a difference. I really enjoy hearing about their grandkids or their vacation – and that also helps you talk to them about their disease. They might say, 'I can't walk up the hill on the golf course anymore,' and that's something they might not share unless they feel like you care about them."
A Family Tradition
Dr. Choi comes from a long line of physicians. His grandfather emigrated from Korea to Virginia during the Great Depression, sleeping on sacks of potatoes in a closet and shoveling coal to cover his room and board during college and medical school. He graduated from the Medical College of Virginia in Richmond, Va., then returned to Korea and helped start the health ministry there. When the Korean War broke out, he returned to the United States with his young family and became a general practitioner in Alexandria, Va. He later helped found the Korean Medical Association of America.
Dr. Choi's father also became a doctor, practicing as a radiologist in Virginia for many years, and Dr. Choi's brother is a gastroenterologist in Virginia. "Growing up, it didn't seem like there were any other jobs," said Dr. Choi with a laugh. "We were always going to conferences where we met a lot of Koreans who lived everywhere but were all doctors. Also, for my grandfather's generation, it was hard to be accepted and respected as an Asian American, but being a doctor gave him a certain stature in the community."
Dr. Choi explored other paths, majoring in government at Dartmouth College in Hanover, N.H., working at a law firm during college, and even briefly considered becoming a ski instructor. But it was a natural fit to pursue a career in medicine. He earned his medical degree from the University of Virginia School of Medicine in Charlottesville, Va., then completed his internal medicine residency and chief residency at Tufts-New England Medical Center in Boston, where he also completed fellowships in general cardiology and interventional cardiology. In addition, he completed a postdoctoral fellowship in vascular medicine at Caritas-St. Elizabeth's Medical Center in Boston.
From the beginning, Dr. Choi was intrigued by the physiology of the heart. "I thought hemodynamics and valve disease were really interesting, and appreciated the breadth of different fields within cardiology," he said. "Electrophysiology was also becoming a more prominent field. And early on in medical school, I remember watching them place a coronary stent in a patient. The field always seemed to be advancing with novel technologies."
He considered becoming a cardiac surgeon, inspired by the charismatic faculty. After assisting with a coronary bypass procedure, he remembers his mentors calling his parents and saying, "Your son just performed cardiac surgery!" "The hands-on feel was very exciting, and the ability to physically do things rather than just prescribing medicines or talking really appealed to me," said Dr. Choi. However, he also enjoyed the complex process of arriving at the correct diagnosis, and thought that interventional cardiology would provide a good mix of both diagnosing and treating his patients.
He was recruited to the Golden Gate Cardiology Medical Group in San Francisco, where one of his mentors, Gary Milechman, MD – now also a UCSF faculty member – was an inspiring example of a well-rounded cardiologist. "I wanted to emulate Gary's ability to diagnose a patient, get the right diagnostic tests, get the patient to the right procedure and actually perform that procedure for them," said Dr. Choi. "I thought that was being a complete doctor, and was really good for the patient."
Learn and Improve
Dr. Choi appreciates the opportunity to teach and mentor. One lesson he tries to pass on is to review the primary data. "When I was in training, one of my attendings would always go through the chart himself and look at the actual data," said Dr. Choi. "You can take other people's reports, but even with people you respect highly, I think you have to look at the information yourself to really get a sense of what's going on. A lot of the diagnostics we do in cardiology are visual studies, and I learned to look at them myself. There are two parts: you have to know the patient by talking to him or her and getting a good history yourself, and you have to know the data. Then you put it all together. In cardiology, it's a combination of clinical history, test findings, hemodynamics, imaging, and ultimately being able to do something for the patient physically."
Dr. Choi is also the physician site lead at 1 Daniel Burnham Court, overseeing Lean techniques to provide the best patient care possible. Soon after he and his group joined UCSF, they devoted a week to a "kaizen" event, mapping out ways to improve the patient experience. Continual process improvement is truly a team effort, involving not just the faculty, but the nursing staff, medical assistants, receptionists, and everyone else.
"We have good doctors, but we couldn't do this without engagement from the staff side," said Dr. Choi. "Our manager, Liezl De Guzman, has huddles every day to bring up concerns. We're trying to encourage staff to tell us what we need to do better, as opposed to us just making suggestions to them. The biggest reason we've been successful is that we respect everybody's input." Those collective efforts have paid off, with the clinic garnering excellent scores in patient satisfaction surveys.
In addition to his colleagues, Dr. Choi has access to an additional process improvement resource: he is married to Lei Choi, MD, MPH, an internist and medical director of the UCSF Continuous Improvement department. "My wife gives Lean trainings to physicians and leaders, so I hear about Lean all the time at home, and it seems natural that when I came to UCSF, it would be something I would embrace," he said.
The Greatest Reward
Dr. Choi continues to work closely with his practice partners at 1 Daniel Burnham Court, taking a team approach to providing care and covering for each other when needed. "We try to make people feel like they are a patient of our practice," said Dr. Choi. "We hope to continue to care for patients in a comprehensive, state-of-the-art and personalized way."
At the same time, Dr. Choi appreciates the opportunity to collaborate with a bigger group of talented colleagues as a UCSF faculty member. "I enjoy interacting regularly with bigger groups of really smart people, and being exposed to all the things going on academically at UCSF," he said. "The most exciting part of joining UCSF is having access to thought leaders with very specific expertise who help us take care of the sickest patients, from adults with congenital heart disease to heart transplant recipients."
Outside of work, Dr. Choi enjoys running and skiing. He and his wife have three children, and cheer them on at cross country meets and basketball and soccer games. Dr. Choi and his oldest son enjoy running together, and recently completed the California International Marathon and the Dipsea Race from Mill Valley to Stinson Beach.
Seeing his patients do well is the biggest reward. Dr. Choi fondly describes a patient in his 90s who was quite sick and underwent a heart valve repair, and is now thriving. His family brings homemade apple pies to their appointments as a gesture of appreciation. "It goes back to having a relationship with the patient," he said. "When I feel like I'm actually impacting someone's life, that is my greatest accomplishment."