Faculty Spotlight: Russell Ching, MD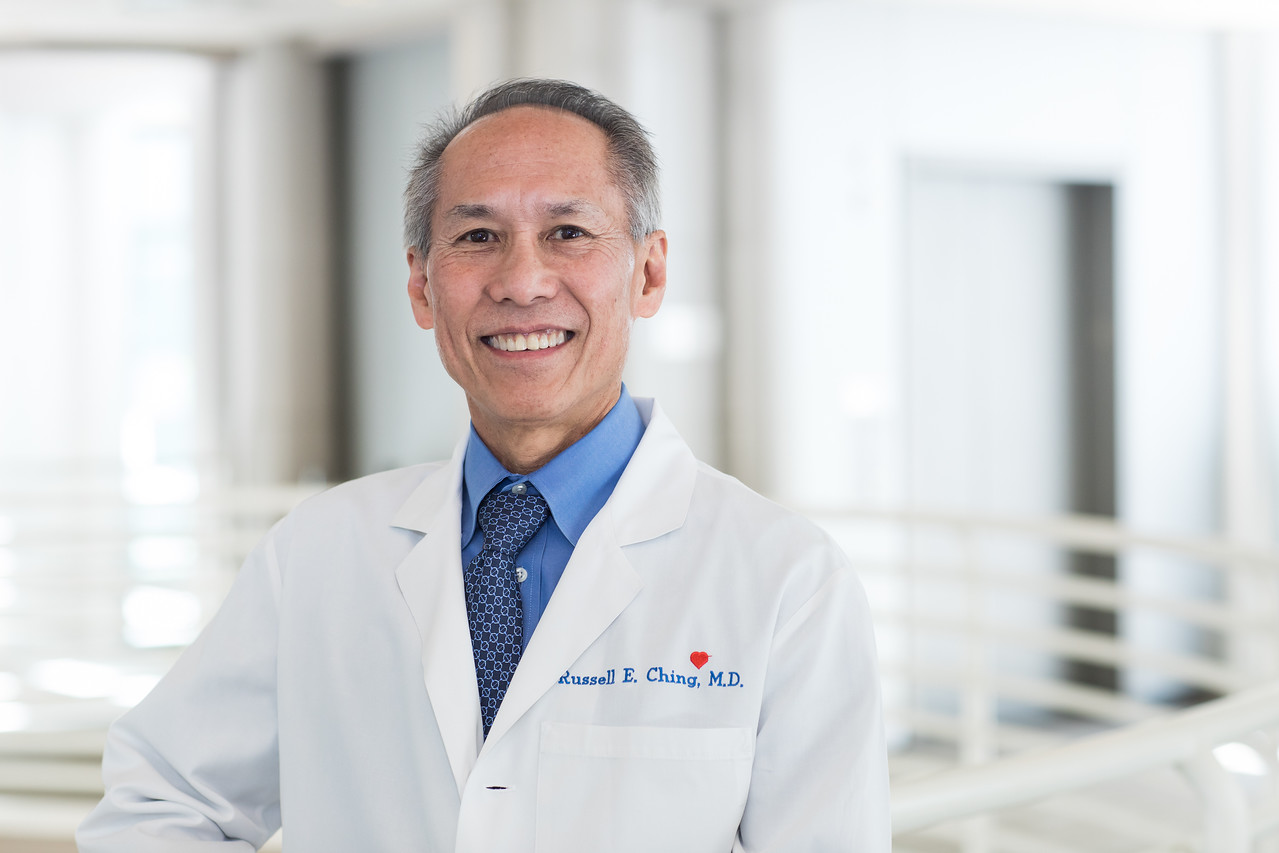 "I always think, if this were my dad or my uncle, how would I want them to be treated?" said Russell E. Ching, MD, who recently joined the UCSF Division of Cardiology faculty. He brings 35 years of experience to caring for each of his patients, and seeks to earn their trust from the first moment they meet.
That approach of hard work and compassion has deep roots in his upbringing. Dr. Ching grew up in Fresno, Calif., where his father was a high school English teacher and coach, and his mother worked in the Chinese restaurant owned by his uncle. He credits his father with allowing him to learn by doing.
"My dad would drop us off at the library in the summer when it was 105 degrees outside, and told us he would pick us up in three hours," recalled Dr. Ching. "We figured out for ourselves how to listen to old records and find our way around the library. I was very blessed that my dad was the ultimate teacher, who trusted our curiosity and gave us insight, but was not didactic. He also demonstrated a spiritual approach to life based on doing something constructive that alleviates human suffering."
Dr. Ching earned his bachelor's degree from UC Berkeley in marine zoology, then completed his master's degree in human physiology at Georgetown University in Washington, D.C. He enjoyed doing research but decided to pursue medicine as a way to more directly help people. He earned his medical degree from Chicago Medical School before completing his internal medicine residency at Los Angeles County + USC Medical Center, followed by his cardiology fellowship at California Pacific Medical Center in San Francisco.
Heart and Soul
He decided to become a cardiologist in part because of a family history of heart disease, as well as the opportunity to use his hands to help people. "I like being in the thick of things, and I like to learn," said Dr. Ching. "Obviously, in cardiology, there are a lot very stressful situations with really sick people. I thrived, even with the sickest patients."
He sees it as his calling to care for the whole patient. "Cardiology appealed to me because the heart is not just an organ – it's part of the soul," said Dr. Ching. "Yes, it's a pumping chamber, but it carries emotion. Part of it requires a spiritual approach, rather than just mechanistic cardiology. You need to intertwine those two elements to carry the patient through."
Dr. Ching worked in private practice in Southern California for about 30 years. From the beginning of his career, he has sought to be a patient advocate, explaining complex issues in language they can understand, and working to ensure they receive the best care. The foundation of everything is the deep rapport he seeks to develop with each person.
"How you approach the first 15 minutes with a patient is so crucial," he said. "How do you reassure the patient and their family that you really have their best interests at heart? It's bedside manners. I'll come in and put my hand on the patient's wrist. I'm making contact very gently, but I'm also taking their pulse. I'm maintaining eye and hand contact to convey my concern and build that trust."
Part of creating that rapport is taking the time to answer all of a patient's questions, and being willing to refer them to other cardiologists for a second opinion if needed. "Sometimes things are very black and white, and I'll tell a patient, 'You can get another opinion, but it's pretty evident that you need a valve replacement,'" said Dr. Ching. "But in cardiology and medicine in general, sometimes there isn't just one right answer. I would never say, 'Why are you questioning me?' It reassures me when a patient comes back and says, 'They told me exactly what you did, Dr. Ching,' or when another cardiologist has other opinions to offer."
Making a Difference – Locally and Globally
In 2013, Dr. Ching decided to move to the Bay Area to be closer to family. He was deeply touched by the many patients who came to his farewell party in Southern California. "There were some incredibly heartwarming stories," he recalled. "One of my patients said, 'I've had you for 20 years, and now I need to share you. You go north and save other people's lives.'" Some of those patients continue to see him, scheduling appointments during business trips or flying up for the day from Los Angeles.
Dr. Ching joined the Golden Gate Cardiology Medical Group in 2013, and he and his partners – Sung Choi, MD, James Mailhot, MD, and Gary Milechman, MD – joined the UCSF faculty in 2016. Dr. Ching is based in the UCSF Division of Cardiology outpatient clinic at 1 Daniel Burnham Court, and also cares for hospitalized patients at California Pacific Medical Center one week a month.
He continues to offer a private practice approach with his colleagues at Daniel Burnham Court. "If you call us, we call back," said Dr. Ching. "If you want to see us, we try to fit you in. If I can't fit you in, I trust my partner to take care of you and offer a very similar type of care. It's a family, not a clinic. We pride ourselves on being caring, conscientious, and having integrity."
He also enjoys teaching trainees. "It's been gratifying when residents tell me, 'Dr. Ching, it looks like you are having so much fun – I want to be a cardiologist,'" he said. "It's hard work, but I thrive knowing that I'm making an impact, and having trainees see me at the bedside."
A lifelong learner, Dr. Ching appreciates the challenge of keeping pace with rapid advancements in the field. "In cardiology, every three to five years there are huge changes," he said. "It's both daunting and attractive, because you can't just sit on your heels and practice the same way you did six months or a year ago."
In addition to his busy clinical schedule, Dr. Ching has a passion for global health. He has participated in medical missions to many countries, including Congo, Ecuador, Egypt, Guam, Honduras, the Philippines and Tanzania. "These missions have been life-changing," he said. "You think you're serving, but actually, what you learn about yourself is what's important. When I went to the Congo, I witnessed how people have nothing, but they have faith and joy. I went to a worship service, and the Congolese music was incredible. It gave me such a greater appreciation of life."
Closer to home, Dr. Ching has coached high school sports for many years, most recently at Tamalpais High School. "I mentor these kids and teach them," he said. "It's not about winning – it's about creating values for young men during their very formative years, and teaching them perseverance." He also helps screen high school athletes for risk of cardiac disease through the UCSF PlaySafe Sports Medicine Program.
Dr. Ching has three grown children and two grandsons. "I tell my kids to follow their passion and their heart," he said. "I enjoy the many aspects of what I do through practicing cardiology, mentoring, going on mission trips, and coaching. I'm lucky that I do something I love, and I put my soul into it."