Faculty Spotlight: Ramin Beygui, MD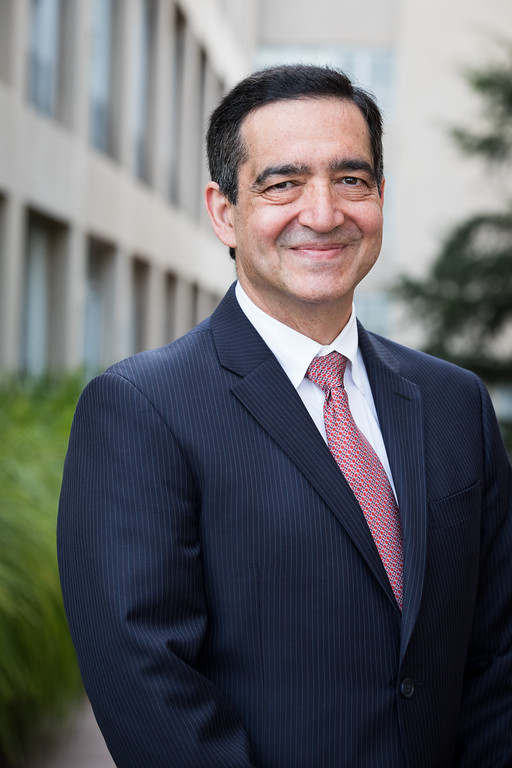 "Nothing is more gratifying and joyous than taking care of a very sick patient so well that they walk out of the hospital," said Dr. Ramin E. Beygui, who recently joined the UCSF Division of Adult Cardiothoracic Surgery.
Dr. Beygui brings broad and deep experience as a cardiac surgeon. At UCSF he performs cardiac bypasses, and partners with cardiologists to treat structural heart disease, valvular heart disease, aortic aneurysms and dissections, and cardiac arrhythmias. In addition to treating patients at UCSF, he also serves as director of the Cardiothoracic Surgery Program at Washington Hospital in Fremont, which is a regional hospital affiliated with UCSF.
"Patients can come to Washington Hospital and receive the exact same quality as if they had come to UCSF, but they don't have to travel to San Francisco," said Dr. Beygui, who shares clinical duties at Washington Hospital and UCSF with his colleague, cardiothoracic surgeon Dr. Teng Lee. "While we can provide the great majority of treatments and operations at Washington Hospital, for very complicated cases, we can transfer them to UCSF and take care of them here."
For example, patients with end-stage heart or lung disease, those requiring heart or lung transplants, and patients who could benefit from receiving a new aortic valve through a less invasive process may be referred to UCSF to receive more specialized care.
"UCSF is a major referral center for very complex cases," said Dr. Beygui. "Some of these patients not only have heart disease, but other conditions that require additional care, such as prior malignancies or previous heart surgeries. We work with an entire cadre of UCSF physicians and staff to get these patients in optimal status before their operation, manage them postoperatively, and hopefully restore function and return them to normal."
From Engineering to Surgery
Dr. Beygui was born in Iran, where his father was an endocrinologist. During high school, he studied English in Cambridge, England, then graduated from the University of Michigan, Ann Arbor with a bachelor's degree in electrical engineering and computer science. He later earned his master's degree from UC Berkeley in electrical engineering and computer science, and worked in Silicon Valley as a design engineer for Philips Research Laboratories and Analog Devices.
He wanted to apply his training more directly to health care, and earned his medical degree from UC Irvine, followed by a surgery residency, chief residency and vascular surgery fellowship at Stanford University Hospital, and a postdoctoral fellowship in vascular surgery and a cardiothoracic surgery chief residency at UCLA. Among other positions, Dr. Beygui served as director of the Thoracic Aortic Aneurysm Service at UCLA, medical director of the Stanford Cardiothoracic Surgery Program at El Camino Hospital, and director of the pediatric and adult Lung and Heart-Lung Transplantation Programs at Stanford. Before his recruitment to UCSF, he was the medical director of cardiac, thoracic and vascular surgery at NorthBay Medical Center in Fairfield.
It Takes a Village
One of the reasons he decided to join the UCSF faculty was the opportunity do complex, advanced adult cardiac surgery at a large academic medical center. In addition to performing many cardiac bypass surgeries, Dr. Beygui frequently collaborates with subspecialty cardiologists to do joint procedures. This is made possible by a hybrid room, which has the equipment needed both for cardiac catheterization and surgical procedures. Some examples include:
Valvular heart disease: Some patients may need a heart valve replaced, but are too fragile to be good candidates for open-heart surgery. Dr. Beygui collaborates with Dr. V.S. Mahadevan, William W. Parmley Endowed Chair in Cardiology and an expert in transcatheter valve replacement, which allows heart valves to be implanted through catheters that are inserted into a blood vessel and snaked up into the heart.
For example, they recently treated a patient in his 90s who could not tolerate open-heart surgery, but could have increased quality of life if they replaced his aortic valve. "The patient had some complications from the transcatheter valve replacement that required him to be supported on a heart-lung machine for about 60 minutes," said Dr. Beygui.
Because the procedure took place in the hybrid room with a cardiac surgery team at the ready, they were able to take care of the patient immediately, providing life support through his peripheral arteries and veins without needing to surgically open his chest. The patient was back to normal by the next day, left the hospital a few days later, and recovered very well.
Aortic aneurysms and dissections: Patients with an abnormal enlargement in their aorta are at risk of massive internal bleeding if the aneurysm ruptures. Aortic dissections occur when there is a tear in the lining of the aorta, and blood fills this channel, causing the inner and middle layers of the aorta to separate and also posing a risk of rupturing.
Dr. Beygui often partners with vascular surgeons to treat complex aneurysms and dissections. Instead of requiring the patient to endure multiple open operations, this joint approach often allows the team to take care of the problem in one procedure. Together, they treat some parts of the problem surgically, and others through endovascular approaches – using minimally invasive catheters threaded through the blood vessels to fix part of the problem from inside the aorta. "We can often provide a very good outcome at much lower risk because we can combine various techniques of open and endovascular surgery," he said.
Arrhythmias: Some cardiac arrhythmias, or abnormal heart rhythms, can be treated using ablation. This involves mapping the aberrant electrical circuits in the patient's heart, then strategically burning or freezing small parts of the heart muscle to break these circuits. When the circuits involve both the interior and exterior of the heart, a patient may benefit from a hybrid approach to ablation. The electrophysiologist uses catheters to ablate targeted portions of the inside of the heart, and Dr. Beygui can use small incisions to gain access to the outside of the heart, where the team can ablate problematic tissue.
"Combining both inside and outside heart treatments, we approach a 98 percent success rate in obtaining normal sinus rhythm in patients who have been in persistent atrial fibrillation," said Dr. Beygui.
"If you look at the common thread, there is a lot of collaboration in the treatment of the patient," said Dr. Beygui. "Our cardiology colleagues have become more invasive, and the cardiac surgeons have become less and less invasive, so our approaches have overlapped quite a bit. Academic institutions are great, because it allows people from various disciplines who are experts in their field to work together, which benefits the patients."
"Dr. Beygui is a very skilled and compassionate cardiac surgeon," said cardiologist Dr. Donald Grandis. "He offers patients at UCSF the highest level of cardiac surgery."
"Dr. Beygui is simply outstanding," said Dr. Yerem Yeghiazarians, Leone-Perkins Family Endowed Chair in Cardiology, co-director of the Adult Cardiac Catheterization Laboratory and director of the Peripheral Interventional Cardiology Program. "He is trained in both cardiac and vascular surgery, and this makes his surgical skills extremely unique and impressive. I have seen him operate, and if I ever need cardiac surgery, he better be around to do mine! In addition to his superb surgical skills, Dr. Beygui is the nicest person. He is personable, caring and communicates exceptionally well with patients and referring doctors. UCSF is lucky to have a surgeon of Dr. Beygui's caliber as part of our cardiovascular team."
In addition to his main clinical duties, Dr. Beygui provides backup coverage to the heart and lung transplantation team at UCSF. He assists with organ procurement, transplantations and other procedures as needed, helping to ensure that there are always enough transplant surgeons available.
Research and Education
Besides his busy clinical schedule, Dr. Beygui enjoys discovering new knowledge. "The opportunity to participate in research was one of the major impetuses to come to UCSF," he said. He has an ongoing collaboration with Stanford chemist Dr. Richard N. Zare on the use of nanoparticle delivery in tissue regeneration.
More recently, Dr. Beygui embarked on a close collaboration with a group at the UCSF Bakar Computational Health Sciences Institute. He collects small samples of heart tissue that would otherwise be discarded during heart surgery, then partners with molecular and cell biologists and bioinformatics experts to genetically sequence this tissue and compare the results against large databases. Together they are identifying genetic mutations that may be associated with different kinds of heart disease. This approach could yield clues about why some people develop certain conditions and others do not, or whether there are subtle differences between men and women in how those diseases unfold.
Dr. Beygui also is passionate about training the next generation of leaders. "It's fundamentally gratifying to see these dedicated, industrious young people become skilled cardiothoracic surgeons," he said. "Our residents and fellows bring innovation and fresh ideas to our practice, and we learn a lot from them. Their presence also augments and enhances the care of our patients."
He and his wife, Nazy, have two grown daughters: Shireen is a copywriter at a San Francisco advertising agency, and Nooshin is a clinical research coordinator at the UCSF Helen Diller Family Comprehensive Cancer Center. Dr. Beygui enjoys traveling with his family, reading, going to the gym for weight training and the elliptical machines, and cheering on the Michigan Wolverines, the University of Michigan's football team.
"UCSF's commitment to excellent patient care, research and education make it a privilege to work here," said Dr. Beygui. "We have performed very big, complex operations on very sick patients from other hospitals that declared them not to be operative candidates. With the right approach and our dedicated team taking care of them, we were able to send these patients home and see them in follow-up. Fortunately, the advancement of cardiovascular treatment allows us to do complex operations with great outcomes."
– Elizabeth Chur