Faculty Spotlight: James Mailhot, MD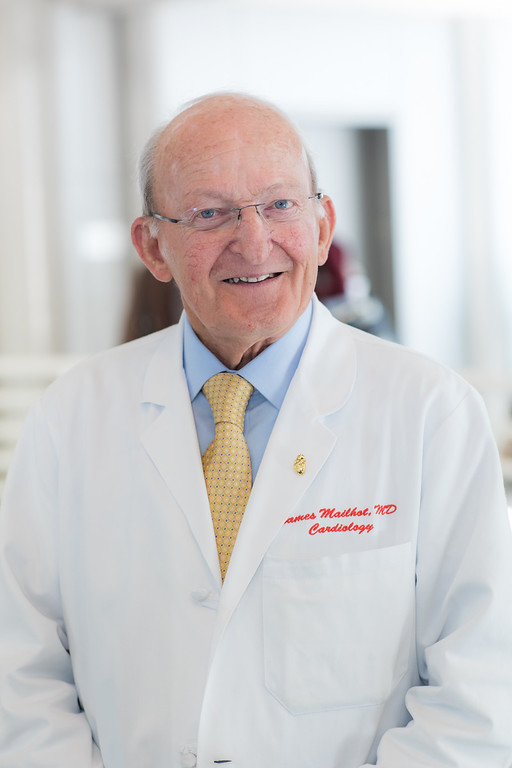 "I enjoy having some purpose in life – being with people and helping them," said James Mailhot, MD, a cardiologist and clinician- educator with more than half a century of experience.
He has been affiliated with UCSF for decades, spent years in a prestigious private cardiology practice, and was recently recruited back to the UCSF faculty. Dr. Mailhot is based in the UCSF Division of Cardiology outpatient clinic at 1 Daniel Burnham Court, and also cares for hospitalized patients at California Pacific Medical Center.
Dr. Mailhot was born and raised near Providence, R.I., and was drawn to medicine in part because of good experiences with his own physician as a child, as well as the opportunity to work with people. He studied biology at Providence College, then earned his medical degree from Georgetown University School of Medicine. Dr. Mailhot was inspired to become a cardiologist in part by the founding director of the Division of Cardiology there, W. Proctor Harvey, MD, a consummate cardiologist, educator, and diagnostician.
After completing his internal medicine internship at University Hospital in Boston, Dr. Mailhot decided to voluntarily complete his military service rather than waiting to be drafted. He spent two years in the U.S. Naval Reserve. Initially he served as a medical officer on ships that traveled to Guantanamo Bay, along the Arabian Peninsula and eastern Africa, and then as a general medical officer in a Boston clinic for dependents of military service members. He then completed his internal medicine residency at Boston City Hospital.
In 1969, Dr. Mailhot moved to San Francisco, working as a research fellow under Hyman Paley, MD, who was based at Mount Zion Hospital. Dr. Paley's lab focused on coronary heart surgery, and Dr. Mailhot helped assess patients who had participated in a clinical trial of an experimental approach called the Vineberg procedure. "They basically created a tunnel within the heart muscle and put a blood vessel that had some branches that were not tied off but bleeding into this tunnel," he said. "The hope was that the body would miraculously develop capillary connections between the vessel and the heart muscle." Unfortunately, the intervention was not successful, but soon after, coronary artery bypass grafts became the standard of care for many of these patients.
Dr. Mailhot also assisted with investigations of left ventricular function, the powerhouse chamber of the heart which pumps oxygenated blood from the heart to the rest of the body. "We were pursuing questions such as, how can we measure the vigor with which the heart muscle moves?" he said. "How can we enhance it if someone has heart failure? What types of medications can we use to enhance heart function?"
He completed his fellowship at Stanford University, working with Harold Sandler, MD, who led some of the earliest research in echocardiography – ultrasounds of the heart – when the field was in its infancy. "He had a project using a very primitive, almost garage-built echocardiogram that the space program was interested in, and studying whether this would be a useful device for monitoring heart function in astronauts," said Dr. Mailhot. "As fellows, we would spend endless hours making measurements and calculations from what is now primitive data."
Although the tools and technologies were much less advanced than what is currently available, Dr. Mailhot said he benefited from certain aspects of his training. "We did all phases of things, from interviewing the patient, taking the history and doing the exam, looking at the X-rays, doing the catheterization angiogram, and participating in treatment decisions," he said. "From a learning standpoint, you remember things best in the context of a particular person."
Widening the Circle of Care
After completing his training, he returned to Mount Zion as a faculty member, and was involved with the Cardiac Care Unit, the cardiac surgical program, the cardiac catheterization lab, non-invasive cardiac labs, and also outpatient care, including a clinic for Russian immigrants.
Mount Zion Hospital was affiliated with UCSF, and Lloyd "Holly" Smith, Jr., MD, chair of the UCSF Department of Medicine, gave Dr. Mailhot an appointment as an instructor in medicine.
Among other educational opportunities, he read electrocardiograms (EKGs) with house staff at San Francisco General Hospital and led student sessions in physical diagnosis at Mount Zion Hospital. For a number of years, he led the cardiology fellowship training program at Mount Zion, mentoring them both in the lab as well as the medicine service and intensive care unit.
In particular, he encouraged his trainees to pay attention to the details. "There is a lot of data that is tied up in charts that is often helpful," he said. "I also encouraged trainees to not just talk in the present tense when presenting a patient – don't just say, 'This person has coronary heart disease.' Have they had a heart attack? Have they had coronary bypass surgery or valve replacement? That kind of information helps you understand what the current problem is, and gives you a bigger picture."
In addition to caring for patients at Mount Zion, Dr. Mailhot and his colleagues were also road warriors, staffing a large outreach program in the 1970s and 80s. About once a week he would leave his house at 5 a.m. for all-day visits to Northern California towns in the Sacramento Valley and along Highway 101, including Colusa, Willows, Grass Valley, Ukiah, Willets and Red Bluff. The team had offices in a few of the towns, but for smaller communities, Dr. Mailhot drove a van equipped with echocardiography machines, a treadmill, a defibrillator, and other equipment which allowed him to do diagnostic studies and refer patients to San Francisco for cardiac catheterization and other subspecialty care.
"That's what it took to build a big, active program in a competitive environment," said Dr. Mailhot. "Usually I would give a lecture to local physicians at 7 or 8 a.m., and then see patients all day after that. In the places where we didn't have an office, we worked out of a physician's office or an ER room, and had a local person who scheduled the patients for us. We had nice interplay with referring physicians, and established relationships with them."
Although Dr. Mailhot and his colleagues focused primarily on heart disease, they were able to help local physicians refer patients to other specialists in San Francisco, such as oncologists or nephrologists. "Many physicians in small towns may not have the connections to plug that patient into the resources they need, so we helped facilitate that," he said.
Dr. Mailhot served as chief of medical staff at Mount Zion for two years, participating in many discussions about the upcoming – and ultimately short-lived – UCSF Stanford merger. "It was an interesting experience, but you didn't get the feeling that the faculty was on board, on either side," he remarked with a wry laugh.
In the 1990s, Dr. Mailhot joined the UCSF Division of Cardiology under the division chief at that time, William Grossman, MD. When Mount Zion Hospital closed as an acute care hospital, Dr. Mailhot and his business partner, Gary Milechman, MD, founded a private practice, the Golden Gate Cardiology Medical Group, and established an office at California Pacific Medical Center. In 2016, Dr. Mailhot and his colleagues were recruited back to UCSF and rejoined the UCSF faculty.
Long-Term Rewards
Dr. Mailhot is honored by the privilege of caring for patients. "I like helping someone who has a problem they are really worried about – being able to reassure them or guide them through the process of healing," he said. "It's also nice to see them over a long period of time. You get to know about them, their lives, and some of their struggles. You learn about their families. In some instances, I take care of the grandparents, the next generation, and even their grandchildren."
He also appreciates the dramatic advances in cardiology that he has witnessed during his long career. "I trained in the era where you really had no active role in the management of patients with heart attacks," said Dr. Mailhot. "You put them in bed for weeks and waited to treat the complications. Now, if a person has a heart attack and gets to the emergency room within an hour or two, they'll go to the cath lab, get the vessel opened with a stent, and they're ready to go home the following day."
Dr. Mailhot has managed to sustain his enthusiasm throughout a long and productive career. "There's so much talk in medicine about dissatisfaction and burnout," he said. "I tell trainees to follow their interests. As you set out in a particular direction, you have no idea where that will lead. Get involved in something that you are fascinated by, and be willing to make big changes to follow a direction that seems interesting. If you find something that you're interested in, it's not like work – it's more like getting paid to pursue your passion."
Outside of medicine, Dr. Mailhot enjoys bicycling and gardening. He is married to Elisabeth Mailhot, MD, a pathologist at Santa Clara Valley Medical Center in San Jose. Together they have six children and ten grandchildren.