Faculty Spotlight: Geoffrey Tison, MD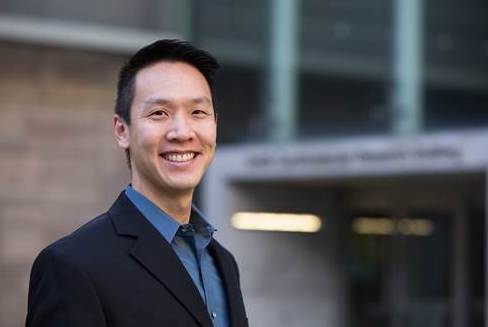 Cardiologist Dr. Geoffrey Tison combines two of his passions – preventive medicine and technological innovation – to improve health in new ways.
"We collect so much health-related information – including through the electronic medical record and increasingly through devices that sense physiologic signals – but the majority of this data is not used in an integrated way," said Dr. Tison. "My vision is to develop novel analytic techniques to assimilate existing health information with newer types of data, such as from sensors, to provide a global, real-time picture of health-status – and then to deploy this technology through large networks of health care institutions to support widespread prevention."
Dr. Tison graduated from Brown University with a bachelor's degree in neuroscience, then earned his master of public health and medical degrees from Johns Hopkins University. At UCSF, he completed fellowships in general cardiology, advanced echocardiography, preventive cardiology and digital cardiology.
"All my research has been prevention-related," he said. "It's a philosophy as well as a clinical discipline: prevent before treating, at every stage of disease." That includes keeping people healthy, preventing heart disease from worsening, and stabilizing patients so they can stay out of the hospital.
As a clinician, Dr. Tison cares for hospitalized patients and performs both noninvasive and invasive echocardiograms, which are ultrasounds of the heart. As much as he enjoys helping individual patients, he believes that technology can help him make a broader impact. "Perhaps technology's greatest potential is its inherent scalability, which can allow us to help millions of people at a time," he said.
For example, for decades cardiologists have measured how far patients with heart failure can walk within six minutes to assess disease severity and prognosis. UCSF researchers recently created a smartphone app allowing patients to perform this test at home, enabling longitudinal remote measurements. Dr. Tison developed a "computable phenotype," which is an algorithm that can identify patients with heart failure, within the National Patient-Centered Clinical Research Network (PCORnet), a nationwide network of health care institutions that combines de-identified medical records from millions of patients. Using this computable phenotype, he will invite heart failure patients to regularly measure their six-minute walk test using the smartphone app.
"If we find that the smartphone-based six-minute walk test helps prevent recurrent hospitalizations, we could offer it to all heart failure patients throughout PCORnet, which would be a larger-scale prevention effort than anything done previously," he said. "That's an example of combining new sensor data with the broad scale that's achievable through a large network."
"My other focus area is applying machine learning to medicine," said Dr. Tison. "There are countless opportunities for the thoughtful application of machine learning to improve clinical medicine." Presently, Dr. Tison employs deep neural networks – sophisticated pattern recognition algorithms – to improve interpretation of electrocardiograms, and he is also applying these techniques to interpret longitudinal health record data.
"Geoff is part of a new breed of researchers that applies novel analytic skills to problems in cardiology," said Dr. Jeffrey Olgin, chief of the Division of Cardiology, Gallo-Chatterjee Distinguished Professor of Medicine, and co-principal investigator of the Health eHeart Study. "In this era of 'big data,' there are few researchers – and even fewer in cardiology – who have these skills; most are employed by companies like Google. Geoff will help our Division use new data analyses to advance both scientific discovery and patient care."
"No single device or innovation will transform medicine, but there's huge potential to combine the technological innovations in sensors, machine learning and health data networks to impact medicine," said Dr. Tison. "I can't imagine a better time or place to be, because of the Division of Cardiology's support of innovative research and our proximity to Silicon Valley."
Aside from medicine, Dr. Tison enjoys skiing, cycling and playing the ukulele.