Faculty Spotlight: Anne Thorson, MD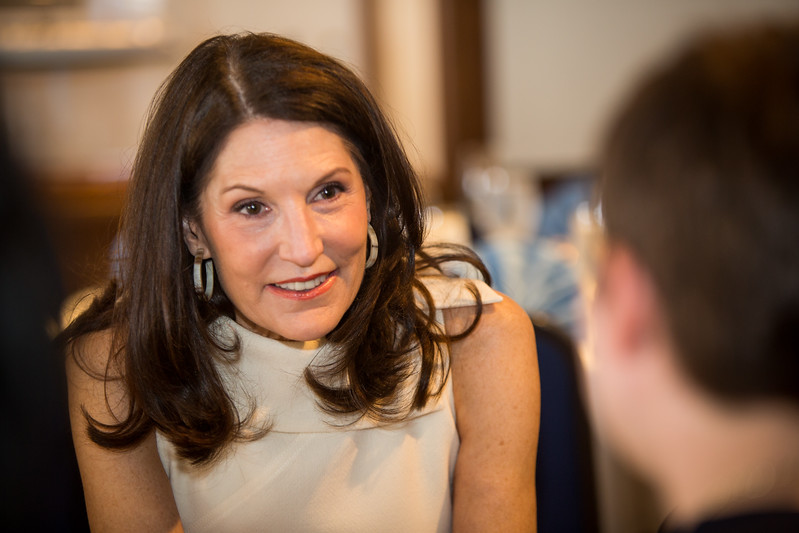 "Sometimes the most profound thing we can do for patients is just to listen," said Dr. Anne Thorson, associate director of the UCSF Center for Prevention of Heart and Vascular Disease. "It becomes a therapeutic relationship where they feel heard and cared for. And if you listen well, the patient will almost always give you enough information to make the diagnosis."
She recalled meeting a hospitalized patient with heart failure who was in agonizing pain and was unable to walk. The hospital resident had an iPad with all of the patient's data on it, but hadn't actually examined the patient. From talking with the family, Dr. Thorson found out that the patient's severe back pain had only developed while she was in the hospital, and ordered imaging of her back which revealed a life-threatening spinal abscess that required emergency surgery.
"I took the resident aside and said, 'You need to put that iPad down, and go in, talk to the patient and examine her,'" said Dr. Thorson. "It took me all of three minutes to find out that there was something terribly wrong. Rather than getting caught up in the technology, we need to go in and listen."
Dr. Thorson is a full-time clinician specializing in preventive cardiology and women's heart health. She sees clinic patients at 1 Daniel Burnham Court and the UCSF National Center of Excellence in Women's Health at Mount Zion, and spends about one week a month caring for inpatients at Moffitt-Long Hospital on the Parnassus campus.
Whether she sees her patients in the hospital or clinic, she loves hearing about their lives. "I've met some really fascinating, amazing patients who have been through a lot of really interesting things," she said. "Listening to their stories also helps me understand why they might not want to do something I want them to do."
For example, patients often balk at taking a statin. "I say to them, 'But your grandfather, father and brother have all had heart attacks, and your cholesterol is high,'" said Dr. Thorson. "I explain how the drug works and the reasons why I want them to take it. If we run into a side effect, we discuss how we can always stop that drug and try another. The old days where a doctor just said, 'Take this pill and don't ask me any questions' are over. The move now is to more collaboration between patients and providers, and less paternalism – which I think is a good thing."
Preventing Heart Disease
Dr. Thorson grew up near Seattle, where her father was a pathologist. She remembers climbing into his lap and looking at pathology slides together. "From a young age, I thought, 'Boy, this is what I want to do when I grow up!' she said.
Dr. Thorson graduated from Stanford University with a bachelor's degree in Human Biology. She worked as a researcher at the U.S. Food and Drug Administration and earned a master's degree in physiology from Georgetown University in Washington, D.C. before deciding to return to Stanford for medical school.
Dr. Thorson planned to become an obstetrician-gynecologist, but as an internal medicine intern at California Pacific Medical Center (CPMC) in San Francisco, she took care of a heart transplant recipient. "It transformed her life completely," said Dr. Thorson. "Her heart was so bad that she couldn't walk across the room. A few months after the transplant, she sent me a postcard from the Alps, where she was hiking with her family. I thought, this is what I want to do!"
Dr. Thorson completed her internal medicine residency and cardiology fellowship at CPMC, where she then became a clinical cardiologist. While her initial inspiration was heart transplant, her true passions led her in another direction.
"About 75 percent of heart disease could be completely prevented if we could get people to adopt healthier lifestyle strategies," said Dr. Thorson. "There's always going to be a genetic component to heart disease, but the remaining factors are things we can alter through diet, lifestyle, weight loss, stress reduction, controlling high blood pressure and helping people to lose weight.
"Those things sound very simple, but getting people to actually do them is not so simple," said Dr. Thorson. "I spend a lot of my day working with people to implement these lifestyle strategies to reduce their risk of developing heart disease, or if they've already had a heart attack or stroke, to prevent the second one."
For example, she served as the medical director of CPMC's cardiac rehabilitation program, and later for the UCSF Heart Disease Reversal Program, which included a team of cardiac nurse specialists and a dietician who helped patients develop a monitored exercise program and a heart healthy diet. At group sessions, she educated participants about things such as cholesterol levels and warning signs of a stroke, and patients shared information and experiences with each another.
"I just got a letter from a group of patients from 20 years ago," said Dr. Thorson. "They still get together for group meetings, and adhere to those lifestyle changes. They want me to come to their 20 year reunion. These were high-risk patients – all of them had been referred for a cardiac bypass or stent, but elected to try lifestyle changes instead. Often, in situations like that, there's a window of opportunity, because people are very motivated to change."
Dr. Thorson joined the UCSF faculty in 1999, and is excited to be working with her colleagues on developing a comprehensive cardiac rehabilitation program at UCSF – one that will likely include exercise, group meals and nutrition education, a support group and yoga or other forms of stress reduction.
"While everyone agrees that prevention is a great idea, until recently insurance programs have not been very willing to pay for them," said Dr. Thorson. "But now there is growing recognition that it's a lot cheaper to pay for cardiac rehab than for someone's seventh stent."
Start with Exercise
While patients can do many things to reduce their risk of heart disease, Dr. Thorson said exercise is an excellent starting place. "Exercise helps reduce blood pressure, control blood sugar, and keep weight stable, and it also reduces stress and helps people sleep better," she said. "It impacts everything else, and you get a lot of bang for your buck."
National guidelines recommend at least 150 minutes of moderate-intensity physical activity each week – 30 minutes five days a week – as well as muscle-strengthening activities such as lifting weights at least twice a week. Yet less than one in four Americans meet these recommendations. "We are becoming a nation that is much more physically inactive," said Dr. Thorson.
She takes a pragmatic approach, working with patients to develop concrete exercise plans. Dr. Thorson asks about their day – when they get up, how they get to work, what their other commitments are. If they drive to work, she suggests parking 10 minutes away from work. "Then they have a brisk 10-minute walk to work, a 10-minute walk back to their car at the end of the day, and then all they have to do is 10 minutes around the block or up and down the stairs during lunchtime," she said. "Then they've got their 30 minutes. It needs to actually fit into their day, and it's different for everybody."
For patients who have trouble walking, she recommends the PBS program, "Sit and Be Fit," which includes chair exercises. People with joint problems could take a pool exercise class. "There are ways to work around challenges, and exercise physiologists are especially helpful for people who can't walk or do the usual activities," said Dr. Thorson.
Exercise doesn't require fancy gear or an expensive gym membership. "I've told people that they don't need to buy weights," said Dr. Thorson. "Just get a couple of one-liter bottles of water, and when you're sitting in front of the TV, you can lift 2.2 pounds with each hand. You have to adapt to real life and what people can do."
Women's Heart Health
Dr. Thorson's other passion is improving women's heart health. While many women worry about developing breast cancer, the leading killer of women is cardiovascular disease. "We still have a long way to go to educate women about what puts them at risk, what symptoms they would be aware of, and when they need to see a doctor," she said.
Dr. Thorson recently began seeing patients at the UCSF National Center of Excellence in Women's Health at Mount Zion to provide expert cardiac care to this population. There are subtle gender differences in the way heart disease manifests and how it is best treated. For example, systolic heart failure affect the heart's ability to pump effectively. However, in diastolic heart failure, the pumping function is normal, but the heart has trouble relaxing in between squeezes. This condition is more common in women than in men for reasons not yet understood.
Women are also more likely to have bleeding complications from blood thinners. "Often it's the same recommended dose for a 220 pound man as for a 100 pound woman, but there's been some recent discussion about whether these drugs should be based on weight and gender," said Dr. Thorson. "We need more evidence-based data for women, because they are underrepresented in most studies, and we have historically just extrapolated from studies that are heavily male-populated." To help correct this imbalance, she particularly encourages her women patients to enroll in clinical trials.
Women are also at higher risk for developing spontaneous dissections of their coronary arteries – when one of the vessels that feeds the heart itself develops a tear in its wall, and blood flows in between the layers of the artery. This potentially fatal condition can cause a heart attack, and more frequently affects younger women, particularly during pregnancy and around birth.
Dr. Thorson is particularly interested in the research of her colleague, cardiologist Dr. Nisha Parikh, on developing better ways to monitor the heart health of expectant mothers. "It appears that pregnancy is really the first 'stress test' that many women have, and if they develop high blood pressure or diabetes during pregnancy, that may indicate that their blood vessels are primed to develop cardiovascular disease later in life," said Dr. Thorson.
Unfortunately, many such patients fall off the radar once they give birth, since their obstetrician-gynecologist may be the only physician they see when they are young and seemingly healthy. "By the time they finally see a general medicine doctor, they may discover that they have full-blown diabetes or high blood pressure, and we wonder, how long has this been going on?" said Dr. Thorson.
The UCSF investigators are studying whether getting patients who develop gestational diabetes or preeclampsia – high blood pressure during pregnancy – into surveillance programs can help physicians intervene early if their blood sugar or blood pressure become abnormal, hopefully preventing later heart disease. "We also wonder if we could identify some biomarker that could tell us if a patient is at risk of blood vessel issues, and whether we could intervene earlier, while they are pregnant or even before?" said Dr. Thorson.
On the positive side, women whose hearts are dyssynchronous – where the right and left sides squeeze at different times, rather than simultaneously – can benefit from cardiac resynchronization therapy, which utilizes a specialized pacemaker. "Women actually experience better overall survival and show a higher degree of improvements in their heart function compared with men," said Dr. Thorson.
Teachable Moments
For many years, Dr. Thorson served as supervising cardiologist in the cardiovascular stress laboratory, where her team measured the heart health of patients exercising on a treadmill. "I got a master's degree in physiology, and the cardiac stress lab is physiology in action," she said. Dr. Thorson challenges trainees to predict exactly where a particular coronary blockage will be, based on everything they know from the patient history, exam and diagnostic tests – and whether they think the patient will need bypass surgery or a stent. "Afterwards, we loop back and see how right we were, to hone our skills," she said.
Dr. Thorson relishes working with trainees. "The interns, residents and fellows at UCSF are so bright, and their enthusiasm is contagious," she said. "They'll ask me a question, and I'll say, 'Whoa, I don't know,' and that will prompt me to look it up – and then we'll regroup and all learn."
Recently, Dr. Thorson received an email from Dr. Kelly Guld, who completed her general cardiology fellowship at UCSF in 2017 and joined a prestigious private practice in Arizona. "The email said, 'I just wanted to tell you that I made my first diagnosis as an attending of constrictive pericarditis,' " said Dr. Thorson, referring to a condition in which the sac-like covering of the heart is chronically inflamed, accompanied by thickening and scarring. Dr. Guld went on to mention that she and Dr. Thorson had encountered three or four cases of constrictive pericarditis in their work together, and Dr. Thorson had helped Dr. Guld learn how to diagnose and treat the condition. "That email just made my year – to know that she's doing well and feels like she's well trained," said Dr. Thorson.
In addition to inspiring generations of trainees, Dr. Thorson also is widely respected among her colleagues. "I have had the privilege of working with Dr. Anne Thorson since she joined our UCSF Cardiology Division faculty nearly 20 years ago," said Dr. William Grossman, Charles and Helen Schwab Endowed Chair in Preventive Cardiology and director of the Center for Prevention of Heart and Vascular Disease. "She is an outstanding physician, devoted to her patients, and dedicated to her particular area of interest and expertise, prevention and women's health."
"She is truly masterful in her ability to synthesize clinical information, intuit and elucidate a patient's inner feelings, fears, reservations, and concerns, thoughtfully order the exact test that is needed to clinch a diagnosis without a senseless battery of orders, and adroitly obtain consensus," said Cardiology Clinic Practice Chief Dr. Rajni Rao. "She treats all patients with the utmost respect, earning her a legendary reputation as the 'patron saint' of cardiology. Her patients each have a story to tell of how she made a diagnosis when others couldn't, of how she heard them when others dismissed their complaints, or of how she started with one patient and now cares for an entire family."
UCSF Health recently bestowed a Great Experience Award on Dr. Thorson, which recognizes individuals or teams who have gone above and beyond to create an exceptional experience for patients, families or colleagues.
Dr. Thorson is married to Peter Ross, an investment banker. Together they have a grown daughter, Katie, who plans to pursue a doctorate in health psychology. Dr. Thorson practices what she preaches, waking at 5:30 each weekday to work out on the treadmill, elliptical trainer or stair climber. She also does Pilates and yoga several times a week, and enjoys hiking, biking, playing with her two dogs and reading biographies.
- Elizabeth Chur