Faculty Spotlight: Van Selby, MD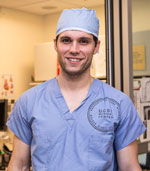 As a heart failure and heart transplant specialist, faculty member Dr. Van Selby appreciates helping patients throughout all aspects of their treatment. "I enjoy the interplay of seeing the patient in clinic, stabilizing them in the hospital, finding out exactly what is going on in their heart, and deciding the best treatment plan," he said.
Heart failure occurs when the heart is unable to pump enough blood to meet the body's needs, and affects more than 5 million Americans. In recent years, there have been many new developments to help patients. For example, UCSF Medical Center is a leading heart transplant center, and also offers the latest mechanical heart pumps, called ventricular assist devices (VADs). These can serve as a bridge to transplant, and in some cases provide long-term therapy for patients who are ineligible for transplant. "VADs are getting better and better, and it will be exciting to be in this field as they get even safer, less invasive and more effective," said Dr. Selby.
He enjoys working in the Cardiac Catheterization Lab, obtaining heart biopsies after a transplant to monitor for possible organ rejection and conducting right heart catheterizations to measure how well the heart is pumping blood. "I like being in the cath lab, getting the numbers myself, taking the patient's history into context, and revising my thinking as new information comes in," said Dr. Selby.
He also cares for patients with pulmonary hypertension, characterized by increased pressure in the arteries that carry blood from the heart to the lungs. Although there are similarities to heart failure, pulmonary hypertension has different causes and treatments. UCSF is a leading center for management of this relatively rare condition.
After majoring in economics at the University of Pennsylvania, Dr. Selby – who grew up in Berkeley – returned to the Bay Area and completed medical school, residency, and fellowships in cardiology and advanced heart failure, all at UCSF. As a heart failure fellow, he learned how to identify which patients could benefit from interventions beyond medical therapy, such as a VAD or heart transplant, and works collaboratively with patients to decide whether these options are right for them, given their individual values and goals. He also learned how to fine-tune IV medications for heart failure patients in the intensive care unit to help stabilize them.
In addition to his clinical work, Dr. Selby spends about half of his time engaged in clinical research related to pulmonary hypertension and heart failure. He is involved with a multi-institution collaboration to track outcomes for patients with amyloid cardiomyopathy, in which an abnormal protein builds up in heart tissue, limiting the heart's ability to squeeze properly and sometimes contributing to abnormal heart rhythms. Patients with the condition usually deteriorate rapidly without intervention. He is helping lead UCSF's participation in a large international trial of a new drug to treat amyloid cardiomyopathy; if effective, it would offer the first medical therapy for this disease.
He is also collaborating with the Health eHeart Study group, a UCSF initiative that has enrolled thousands of online volunteer participants and uses "Big Data" to improve the understanding and treatment of heart disease. Dr. Selby is part of the team which is piloting a small clinical trial of a new mobile app for participants with heart failure to see if it can help prevent unnecessary hospitalizations.
"One of the reasons I wanted to stay at UCSF as a faculty member was because we offer a full spectrum of treatments," said Dr. Selby. "Whatever they need, I can be there to help support the patients through it. I also appreciate the multidisciplinary team. We work very closely with the surgeons, nurses, pharmacists and physical therapists, guiding patients through the different stages of evaluation, surgery, post-surgery management, and long-term management. Each stage requires very different skills and approaches. Seeing the patient go from very sick, to getting the treatment they need and doing well long-term is very satisfying."
In his free time, Dr. Selby enjoys spending time outdoors and hiking in the Sierras.