Faculty Spotlight: Tom Ports, MD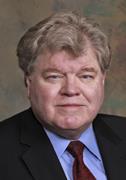 "When I went to medical school, I suppose I wanted to be like Ben Casey – wasn't he the neurosurgeon with all the girlfriends?" asked Dr. Tom Ports with a chuckle, citing the lead character from the 1960s television series of the same name. "My first rotation at medical school was, ironically, oversubscribed. I was sent to the cardiac catheterization laboratory for my very first rotation. It looks like I've been there ever since."
Indeed, Dr. Ports – who is the director of interventional cardiology – has performed close to 30,000 interventional procedures so far in his career. Cardiac catheterization involves inserting a thin plastic tube, or catheter, into an artery or vein in a patient's leg or arm. The catheter can then be threaded through the blood vessel to the heart, where it can be used to perform diagnostic tests and treatments.
These include everything from coronary angiograms – in which a special dye is injected to show whether arteries are blocked – to coronary angioplasty, in which a tiny balloon is inflated in a clogged artery to widen it. Dr. Ports often inserts stents, or small tubes, to help keep the artery open. He has also pioneered many other state-of-the-art techniques over the years.
Saving Lives
"What I like about interventional cardiology is that it gives you the chance to work with your hands, on procedures that are very gratifying," Dr. Ports said. "It's not often that you get to save a life. There's probably no greater feeling than that."
There are many things that can cause heart attacks besides clogged arteries, and Dr. Ports enjoys the challenge of getting to the root of a patient's heart problem. "Having done this now for 30 years, I've often thought I've seen everything that I could possibly see," he said. "But almost every month I'll see something that's a little different than I've ever expected. We see people with congenital problems, infections in the heart, tearing of the aorta, and then bizarre toxicities like strychnine poisoning."
About half of the patients he treats come in through the emergency room, and with his colleagues Dr. Andrew Boyle and Dr. Yerem Yeghiazarians, he is on rotating call. "We have the mantra, 'Time is muscle,'" Dr. Ports said. "The heart needs constant blood flow. If you interrupt that for a matter of seconds, the heart muscle starts to suffer, and the patient usually has chest pain.
"We have a goal of opening up the artery within 90 minutes of when the patient comes to the emergency room door," Dr. Ports said. "In the cath lab, we have a personal goal of having the artery open within 30 minutes of when they get to the cath lab. So that means prepping the patient, discovering where the problem is, and then fixing it within that period of time. We've been very successful over the last several years in achieving that goal in virtually everybody."
"He is an outstanding physician," said Dr. Kanu Chatterjee. "He's one of the best, no question about it. When he was a fellow, he did a lot of very good research. By himself, he has developed all the recent interventions, not just coronary artery angioplasty or stent. He has trained so many interventional cardiologists all over the country now. Besides that, he is a superb clinician. He feels for his patients. That's the greatest qualification I can think of. Tom is, no question, a fantastic person and physician."
Training the Next Generation
Born and raised in Ohio, Dr. Ports went to medical school at Ohio State University and did his residency at the University of Chicago Hospitals and Clinics. He came to UCSF in 1976 as cardiology fellow, and joined the faculty in 1978. Dr. Ports has seen the field change enormously, thanks to advances in imaging, X-ray technology, and the increasing miniaturization of equipment. "It's allowed us to do things today that I wouldn't have thought possible five years ago, and I certainly wasn't thinking about 30 years ago," he said.
Dr. Ports is a natural teacher, and keeps a model of a heart on his desk and a catheter in his filing cabinet to illustrate the details of a procedure. A big part of Dr. Ports's job is training cardiology fellows, as well as interventional cardiology fellows, who spend an additional two years after their cardiology fellowship focusing on interventional procedures. "They are a key part of the team, but they are also what keeps many of us here, because we enjoy teaching them as well as learning from them," said Dr. Ports.
Teaching interventional procedures is a highly specialized skill. "It's a two-person operation anyway, so you are right there next to them," he said. "It's like a pilot and copilot landing an airplane. I'm fairly patient, but also vigilant and know when to step in, and when to let someone else do the procedure for the most part. The only way to learn is to do it." Generally, cardiology fellows in their first three years of training do not get involved in emergency cases. "When minutes count, we need the quickest and the best pair of hands," Dr. Ports said.
He said one of the most difficult parts of his job is wearing 30 pounds of lead clothing to protect himself from constant radiation exposure. "For the individual patient, the radiation exposure isn't much," Dr. Ports said. "But if you're doing five or 10 of these a day, over the years, it builds up." He noted that the leading cause of early retirement for interventional cardiologists is spinal injuries related to wearing the heavy protection. "I use the same weightlifting belt I've had for 30 years, although I am on my last notch," he said with a laugh. "I have to watch my weight!"
Besides cardiology, one of Dr. Ports's passions is golf. He is a certified member of the Professional Clubmakers' Society, and recently passed board exams in making golf clubs. He lives in San Francisco with his wife, and has one son in high school and another who is a PhD student at MIT.