Faculty Spotlight: Joshua Moss, MD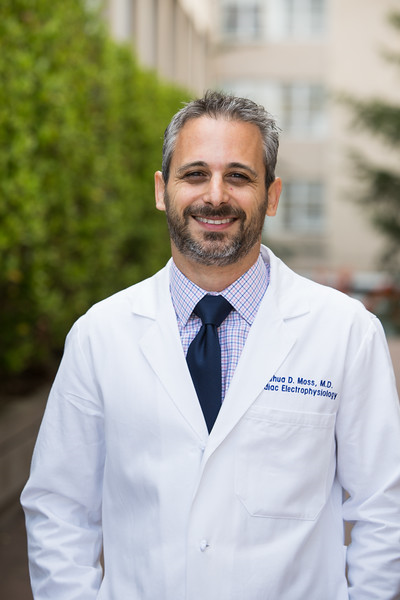 Cardiac electrophysiologist Dr. Joshua Moss sees parallels between his two passions: flying airplanes and helping patients with abnormal heart rhythms.
Dr. Moss has a private pilot's license, and he loves the challenge of being in the air. "You have to be attentive and interpret a lot of information in real time from both cockpit instruments and the outside environment," he said. It's similar to the cardiac electrophysiology (EP) lab, where he uses catheter-based energy to eliminate the sources of cardiac arrhythmias. "When performing an arrhythmia ablation procedure, you have to rapidly integrate a lot of different information, including EKGs, X-ray images, ultrasounds, and three-dimensional maps of the heart," he said. "As with aviation, you have to pay attention to details and do things in the right order to make it safe."
Dr. Moss was recently recruited to the UCSF cardiology faculty from the University of Chicago, where he cared for some of the sickest patients. Many had advanced heart failure and received an implantable left ventricular assist device (LVAD), a miniaturized pump which keeps the body supplied with oxygenated blood when the heart is no longer up to the task.
These patients often tolerate arrhythmias that could be life-threatening in patients without a pump, which keeps blood circulating regardless of electrical disturbances in the heart. "You or I could be dead in minutes or seconds, but patients with an LVAD who develop a ventricular arrhythmia might not even pass out," said Dr. Moss. "Yet we don't want to allow these abnormal rhythms to persist indefinitely. We developed new techniques for best managing dangerous arrhythmias in these very complex patients."
Almost all LVAD patients already have an implantable cardiac defibrillator (ICD), which shocks the heart back into a normal rhythm if a life-threatening arrhythmia develops. "We're also discovering the best ways to program the ICD for patients who get an LVAD," said Dr. Moss. "A shock from an ICD can be a scary event, like your car's airbag going off. If you're in a serious crash, you'd like that airbag to fire – but you don't want it going off for a minor fender bender, and it's better to just tune up your brakes to avoid a crash altogether."
From Engineering to Cardiology
Dr. Moss originally planned to become an engineer. He earned a bachelor's degree in biomedical engineering from Case Western Reserve University in Cleveland, working on projects that used electrical stimulation of muscles and nerves to restore function to spinal cord injury patients. As a mechanical engineering graduate student at the Massachusetts Institute of Technology, he helped design a retinal prosthesis that used electrical stimulation to restore vision to blind patients. Inspired by his interactions with patients and doctors, he decided to change career paths, and earned his medical degree from Harvard Medical School.
"I soon became enamored with the simplicity and power of the EKG," said Dr. Moss, referring to the electrocardiogram, which records the heart's electrical activity and displays it using line tracings on paper. "Despite being invented over 100 years ago, it's still the first and most frequent heart test administered to most patients. Cardiac electrophysiology was a really good fit for my interests in patient care and engineering."
After internal medicine residency at the Massachusetts General Hospital, he completed fellowships in general cardiology and cardiac electrophysiology at the University of Pennsylvania. Among his mentors was Dr. Edward P. Gerstenfeld, now chief of the Cardiac Electrophysiology and Arrhythmia Service at UCSF Medical Center and the Melvin M. Scheinman Endowed Chair in Cardiology.
"We were very fortunate to be able to recruit Dr. Moss from the University of Chicago," said Dr. Gerstenfeld. "Dr. Moss pioneered the use of catheter ablation to treat ventricular arrhythmias in patients with congestive heart failure and will expand our group's ability to treat patients with more persistent forms of atrial fibrillation. He has also earned a reputation as a gifted educator."
During fellowship, Dr. Moss worked with engineers at the University of Illinois to develop highly flexible electronic circuit boards that conform to the curvatures of the heart. While at the University of Chicago, he worked with colleagues at the University of Colorado to develop methods to fine-tune and focus radiofrequency ablation, one of the main tools for treating arrhythmias. Ablation functions a bit like a circuit breaker: by burning small portions of the heart where abnormal electrical impulses originate or circulate, electrophysiologists create tiny areas of scar tissue which will not transmit electricity, thereby interrupting the arrhythmia. Dr. Moss hopes to create tools to more precisely target the ablation energy, so difficult-to-reach areas can be treated with even lower risk of collateral damage.
Dr. Moss sees patients at the UCSF Cardiovascular Care and Prevention Center at Mission Bay, downtown at the new clinic on Daniel Burnham Court, and in the electrophysiology laboratory at UCSF Medical Center. He thoroughly enjoys patient care. "I like meeting new people, and feel very privileged to become a trusted part of their lives," he said. "Many people with arrhythmias require longitudinal care, so you develop close friendships and follow their progress for years." Several of his Chicago patients even trek out to San Francisco so they can continue seeing him at UCSF.
Dr. Moss is passionate about teaching. "In electrophysiology, there are a lot of complex concepts," he said. "Rather than promoting rote memorization, I enjoy helping people understand the underlying concepts so they can derive the answers to any number of complicated questions." He also appreciates teaching and learning from his colleagues at UCSF. "It's a very academically inquisitive and curious group," he said, citing their weekly fellow-led conferences to discuss unusual cases. "People pore over every detail just for the sake of learning. Everybody wants to do the best they can for the patients, and part of that is making sure that you're always learning from every case. Even people with years and years of experience are still interested in other people's opinions, and are constantly re-evaluating their own approach."
Outside of medicine, Dr. Moss enjoys spending time with his son and daughter. He is a member of the JATO Aviation flying club in San Carlos, and recently flew his son to Legoland in Southern California.