Faculty Spotlight: Liviu Klein, MD, MS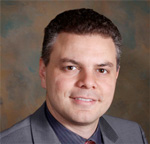 Dr. Liviu Klein was born in Braşov, a city in Romania about 16 miles from Dracula's Castle.
"As a transplant cardiologist, I frequently do biopsies," he said, referring to a procedure that involves inserting a catheter into a vein in the neck and threading it into the heart, where a small scissor-like device removes tiny tissue samples. "I always tell patients, 'I can get your jugular without any problems,'" said Dr. Klein. "Everybody laughs about that."
Dr. Klein was recruited from Northwestern University in 2011. At UCSF, he cares for hospitalized patients as an attending physician on the Advanced Heart Failure and Transplant Service, sees heart failure patients in clinic at both Mission Bay and Parnassus, and serves as associate director of the Mechanical Circulatory Support and Heart Failure Programs. He also conducts innovative research about women and heart failure.
The son of two engineers, Dr. Klein attended a high school focused on math and computers before attending medical school in Bucharest. Although he chose to become a doctor, his rigorous training in information technology has helped shape his career.
He moved to Chicago for his internship and residency at Advocate Illinois Masonic Medical Center, and developed a passion for treating patients with heart failure – a condition in which the heart is unable to pump enough blood to the rest of the body – in part because it requires treating many different problems in cardiology simultaneously. "One drug that can help this pathway can hurt that pathway," he said. "You really have to master the physiology and pharmacology, and integrate everything."
Dr. Klein earned his master's degree in clinical investigation at Northwestern University, where he also completed fellowships in cardiovascular epidemiology, cardiovascular disease, and advanced heart failure and transplantation. Because so many of his heart failure patients also suffered from arrhythmias – problems with the rate or rhythm of the heartbeat – he also completed another fellowship in clinical cardiac electrophysiology at Northwestern.
When he joined the faculty at Northwestern, he used his breadth of knowledge to establish a combined heart failure and electrophysiology clinic. "It was 'one-stop shopping,'" said Dr. Klein. "Patients really liked seeing one doctor who could fix all their problems." He also applied his expertise in computers to cardiology, setting up a remote monitoring heart failure program for patients with implantable devices such as pacemakers and defibrillators. By analyzing data uploaded from the devices and calling them when the computer detected abnormalities – often before the patient experienced any noticeable symptoms – his team was able to decrease hospitalizations by almost 50 percent among enrolled patients.
Women and Heart Failure
As a resident, Dr. Klein cared for a hospitalized female patient who was unresponsive to standard therapies, which were developed in studies primarily focusing on men. When he tailored her medications to her particular symptoms, she started to improve. "That's when I started to realize there was something different between heart failure in men and women," said Dr. Klein. "For all these years, the clinical trials have enrolled about 80 percent men, yet if you look at the registry data, about half of heart failure patients are women."
Dr. Klein analyzed data from the Women's Health Initiative Hormone Therapy trial, a 15-year national study involving 27,000 postmenopausal women. He and his colleagues helped develop better methods for diagnosing heart failure in women, and also found that hormone replacement therapy did not protect women against developing heart failure.
His current research interest is the pharmacogenomics of heart failure therapy in women – determining whether genetic differences predispose some groups to respond differently to hormone therapy, and whether those responses are associated with different rates of heart failure and sudden cardiac death. Future findings could help physicians customize combinations and dosages of medications for each patient, maximizing benefits while reducing side effects.
"Heart failure patients often take between six and 10 medications – they literally carry a pharmacy with them," said Dr. Klein. "My dream for the immediate future is to have a trial that randomizes patients based on their genetic makeup to different drugs. … Eventually, we may have enough data to say, based on your genetic subtype, you're not going to respond to medication A and B – you just need medication C."
Dr. Klein is married to UCSF hospitalist Dr. Oana Klein. Together they are proud parents of 20-month-old twin girls, Iris and Hanna.