Faculty Spotlight: Henry Hsia, MD
On the Hunt for Abnormal Rhythms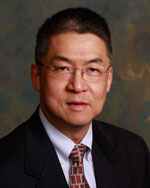 Like a skilled hunter tracking elusive prey, cardiac electrophysiologist Dr. Henry Hsia is an expert at interpreting subtle signals that indicate where his quarry lies.
In his case, Dr. Hsia (pronounced "Shaw") is hunting the source of abnormal heart rhythms, also known as cardiac arrhythmias. He specializes in treating ventricular tachycardia (VT), a potentially life-threatening condition in which the lower chambers of the heart beat very rapidly – up to 250 beats per minute – due to problems with heart's electrical system. Dr. Hsia is chief of the Arrhythmia and Electrophysiology Service at the San Francisco Veterans Affairs Medical Center (SFVAMC), and also sees patients and performs procedures at the Parnassus campus one day a week.
In a normal heart, the body's natural pacemaker sends out an electrical signal that initiates each heartbeat. This signal flows smoothly through the heart, causing first the upper chambers (atria) and then the lower chambers (ventricles) to contract and squeeze blood. One of the most common causes of VT is scar tissue from a heart attack. Because it does not conduct electricity well, scar tissue can interrupt the smooth flow of electrical currents through the heart.
In addition to prescribing medications to control the arrhythmia and implanting a defibrillator to shock the heart out of VT, electrophysiologists can also perform an ablation – strategically burning small areas of heart tissue which are the source of VTs.
"In general, the scar is not completely dead," said Dr. Hsia. "With ablation, we try to find channels of the few remaining viable cells within that scar and burn out the last remnant of fibers that are causing electrical problems." Pinpointing the Cause
VT was previously treated through open heart surgery, in which surgeons could see the scar and cut it out. Although the procedure was effective, it was quite invasive and carried a high risk of mortality. Today, VT can be treated by catheter ablation, in which an electrophysiologist inserts a catheter into the heart, records electrical signals to identify the troublesome area, then uses electrical energy to destroy the problematic tissue.
VT ablation presents special challenges. For most types of arrhythmias, electrophysiologists try to induce the abnormal rhythm, then "map" the abnormal electrical activity throughout the heart to pinpoint the source of the problem. However, inducing VT for more than a few seconds can be life-threatening. Also, these patients are usually quite frail and have a weak heart muscle, and are even less able to tolerate prolonged arrhythmia episodes.
"With VT patients, the traditional mapping techniques often do not work due to patient intolerance, so we have to find surrogate markers that help us to focus on where the problem really is – without inducing the abnormal rhythm," said Dr. Hsia. "Instead of going after the VT itself, we try to go after the scar that produces the VT…. We always tell the fellows [electrophysiology trainees] that 40 percent of an ablation is done before the procedure. These procedures are long and complicated, and the patient is frequently not stable, so you have to have a detailed game plan before you go in."
Formulating that plan requires Dr. Hsia to integrate information from a number of tools, zeroing in on the electrical source of a patient's VT. He is like a hunter piecing together the trail of a wily animal – perhaps detecting paw prints and a faint trail through a meadow – while rarely catching a glimpse of the animal itself.
Magnetic resonance imaging (MRI) is the best imaging technique for viewing scars and the soft tissue of the heart. Another imaging tool is intracardiac ultrasound, which can sometimes enable electrophysiologists to see scarring within the heart. Electrocardiograms (EKGs) can also provide a general indication of where the problem might lie. For patients with a defibrillator, Dr. Hsia combs through their device records, looking for clues about which part of the heart was affected during a VT episode.
Dr. Hsia is a leader in developing new methods to pinpoint the source of VTs. His research has included advances in characterizing the scar and identifying potential locations of arrhythmias. "Using various electrical maneuvers, we try to bring out different subtleties within the scar without inducing the abnormal rhythm," said Dr. Hsia. "We look for voltage differences, since scar tissue has lower voltage than non-scar tissue." In addition, if the electrical impulse appears to be delayed in one part of the heart, it could provide another clue. "If you detect that the electrical conduction through this area is delayed, there may be a diseased scar there," said Dr. Hsia.
By putting together all these pieces of information, Dr. Hsia formulates a good estimate of where the arrhythmia originates – like narrowing his prey's location from a whole forest to a specific cluster of trees. "Ideally, you map everything out and identify all the potential targets, but ultimately you still have to confirm where the problem is," he said. He will then try to induce the VT for a short time to make sure that he is at the right spot. "If you can map the rhythm while it's going on, that's the most accurate way," he said. He can often stop the induced arrhythmia by pacing the heart back into a normal rhythm, rather than needing to shock it.
Once he has the most accurate idea possible of the source of the VT, Dr. Hsia performs the actual ablation – the equivalent of shooting a gun at the target. He uses catheter-based devices to deliver radiofrequency energy, burning the problematic area. He then tests the heart to see if the arrhythmia has stopped, and performs further "touch-up" ablations if needed.
Improving Quality of Life
"If it's done properly, VT ablation can significantly reduce the rhythm recurrence in about 80 percent of patients, but it's not going to be a 'cure'," said Dr. Hsia. "They might have a VT episode every six months, but now maybe their defibrillator can pace them out of it – it doesn't have to shock them out of it – and the patient doesn't even know he or she had the episode." Patients who have successfully undergone an ablation may also be able to discontinue taking anti-arrhythmic drugs, which can produce significant side effects.
The results can greatly improve quality of life. Dr. Hsia recalled one VT patient who received 300 shocks from his defibrillator in one year. "It's horrible – patients like that know they are dying because of their rhythm problems," he said. "They feel dizzy and may pass out. They get shocked by their defibrillator, and then five minutes later it happens again." After receiving two ablations, the patient improved dramatically and was able to return to his regular life. "I saw him walking around a few years later, and I actually didn't recognize him because I'd always seen him lying flat," said Dr. Hsia.
Treating Other Forms of VT
Although many instances of VT are caused by scarring from a heart attack, there are rarer forms that often require different approaches. For example, heart attacks usually produce a discrete mass of scar tissue within the heart; by contrast, chemotherapy, radiation and viral infections can produce more diffuse scarring throughout the heart, including on the outside surface of the heart. If the scar that is producing the VT is on the outside of the heart, the patient will often require an epicardial ablation. This involves making a puncture just below the breastbone and carefully inserting a long needle through the thin sac that surrounds the heart to ablate part of the epicardium – the outer surface of the heart. This delicate procedure requires a high level of technical skill.
Another type of ventricular arrhythmia is called idiopathic or normal heart ventricular arrhythmia. Often these patients are quite young, and their VT is caused not by scar tissue but by abnormal cells, often around their heart valves. The good news is that these patients often respond very well to ablation. "Usually you can find the focal area, without scar, and you can zap it and actually cure it," said Dr. Hsia.
Continuing a Tradition of Excellence
Dr. Hsia grew up in Taiwan, in a family of engineers, and earned his bachelor's degree and medical degree at Tufts University in Boston. He completed his residency at the University of Michigan, Ann Arbor, his cardiology fellowship at the University of Texas Southwestern in Dallas, and his electrophysiology fellowship at the University of Pennsylvania in Philadelphia. "I wanted to do something with my hands, and found that electrophysiology was one of the most fascinating and intellectual fields in cardiology," he said.
He served on the cardiology faculty at Temple University in Philadelphia, then at the University of Pennsylvania. From 2005 until his recruitment to UCSF, Dr. Hsia served on the Stanford faculty and also directed the electrophysiology laboratory at the Palo Alto VA.
He was drawn to UCSF by its historic accomplishments – Dr. Melvin Scheinman, the Walter H. Shorenstein Endowed Chair in Cardiology, was the first person to perform catheter ablation in humans – as well as its current faculty. "The UCSF electrophysiology group has a great tradition, and this is a very collegial and academic environment," said Dr. Hsia.
He brings his deep experience in VT ablation to the SFVAMC, where he is currently the only electrophysiologist who can offer this procedure. (In addition to Dr. Hsia, several of the cardiology faculty members based at UCSF Medical Center have expertise in VT ablations.)
"Dr. Hsia has established a reputation as one of the most experienced ablationists of ventricular tachycardia on the West Coast," said Dr. Edward P. Gerstenfeld, chief of the Cardiac Electrophysiology and Arrhythmia Service at UCSF Medical Center and the Melvin M. Scheinman Endowed Chair in Cardiology. "We were fortunate to recruit him from Stanford to UCSF, and his arrival further establishes UCSF as the premier center for complex VT ablations in Northern California."
Improving Patient Care
Dr. Hsia hopes to make this procedure more widely available to those who need it. For example, he wants to employ telemedicine to make arrhythmia consultations more easily available to veterans throughout the Pacific region. Because the VA electronic medical record system is so robust, it could allow him to offer initial evaluations through secure video conferencing to patients as far away as Guam, as well as areas in the U.S. without easy access to specialists like him. Telemedicine could help improve access to underserved populations.
"VT ablation is something that only some academic centers and only a very few VAs provide," he said. "If you live in a place like Eureka, the local docs there probably don't know that such a service is available."
Dr. Hsia is also active in clinical research. In addition to his own pioneering work in the electrophysiology lab, he participates in clinical trials such as the ASPIRE study, which is evaluating whether providing ablation to patients with recurrent VT earlier rather than later in the course of their disease is more beneficial.
In his spare time, he has become a certified diving medical officer, learning about many physiological diving-related problems. He is an avid scuba diver and underwater photographer, and also enjoys land-based hobbies such as concerts and fine dining in San Francisco.