Faculty Spotlight: Donald Grandis, MD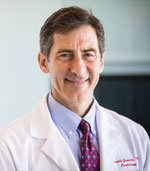 "I always love to hear my patients' life stories," said cardiologist Dr. Donald Grandis, who recently joined the UCSF faculty. "If you're in clinical practice for a long time, you not only hear the story – you become a positive part of the story." He recalled a patient with mitral valve disease who was able to start a family and is now a grandmother. "I was able to become part of the story, because her life decisions depended in part on management of her disease," he said.
Dr. Grandis grew up in Virginia, studied philosophy at the University of Virginia, then served as a Peace Corps tuberculosis control worker in a South Korean fishing village. He vividly remembers a young man who likely had a heart defect that causes bluish skin due to low blood oxygen. "I was very moved and thought, 'Someday I want to be able to help people like that,'" said Dr. Grandis.
He earned his medical degree from Virginia Commonwealth University and completed medicine residency and a cardiology fellowship at the University of Pittsburgh Medical Center. During medical school, he observed a cardiology patient who was so sick he was unable to lie flat on the procedure table. "I asked a nurse what would happen, and she said, 'If he doesn't get a transplant, he'll probably die,'" said Dr. Grandis. "That was thirty years ago. What's so rewarding about cardiology is that our current treatments are so powerful and effective that you wouldn't make the same prediction today."
Tailoring Care
Dr. Grandis loved clinical medicine and wanted to treat a wide variety of cardiac conditions. He established a private practice in 1994, which he ran for 20 years with several partners. He also helped establish a cardiology program at Jefferson Regional Medical Center, a community hospital in Jefferson Hills, PA. In addition to general cardiology, he performed angioplasties, interventional medicine, nuclear medicine and echocardiograms.
"One of the most enjoyable aspects of practicing clinical medicine is tailoring research findings and personal experience to fit the nuances of each patient," said Dr. Grandis. "There's never just one formula that can be used for every patient. To offer the most appropriate care for the individual patient requires a thoughtful physician who listens. It's always interesting and challenging."
His practice was based in a part of Pittsburgh nicknamed "Steel Valley," which had some of the nation's worst air pollution. Dr. Grandis successfully worked with local organizations and the Allegheny Health Department to advocate for enforcement of air quality standards. "About 20 percent of people who have a heart attack don't necessarily have all of the typical risk factors like high cholesterol," he said. "We're always looking for other potential causes, including poor air quality. Many places around the world are developing rapidly, which is associated with more air pollution, so it's an international health problem."
Dr. Grandis is excited to join the UCSF faculty, and will mainly work with the Center for Prevention of Heart and Vascular Disease, in addition to caring for hospitalized patients and helping to interpret echocardiograms and nuclear studies. "The level of thoughtfulness and innovation at UCSF is unparalleled, and I feel lucky to have such great colleagues," he said.
He is also looking forward to integrating his previous experience with the care he provides here. "In private practice, basically the patient is your boss," he said. "I've spent a lot of time thinking about what gives patients a better experience and increases their satisfaction." For example, he makes an effort to "close the loop" by talking to a patient's primary care physician, surgeon and sub-subspecialists. He tells the patient what the providers' consensus is and asks if the patient has questions. "It's easy to get lost in the health system, so knowing that somebody is keeping an eye out for them makes patients feel confident," said Dr. Grandis.
In addition to a passion for clinical care, Dr. Grandis enjoys sailing, biking and skiing. He is married to Dr. Jennifer Grandis, who was recently recruited as UCSF's associate vice chancellor of Clinical and Translational Research and who is a professor of Otolaryngology — Head and Neck Surgery.