Faculty Spotlight: Edward P. Gerstenfeld, MD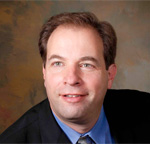 Dr. Edward P. Gerstenfeld, who was appointed as chief of the Cardiac Electrophysiology and Arrhythmia Service at UCSF Medical Center in 2011, combines backgrounds in both medicine and engineering to develop better treatments for heart rhythm problems.
Dr. Gerstenfeld, who holds the Melvin M. Scheinman Endowed Chair in Cardiology, was born and raised in Staten Island in New York, and studied biomedical and electrical engineering at Duke University in Durham, NC. While working on his master's degree in biomedical engineering at Northwestern University in Evanston, IL, he worked with electrophysiologists – heart rhythm doctors – to investigate electrical signals of a particular heart problem.
"The combination of working with electrophysiologists, and spending late nights in the lab looking at a lot of chaotic signals, made me think about doing more than just the research side of things," said Dr. Gerstenfeld. He had considered medicine in the past, but his master's project helped him realize he could conduct research and also learn what needed to be improved from a patient perspective by becoming a doctor. He was accepted by Northwestern's medical school and earned his medical degree there, then did his internship and residency at Beth Israel Hospital in Boston, followed by a cardiology fellowship and chief cardiology fellowship at the University of Massachusetts Medical Center in Worcester, MA.
Dr. Gerstenfeld did part of his electrophysiology fellowship at UCSF, training with former Division of Cardiology faculty member Dr. Michael Lesh, then completed his fellowship at the University of Pennsylvania in Philadelphia. He served on the Penn faculty for 10 years before his recruitment to UCSF this year.
He has published more than 100 peer-reviewed manuscripts, review papers and book chapters on the treatment of cardiac arrhythmias. Dr. Gerstenfeld serves on the editorial board of the Journal of the American College of Cardiology, Heart Rhythm and the Journal of Interventional Cardiac Electrophysiology. He is also a member of the Clinical Cardiac Electrophysiology Board Writing Committee, the group that develops the national exams for electrophysiology fellows.
(Reverse) Engineering
"What we do in medicine is sort of the opposite of engineering," said Dr. Gerstenfeld. "In engineering, you build something, and try to get it to function in a certain way. In medicine, you've got something that is already built, which is the body, and you try to figure out how it works, and how you can tweak it so it works the way you would like it to work when it's not working.… It's reverse engineering, in a sense.
"I was interested in science and computers and technology," he said. "This field has a lot of technology involved, in terms of the recording [of heart signals] and electrical systems. And it's a puzzle to figure out from these electrical signals what's going on in the heart – and to determine why people have problems, and how we can come up with better ways to fix it."
As an electrophysiologist, Dr. Gerstenfeld implants devices like pacemakers – which use electrical impulses to prompt the heart to beat at a normal rate and rhythm – and defibrillators, which shock patients' hearts out of life-threatening irregular heartbeats. He also specializes in performing catheter ablation to treat irregular heart rhythms. This involves burning or freezing heart tissue associated with the arrhythmia to short-circuit the abnormal rhythm.
Catheter ablation intrigued him in part because it brought together his academic and research interests. "There was a lot to figure out, in terms of newer treatments and how to treat patients, and was an interesting application of a lot of what I had learned in graduate school," he said.
He has since become one of the foremost researchers in discovering how to map the electrical signals of the heart, as well as how to successfully ablate many different types of complex arrhythmias. He has also pioneered ways to use electrocardiograms to localize the source of arrhythmias, and his group was the first to demonstrate that ablation for atrial fibrillation and atrial flutter could be performed safely even in patients with artificial heart valves.
Dr. Gerstenfeld decided to come to UCSF for the opportunity to lead the electrophysiology group here, and to shape the future of the program. He has found it especially satisfying to treat complex patients, some of whom are receiving second or third procedures for challenging problems. "It's nice when people who have been through a lot of procedures and are still having trouble come from a distance, and we're able to help them out," he said. "I've seen people from Utah and Reno, where the local heart rhythm people couldn't take care of the problem – but we're able to cure them."
Dr. Gerstenfeld lives in Marin County with his wife, Leslie, and their two young children. He enjoys biking, playing tennis and traveling. 
Melvin M. Scheinman Endowed Chair in Cardiology
Dr. Edward Gerstenfeld is the most recent faculty member to hold the Melvin M. Scheinman Endowed Chair in Cardiology, named for one of the founding fathers of the field of cardiac electrophysiology. This endowed chair was established in 2000 by Dan and Zoe Scheinman, the son and daughter-in-law of Dr. Scheinman, and is held by the chief of the Cardiac Electrophysiology and Arrhythmia Service at UCSF Medical Center.
"We are tremendously excited to welcome Dr. Gerstenfeld to UCSF," said Dr. Jeffrey Olgin, chief of the Division of Cardiology and the holder of the Gallo-Chatterjee Distinguished Professorship of Medicine. "It is very fitting that Dr. Gerstenfeld, who is both an outstanding clinician and researcher, holds an endowed chair named for Dr. Scheinman, who is one of the founding pioneers of this field." Dr. Scheinman performed the first catheter ablation in humans, after conducting extensive studies in animals, and is well known for many other innovations.
"The Melvin M. Scheinman Endowed Chair was instrumental in recruiting an electrophysiologist of Dr. Gerstenfeld's caliber to UCSF," said Dr. Olgin. "We are deeply grateful to Dan and Zoe Scheinman for establishing this lasting tribute to Dr. Scheinman, which will continue to promote excellence and innovation in electrophysiology at UCSF.