Faculty Spotlight: Rahul Deo, MD, PhD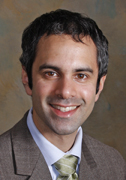 Dr. Rahul Deo, who joined the Division of Cardiology faculty in spring 2011, wants to find better ways to predict an individual patient's chances of developing disease, and which treatments are most likely to be effective.
He compares this challenge to trying to predict the weather – for example, the way meteorologists measure humidity and temperature, analyze historical weather patterns, and use satellite images and other information to develop a forecast. "There are an enormous amount of predictive features, and every single one of them could be inaccurate in some way," he said. "Building up a set of predictive models is a very complex problem."
Recent advances now make it possible to start developing a personal "health forecast." "There's been a lot of excitement over whether or not genetic variation could contribute to the probability that someone is likely to develop disease," said Dr. Deo. "But probably there's more to it than that. Maybe you want to start measuring protein levels in the bloodstream, over a couple different days, and bring in some family history and echocardiography data. Each of these will have some level of uncertainty to it." However, by studying large groups of patients over time, and using supercomputers to help identify and analyze patterns that emerge, Dr. Deo hopes to develop models that could help doctors predict patients' likelihood of a heart attack or the best ways to optimize their cholesterol levels.
Among other collaborations, Dr. Deo will work with Dr. Gregory Marcus, the medical director of the new UCSF Cardiovascular Cohort, which will establish a large database and biospecimen bank to study the genetics, biomarkers and stem cells of a large group of patients with heart disease. "In many ways, you have to let the data say, 'I think you should group me together,'" said Dr. Deo. "But that requires having enough traditional clinical information along with genetic data and measurements of proteins or metabolites in the bloodstream."
Seeing the Big Picture
Dr. Deo received his medical degree from Weill Cornell Medical College and his PhD in biophysics from the Rockefeller University, both in New York, and completed his residency at the Brigham and Women's Hospital in Boston. He also completed a fellowship in cardiology and a postdoctoral fellowship in stem cell biology at Massachusetts General Hospital, and completed another postdoctoral fellowship in bioinformatics at Harvard.
He will employ all this training as he pursues what is known as a systems biology or systems medicine approach. "Instead of looking for that magic single gene or single lab value that's supposed to give you all possible predictive power, systems biology is an embracing of the fact that multiple things need to be measured in parallel," said Dr. Deo. "Also, we need the ability to watch large cohorts of people over long periods of time. All other complex systems – like the weather – make us think that we will probably need more than a single measurement or time point to make useful predictions."
Systems biology is an emerging field that has been made possible in part by recent leaps in technology and science. "There have been developments in the level of computing power and memory storage, but in parallel, there have also been beautiful advances in statistics and computational approaches, and how to deal with problems of having large numbers of hypotheses," said Dr. Deo.
"I am just incredibly excited by the opportunities at UCSF," he said. "There is a tremendous amount of energy between the clinical and research side, and this brand new building allows for a ready translation from the benchside to the clinic." Dr. Deo will spend part of his time working in the UCSF Cardiovascular Genetics Clinic, seeing patients and their families with inherited cardiovascular disease. He is also setting up his laboratory, which will include both advanced computing systems as well as facilities to conduct cell culture experiments.
When not in the lab or seeing patients, Dr. Deo and his wife, Shamali, enjoy hiking and exploring San Francisco's many restaurants. They are proud parents of a baby girl.
His new position allows him to combine his many interests. "My father was a probability and statistics professor," said Dr. Deo. "To bring my excitement over math and statistics to biological problems is a great opportunity." Caring for patients as a cardiologist also fuels his scientific passions. "You see patients over many months and years, and the same problems are there," he said. "You'd like to be able to do more, and that motivates you to pursue science."