Faculty Spotlight: Francesca Delling, MD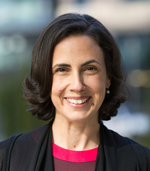 Dr. Francesca Delling's fascination with mitral valve prolapse (MVP) began during echocardiography fellowship at Massachusetts General Hospital. For her research project, she collected blood samples and echocardiograms – ultrasounds of the heart – from 43 relatives of a man with MVP.
"I flew to Ohio, Virginia and New York with my backpack and ultrasound, scanning extended family members in their homes," said Dr. Delling, who grew up in Italy.
The mitral valve separates the left atrium and ventricle, and has two leaflets that open and shut like French doors. MVP affects about three percent of the population and often runs in families. It occurs when the leaflets fail to form a tight seal, allowing blood to flow backwards. It's caused by a genetic abnormality that prompts the leaflets to keep growing like they do in utero, rather than stopping at birth. "It's not typically a disease of children, and usually manifests in the 40s or 50s," said Dr. Delling.
By studying the blood samples and echocardiograms that she collected from her travels, Dr. Delling and her colleagues identified genes associated with MVP. More recently, she collaborated with the Leducq MITRAL Transatlantic Network, using genome-wide association studies to pinpoint additional genes linked to the disease.
Although she completed medical school and cardiology training in Italy, Dr. Delling decided to pursue her career in the United States. She completed her internal medicine residency at Boston University Medical Center and cardiovascular medicine fellowship at Beth Israel Deaconess Medical Center in Boston, and earned her master of public health degree from Harvard T.H. Chan School of Public Health. She joined the UCSF faculty in 2016.
Early Warning Signs
Dr. Delling also works with the Framingham Heart Study, established in 1948 to identify heart disease risk factors. Participants return every few years for follow-up. She measured the geometry and length of mitral valve leaflets in past echocardiograms of participants who later developed MVP, and discovered that many had a precursor or "prodromal" version of the condition. "There were characteristics that were very similar to prolapse, but not quite," she said. "Ninety percent of people with the prodromal morphology went on to develop prolapse."
This is significant, because it might allow for earlier intervention. Currently, the only treatment for advanced disease is valve repair or replacement. Dr. Delling hopes a drug could eventually be developed that could slow abnormal leaflet growth.
Her current research focuses on MVP patients who develop abnormal heart rhythms called arrhythmias. "It's a rare event, but some of these people die suddenly, and nobody really understands why," said Dr. Delling. Unlike the chunky scar tissue that heart attack survivors develop, some MVP patients develop a lacy filigree of scar tissue in between heart cells. She hopes to learn what causes this scarring, and how to prevent resulting arrhythmias.
"Francesca brings tremendous value to the Division, applying rigorous clinical research methods honed by formal training and experience," said Dr. Gregory M. Marcus, Endowed Professor in Atrial Fibrillation Research. "Her focus on valve disease is particularly relevant, and, given the many important unknowns that persist, ripe for fruitful investigation."
"UCSF was extremely fortunate to recruit Dr. Delling," said echocardiographer Dr. Elyse Foster. "Her investigations on the genetic basis of mitral valve prolapse have enhanced our understanding of this relatively common disease. With her broad knowledge of cardiovascular epidemiology, genetics and cardiovascular imaging, she brings a unique combination of skills to the Division of Cardiology."
In addition to her research, Dr. Delling reads echocardiograms, cares for hospitalized patients, and has a weekly clinic focused on MVP. She is married to Dr. Markus Delling, who recently joined the UCSF physiology faculty. They enjoy exploring Northern California with their children, Giulia and Elio.