Faculty Spotlight: Michael Crawford, MD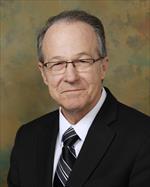 "My philosophy of medical education is that trainees are colleagues with less experience," said Dr. Michael Crawford, director of the UCSF Cardiology Fellowship Program since 2007 and the Lucie Stern Chair in Cardiology. "I don't believe in the old European style of 'Herr Professor,' where you go around telling people what to do. You have to have this dialogue with fellows, and teach in a way that respects their opinion. It's a give-and-take."
Dr. Crawford was born in Madison, Wis., and grew up in Redwood City, Calif. In high school he got a job at Sequoia Hospital to support his car habit – at that time, a 1949 Chevy. He worked as a pathology assistant, filing specimens and helping with autopsies. "I thought, 'I don't get queasy doing this, so maybe I could be a doctor," he said.
After graduating from UC Berkeley, he earned his medical degree and completed the first two years of internal medicine residency at UCSF. "One of the reasons I went into cardiology was having great mentors at UCSF who could examine a patient and pretty much come up with what was wrong with them at the bedside, without having to do a lot of tests," said Dr. Crawford. "There are certain specialties, like cardiology, where you can do that. Also, there were a lot of new developments, and cardiovascular disease was a big killer, so it was a field where you could make a difference."
He completed his residency training at Beth Israel Hospital in Boston, Mass, where the chairman of medicine invited him to develop a lecture series for students at Harvard Medical School. "I just loved the process of simplifying complex things, boiling it down to what a third-year medical student really needed to know, as well as the interaction with the students," said Dr. Crawford. "They asked great questions that made you think."
He completed his cardiology fellowship at UC San Diego, where he later served on the faculty. He remembers a young patient with unexplained shortness of breath. "My mentor there, Dr. Robert O'Rourke, listened to her heart and said, 'Oh, she has pulmonic stenosis'" – a heart valve deformity which can obstruct blood flow. "This was a subtle finding, and her previous echocardiogram hadn't nailed down the anatomy of that particular valve," said Dr. Crawford. A more focused echocardiogram confirmed the diagnosis, and the team treated the faulty valve with a balloon-mounted catheter, curing her and allowing her to resume playing volleyball.
"That aligned with my philosophy of getting as much information as possible at the bedside, and using selective tests that are targeted and focused," said Dr. Crawford. "I've seen cardiologists who order 10 tests on a patient, but I don't like to practice that way – it's impersonal, and an expensive shortcut to spending time with the patient."
He later served on the faculty at the University of Texas Health Science Center in San Antonio, Texas, the University of New Mexico School of Medicine in Albuquerque, N.M., and Mayo Medical School in Rochester, Minn., before joining the UCSF faculty in 2003. Among his many research contributions, Dr. Crawford helped develop standards for stress echocardiograms, which are used to evaluate the heart during exercise or pharmacological stress. He also conducted early research on using Doppler echo to determine the severity of aortic valve stenosis, which had previously been evaluated through invasive cardiac catheterization.
He is proud of the trainees he has mentored during 20 years as a training director at UCSF and other institutions. "These programs have turned out some really good doctors who have become leaders in the field and are advancing research frontiers," said Dr. Crawford.
His hobbies include swimming, skiing, biking, and British automobiles. His current automotive "patient" is a 1960 MGA, which he has driven since medical school and used to court his wife, Janis Crawford, a retired entrepreneur who most recently worked as a meeting planner. Together they have three grown children and six grandchildren.