Faculty Spotlight: Rima Arnaout, MD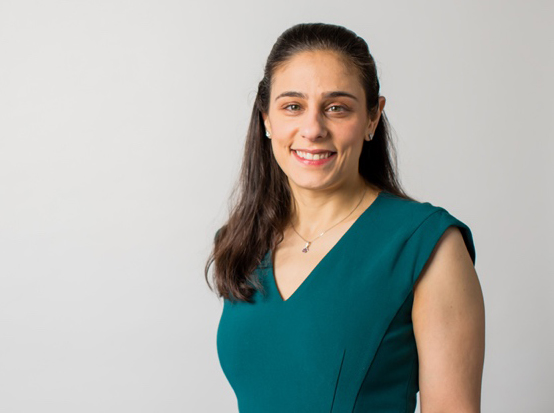 Dr. Rima Arnaout's fascination with heart development started in college, when she was studying eye formation in chicks.
"We pecked little holes in the eggs to watch the chick embryos, and you just couldn't miss that the heart was pumping even before developing into a recognizable organ," said Dr. Arnaout. "It struck me how vital heart structure and function are to life, even before birth. Yet how could something so important also be most commonly affected by birth defects? It was a conundrum I wanted to learn more about."
After graduating with a bachelor's degree in biology and minor in bioengineering from the Massachusetts Institute of Technology, earning her medical degree from Harvard Medical School and completing her internal medicine residency at Massachusetts General Hospital, Dr. Arnaout came to UCSF for her cardiology fellowship. She recently joined the UCSF faculty. In addition to studying heart development in zebrafish, she is now leveraging advances in gene sequencing and Big Data to better understand "genotype-phenotype correlations" in cardiovascular disease – teasing out which gene mutations are associated with observable traits, such as birth defects of the heart.
"The most simple genotype-phenotype correlations are when one gene causes a very obvious, highly heritable phenotype," said Dr. Arnaout. "Mendel was studying that back in the day with his peas. But many diseases aren't caused by just one 'smoking gun' gene – it could be a combination of genes or the dose of that gene. The more genes that are involved, the more complicated it is."
As a physician-scientist, Dr. Arnaout is also interested in more accurately phenotyping disease – for example, identifying which subtype of heart valve disease a patient has. She likens it to sorting a basket filled with different varieties of apples. "If you mix in Red Delicious with Granny Smith and McIntosh and look for [significant] genes, you're not necessarily going to find them because the phenotype hasn't been well defined," she said. "Anyone in clinical practice knows that accurately phenotyping a patient is always a challenge – you initially think they have one diagnosis, and it turns out it's another."
Dr. Arnaout wants help discover ways to mine vast amounts of clinical data – including imaging studies, blood tests, and studies of the heart's electrical properties – to discover underlying patterns among patients with the same condition. "It's thinking of ways to use clinical data beyond helping us care for an individual patient – if we analyze it all together, it's data that can teach us something," she said.
Among other investigations, Dr. Arnaout is involved with a sub-study of the Health eHeart Study, which has enrolled 30,000 participants worldwide who contribute genetic samples as well as data via wearable sensors and mobile apps. About 2 percent of Health eHeart Study participants have congenital heart disease – caused by birth defects of the heart. Adult congenital heart disease is a relatively new field, since surgical advances in recent decades now allow most babies born with heart defects to live into adulthood. There are dozens of different kinds of congenital heart disease, making it challenging to gather adequate research data about this population. "Health eHeart is a way to start capturing enough numbers of participants so we can learn new things about the genetics of heart disease, as well as study new treatments that will lead to better care," she said.
In addition to her research, Dr. Arnaout spends most of her clinical time in the echocardiography lab, interpreting ultrasounds of the heart. A self-described "science nerd," she derives great satisfaction from teaching others, whether trainees or patients. "It's great to see residents get excited and really understand something," she said. "With patients, I enjoy explaining what their problem is, why they have it, what symptoms to look for, and what will make it better."
When she's not in the hospital or the lab, Dr. Arnaout enjoys exploring San Francisco with friends, playing tennis, rock climbing and salsa dancing.