Faculty Spotlight: Anna Beyer, MD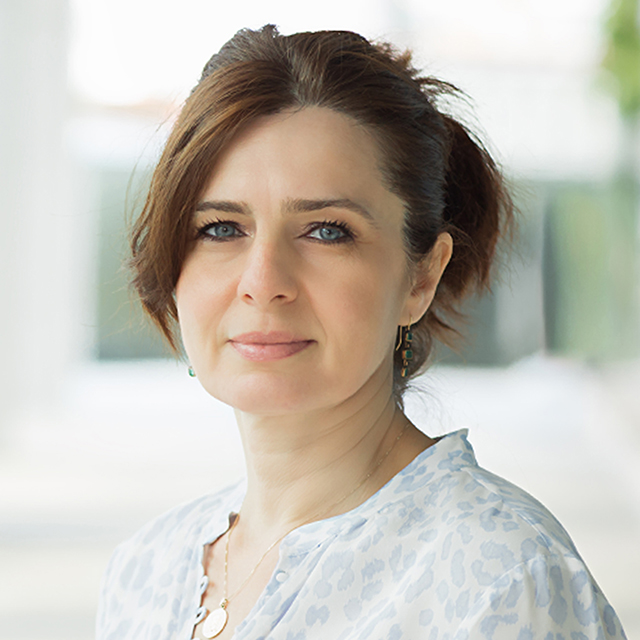 Excellence and Humility
As a child, interventional cardiologist Anna Beyer, MD, pored over anatomy books and loved learning how the human body worked. She volunteered at a hospital and knew she wanted to become a doctor.
However, she knew it would not be easy. Dr. Beyer grew up in Moldova, an Eastern European country and former Soviet republic nestled between Ukraine and Romania. "In Russia, to be Jewish and go to medical school is a big deal, because there's a quota," said Dr. Beyer. "They would only take one or two [Jewish] people per class."
In 1989, when she was 16, she and her family fled anti-Semitism in Moldova. They had to give up their Soviet citizenship, and lived for four months as stateless refugees in an Austrian camp. They applied to emigrate to the United States, where her aunt, who lived in San Francisco, offered to sponsor her family.
Dr. Beyer finished high school in San Francisco and earned her bachelor's degree in chemistry at UC Berkeley. She attended New York Medical College in Valhalla, N.Y., then completed her medical degree at Keck School of Medicine at the University of Southern California in Los Angeles. Dr. Beyer completed her internal medicine residency and cardiology fellowship at California Pacific Medical Center (CPMC), and additional fellowships in heart failure and interventional cardiology at UCSF.
For her, cardiology was an ideal choice. "I always liked sciences, and in medical school my favorite subjects were physiology and cardiology," said Dr. Beyer. "There was logic to it, and not a lot of memorization. I also appreciated that there are so many trials in cardiology, and that it's always on the forefront of discovery. With the procedural part of cardiology, you get the instant gratification of helping someone, whether you relieve their chest pain or drain fluid from around their heart. And cardiology has some romanticism to it, too – being involved with the heart of things."
Best of Both Worlds
After completing her training, Dr. Beyer worked as an interventional and general cardiologist at CPMC for seven years. In 2019, she was recruited to the UCSF Division of Cardiology, but maintains strong ties to CPMC. She is based at the 1 Daniel Burnham Court clinic in Lower Pacific Heights, and she and her colleagues there take turns providing full-time coverage for hospitalized patients on the UCSF service at the CPMC Van Ness campus. She also continues to train fellows there in hemodynamics and cardiology. In addition to seeing patients in clinic at 1 Daniel Burnham Court, Dr. Beyer also rotates through the UCSF Mission Bay clinic, and treats patients in the cardiac catheterization lab at Parnassus.
"Our group is a link between community physicians and UCSF," said Dr. Beyer. "CPMC brings a lot of expertise by doing so many interventional procedures, and UCSF is on the frontiers of discovery. I like that blend: together we can do amazing things."
Dr. Beyer is excited to have her UCSF mentors as colleagues. "UCSF is such a welcoming and collaborative place," she said. "People are always inviting you do to cases with them and to help them think through challenging situations. My attendings at UCSF would never tell me I was being silly – they'd listen and try to put me on the right path. At the same time, they would take in the opinions of others and say, 'That's interesting! Here's another perspective.' The environment at UCSF creates people who are not afraid to say what they think, or to be corrected by a person who has more expertise."
She said that the biggest lesson in her career so far is the importance of humility. "The people I work with now are amazing clinicians, and yet they are the most humble about their accomplishments," said Dr. Beyer. "They are also happy for others' advancements, because there's this communal knowledge that we're part of something bigger than just ourselves. It's about helping patients feel better."
Doing and Talking – in Two Languages
Dr. Beyer spends about 80 percent of her time in clinic, and enjoys developing connections with her patients. "Getting to the point where people open up to me and feel like they can trust me is very important," she said. "Sometimes the hardest thing is finding the underlying problem. That detective work makes me excited. I like discovering something underneath the simple questions."
For example, she received an urgent referral for a patient who had heart failure and new onset of atrial fibrillation, the most common irregular heart rhythm. The patient said he felt all right, but as she talked with him further she learned that he had been born with a complicated heart defect, had heart surgery when he was young, and hadn't had any follow-up for years. "There was a lot more to his situation than what it said on the referral, and it became a much more interesting and urgent problem to solve," she said.
Dr. Beyer is fluent in Russian, and to her knowledge is the only Russian-speaking cardiologist in San Francisco. She estimates that about 60 percent of her patients are Russian-speaking. "For a lot of them, just being able to speak their native language with me helps them feel comfortable," she said. "They can explain their symptoms and I can understand how they're feeling, without needing to use a translator."
She is also passionate about her work as an interventional cardiologist. "I love the challenge, the adrenaline rush, figuring out the problem, and making split-second decisions," said Dr. Beyer. "I'll take extra interventional call just to be on a case in the lab. I was on vacation yesterday, but they needed help, so I was on a case for five hours. I live for this! It's a good balance to the clinic, where there's a lot of talking and thinking. In the cath lab, it's just doing and thinking."
"Dr. Beyer is not only smart and thoughtful, with great skills in the cardiac catheterization lab, but her caring, energy and dedication to her patients is exemplary," said Gary Milechman, MD, one of her longtime mentors and now a colleague at 1 Daniel Burnham Court. "She is a wonderful teacher for the medical students, residents and cardiology fellows, and is a colleague who is always ready to help. I am very excited and happy to have Anna as part of our UCSF team."
While Dr. Beyer spends most of her time in the clinic, cardiology wards and cath lab, she is very interested in conducting research to develop a precision medicine approach to complex percutaneous coronary interventions – determining the right amount of support each patient needs to have the ideal outcome when receiving a stent. "Right now everybody has their own opinion about the right approach, but I would like to develop a more robust evidence base," she said.
Complex stent procedures include patients who have a challenging location for the coronary blockage, multiple other health conditions that increase risk, or complicated anatomy, such as calcifications. This group of patients includes people who might need a heart bypass but are too sick to undergo surgery, and therefore could be stent candidates as a fallback option.
Dr. Beyer is honored to join the UCSF faculty. "I'm so happy to be with this group," she said. "The people are amazing, supportive and so brilliant."
Aside from her passion for cardiology, Dr. Beyer enjoys running, biking and cooking Mediterranean food. She is married to Ilya Beyer, a principal engineer for Google.
– Elizabeth Chur