Fellow Spotlight: Joseph Yang, MD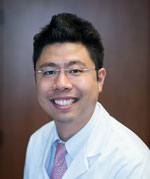 Dr. Joseph Yang was born in Providence, RI and grew up in Ann Arbor, MI, where his father was a pharmacy professor. Dr. Yang earned his bachelor's degree in biochemistry and molecular biology from Brown University, and then spent three years at Tokyo Women's Medical University pursuing stem cell research in the lab of Dr. Teruo Okano. Among other projects, Dr. Yang worked on cell sheet engineering, in which extremely thin sheets of stem cells could be grown and layered – in a process a bit like papier-mâché – to reconstruct heart tissue.
He earned his medical degree from Wayne State University School of Medicine in Detroit, then completed his residency at the Johns Hopkins Hospital in Baltimore. He chose UCSF for his fellowship because of its combination of excellence in clinical training and research. "There are so many legends in the field of cardiology at UCSF, and getting to work next to them is amazing," he said.
Dr. Yang hopes to combine a career in clinical medicine and research, and is particularly interested in translational research for tissue engineering. "I would love to be a person that brings a lab discovery to patients," he said. As a clinician, he especially enjoys caring for critical care patients in the CCU.
He and his wife, Yukie Asahina, are proud parents of Misa, 4, and Kenzo, who was born five days after his fellowship began.