Fellow Spotlight: Catherine Wong, MD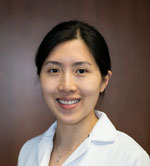 Dr. Catherine Wong was born and raised in the Chicago area, and also spent several years in Hong Kong. After graduating from Stanford University with a bachelor's degree in mathematical and computational science, she worked as a data analyst at Kaiser Permanente, then earned her medical degree from Weill Cornell Medical College and completed her residency at Columbia University Medical Center, both in New York.
As a Sarnoff Cardiovascular Research Foundation Fellow, she worked with Dr. Harlan Krumholz and Dr. Sarwat Chaudhry at Yale School of Medicine. Among other projects, Dr. Wong studied changes in the heart failure population in recent decades. Thanks to improved treatments, many patients survive heart attacks but eventually develop heart failure – along with other diseases that increase their medical complexity. "Sometimes we are either too aggressive or not aggressive enough in managing these patients, and I am interested in optimizing their care to improve mortality as well as quality of life," she said.
She chose UCSF for fellowship in part because of the excellent reputation of both the Cardiology and Geriatrics faculty, and plans to continue her research on older patients with cardiovascular disease. Highlights of her fellowship so far include getting to use her Cantonese with patients at San Francisco General Hospital, and caring for a variety of severely ill patients. "It's very rewarding to treat patients who are really sick and need your help," she said.
Dr. Wong is married to Matthew Beasley, a former Navy submarine officer who now works for Intel. They enjoy hiking and camping, and welcomed their first child, Margaret, this fall.