Fellow Spotlight: Jeremy Tietjens, MD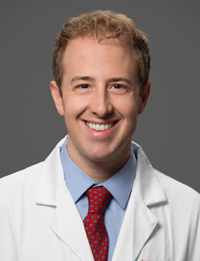 Dr. Jeremy Tietjens hails from St. Louis, Mo., where he earned his bachelor's degree in philosophy, neuroscience and psychology from Washington University. While working in a pediatric neuroscience laboratory at UCLA, he enjoyed the interactions with research participants so much that he decided to become a doctor.
Dr. Tietjens earned a medical degree from Mount Sinai School of Medicine in New York, then completed internal medicine residency at UCSF, where he worked with cardiologist Dr. Rakesh Mishra on developing ways to use echocardiography – ultrasound of the heart – to estimate the relationship between pressure and volume in the heart. They used this information to identify patients at increased risk for heart failure or heart attack.
After residency, he spent a year working on the UCSF heart transplant and heart failure service. "When things went well, it was amazing how we could restore someone who was unable to do any physical activity to a decent quality of life," said Dr. Tietjens. He plans to specialize in this area of cardiology.
Dr. Tietjens began his cardiology fellowship at Priscilla Chan and Mark Zuckerberg San Francisco General Hospital and Trauma Center, caring for a high volume of very sick patients. "It was trial by fire, and I got to do a lot of life-saving procedures for the first time," he said. "I had a lot of help, but it made me feel like a cardiologist."
Dr. Tietjens is married to Dr. Gillian Heinecke, a dermatology resident at Stanford University. In his free time, he enjoys surfing, hiking and visiting wine clubs in the Napa Valley.