Fellow Spotlight: R. Croft Thomas, Jr., MD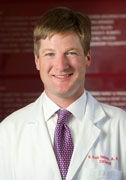 Dr. R. Croft Thomas, Jr. was born in Atlanta, and grew up there, as well as Charlotte, NC, Stockholm, Sweden, and Houston. He earned a bachelor's degree in business administration from the University of North Carolina, Chapel Hill, then worked as a technology analyst before deciding to become a doctor. "I was excited to work directly with people who had a need, rather than on the commercial interests I saw in the business world," he said.
He attended George Washington School of Medicine in Washington, DC, then transferred to Emory University in Atlanta, where he earned his medical degree. Dr. Thomas completed his residency at Johns Hopkins Hospital in Baltimore.
Although most cardiology fellows complete their clinical training before embarking on the research years of their fellowship, Dr. Thomas decided to do his research training first – an option that UCSF offers to its cardiology fellows. He worked with UCSF cardiologist and researcher Dr. Paul C. Simpson, helping develop a new human heart model to study potential cardiac medications. With support from the California Institute for Quantitative Biosciences (QB3), the group co-founded a company, AdrenaRx, to patent a small molecule compound to treat heart failure that was identified by Dr. Simpson. "I wanted to go where the best research was taking place in medicine, and UCSF was certainly at the top – it was a great opportunity," said Dr. Thomas.
As much as he enjoys research, Dr. Thomas loves seeing patients, and is happy to be starting his clinical cardiology training. Dr. Thomas is married to Dr. Hilary Thomas, a UCSF endocrinology fellow. Together they have two young daughters, Elsa and Coles.