Fellow Spotlight: Jana Svetlichnaya, MD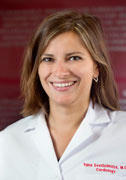 Dr. Jana Svetlichnaya was born in St. Petersburg, Russia, and moved to Chicago when she was 11 years old. She earned a bachelor's degree in biology from the University of Chicago, becoming intrigued by how the heart forms during fetal development. She earned a master's degree from the London School of Economics and Political Science, where she studied comparative costs of health care in different countries. She then earned her medical degree from Northwestern University in Chicago, and completed her residency at McGaw Medical Center of Northwestern University. While at Northwestern, one of her research mentors was Dr. Liviu Klein, who is now on the UCSF faculty. She chose UCSF for her fellowship in part to continue working with him.
So far, she has appreciated caring for heart failure patients at Moffitt. "The pulmonary hypertension and congenital heart disease populations at UCSF are so interesting and rich," she said. "Their complexity presents a great challenge, both in terms of managing them clinically, but also in terms of research." She has also been inspired by working with advanced heart failure specialist Dr. Teresa De Marco. "She cares so deeply about her patients and invests so much of herself into their care," said Dr. Svetlichnaya. "I have come to view her as a role model."
Dr. Svetlichnaya plans to pursue advanced fellowship training in heart failure, as well as clinical research focusing on cost-effectiveness and health outcomes in heart failure. In her spare time, she enjoys running, hiking and bicycling, and is excited to explore the great outdoors of Northern California.