Fellow Spotlight: David Rosenthal, MD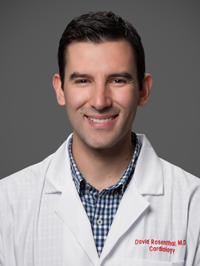 Born and raised near Philadelphia, Dr. David Rosenthal was inspired by his father, a cardiologist, and decided to pursue cardiology himself. He earned a bachelor's degree from Boston University, a medical degree from New York University School of Medicine, and completed internal medicine residency at the University of Washington Affiliated Hospitals in Seattle.
As a resident, Dr. Rosenthal worked with mentors on research related to cardiac sarcoidosis, a rare autoimmune disorder which is often difficult to diagnose and treat. Sarcoidosis usually causes scarring of the lungs, but when the disorder affects the heart, it can cause abnormal heart rhythms and different forms of heart failure. "If it's recognized early, this condition can be treatable," he said.
Highlights of his fellowship experience so far have been the collegial spirit among his co-fellows, as well as the breadth of patients he has been able to see. "At Moffitt, we get the opportunity to see all kinds of interesting diseases and resulting cardiac diseases that I don't think you commonly see elsewhere," said Dr. Rosenthal. "One thing that is very satisfying about cardiology is that we can often help people feel better in a short period of time."
Dr. Rosenthal hopes to pursue a career in cardiac electrophysiology – the diagnosis and treatment of abnormal heart rhythms – and also plans to continue his research in cardiac sarcoidosis. In his spare time, he enjoys hiking, baseball and running. He is engaged to Molly Anderson, MD, an internal medicine resident currently living in Seattle.