Fellow Spotlight: Mitchell Psotka, MD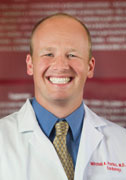 Dr. Mitchell Psotka (pronounced "SOTT-ka") was born and raised in Rockville, MD. He first became interested in medicine while helping to care for his grandmother through a long illness. He earned a bachelor's degree in biology from Brown University in Providence, RI, then attended the University of Virginia in Charlottesville, VA, where he earned a master's degree in biological and physical sciences, a PhD in microbiology and a medical degree. His doctoral research focused on hemolytic uremic syndrome, a disorder caused by E. coli infection that can result in microvascular kidney injury.
Dr. Psotka did his residency training at UCSF, and was drawn to cardiology because of the opportunities to be involved in all aspects of a patient's care. "You can see someone in clinic, perform the echocardiogram, make the diagnosis and perform the cardiac catheterization," he said. "In addition to the diverse experience, it allows you to expedite care if you need to."
So far, he has been excited to learn each new cardiology procedure, and has appreciated the opportunity to care for some of the sickest hospitalized patients as the overnight cardiology consultant. He is interested in focusing on heart failure, and hopes to work with UCSF cardiologists Dr. Liviu Klein and Dr. John Teerlink on research related to Sudden Cardiac Death in women and minorities, and developing ways to prevent death and rehospitalizations among heart failure patients.
Dr. Psotka met his wife, Caroline, a high school English teacher, through playing Ultimate Frisbee, a sport they still enjoy. They are proud parents of a newborn daughter, Clara.