Fellow Spotlight: Alexander Papolos, MD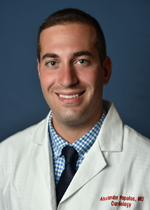 Dr. Alexander Papolos was born and raised in New York City. He earned his bachelor's degree in biochemistry from Ithaca College in Ithaca, N.Y., then worked in a genetics lab at New York University. He initially planned to investigate novel cancer therapies via the use of small interfering RNA technology, and enrolled at New York Medical College in Valhalla, N.Y. to better understand the natural history and treatment of cancer.
A few months into medical school, he became so fascinated with the physiology and physics of the heart that he decided to pursue cardiology instead of oncology. After finishing his medical degree, he completed his internal medicine residency at Mount Sinai Medical Center in New York. He chose UCSF for his fellowship because of its combined excellence in clinical training and research. "The teaching environment here is incredible," said Dr. Papolos. "It's clear that the faculty is thoroughly invested in the education of the fellows."
He hopes to become a cardiac intensivist and eventually to direct a cardiac critical care unit at an academic medical center, helping critically ill patients and those with advanced heart failure. "It's amazing to see someone come in when they are in extremis," said Dr. Papolos. "You don't know which way it's going to go, and together you get through it – and you watch them walk out the door. I don't think there's much that I've experienced in medicine that's more rewarding than that."
In his free time, Dr. Papolos enjoys cooking, nature and traveling.